NASA Office of Exploration Systems Presolicitation Notice: Human and Robotic Technology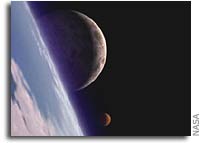 General Information
Document Type: Presolicitation Notice

Solicitation Number: TB-04-02

Posted Date: Jun 29, 2004

Original Response Date: Aug 06, 2004

Current Response Date: Aug 06, 2004

Original Archive Date: Jun 29, 2005

Current Archive Date: Jun 29, 2005

Classification Code: A — Research & Development
Naics Code:
541710 — Research and Development in the Physical, Engineering, and Life Sciences
Contracting Office Address
NASA/Goddard Space Flight Center, NASA Headquarters Acquisition Branch, Code 210.H, Greenbelt, MD 20771
Description
The National Aeronautics and Space Administration (NASA) Office of Exploration Systems is releasing a Broad Agency Announcement (BAA) for the Human & Robotic Technology (H&RT).    
The H&RT BAA is now scheduled for release on July 23, 2004, with Notices of Intent (NOI) due August 6, 2004.      
The industry day will be held at NASA Headquarters on July 29, 2004, and further details will be provided via separate notice.    
Results of the H&RT Intramural Research Call will be provided prior to BAA release.    
Submission of an NOI is required for submission of a full proposal.    
Feedback on the Notices of Intent will be provided by August 20, 2004 with full proposals requested by September 17, 2004.    
In addition, the following is provided in response to industry comments, and will be incorporated in the final BAA.      
The NOI will now be required to include only the range of costs for the proposed project based on the categories and dollar ranges provided on page 71 of the June 18, 2004 Industry Day.      
This is in lieu of a preliminary cost estimate.    
In addition, clarification on cost sharing is provided.    
Cost sharing on contracts is permitted, but not required. The BAA will solicit research and technology development proposals in support of the following H&RT Programs: Advanced Space Technology Program (ASTP)    
The ASTP is the portion of the H&RT portfolio that addresses low to mid TRL technologies, with the goal of exploring innovative concepts and advancing a range of high-leverage technologies.    
The goal is to validate these new concepts and technologies experimentally or analytically and to transition them for application in the Explorations Systems Enterprise and other NASA Enterprises.      
The nominal path for this transition will be through the Technology Maturation Program, which will adopt, mature and demonstrate the most promising candidates for ultimate transition to flight system development projects. Technology Maturation Program (TMP).    
The TMP supports mid TRL technology maturation, demonstration and flight experiments, and will pursue new technologies in the area of high energy space systems, advanced space systems and platforms, advanced space operations, and lunar & planetary surface operations.    
The program will advance key technologies required to enable the U. S.    
Vision for Space Exploration, with a focus on the human and robotic exploration of the Moon, Mars, and other destinations. The NAICS Code and Size Standard are 541710 and 1,000 employees, respectively. NO PROPOSAL IS REQUESTED AT THIS TIME.      
The Government does not intend to acquire a commercial item using FAR Part 12.        
No BAA exists at this time; therefore, do not request a copy of the BAA.    
If a BAA is released it will be posted in FedBizOpps and on the NASA Acquisition Internet Service.     It is the potential offerors responsibility to monitor these sites for the release of any the BAA or other documents relating to this procurement. This synopsis is for information purposes and is not to be construed as a commitment by the Government, nor will the Government pay for any information solicited. All qualified responsible sources may submit a NOI, which shall be considered by the agency.    
An ombudsman has been appointed. The BAA and any documents     (including Industry Day charts, periodic status and responses to questions related to this procurement) will be available over the Internet: https://naccsli.msfc.nasa.gov/ExplorationPortal      
Direct questions specifically regarding this solicitation to: Michael Sosebee, Contract Specialist, 202-358-1026, msosebee@hq.nasa.gov.
Original Point of Contact
Michael Sosebee, Contract Specialist, Phone (202) 358-1026, Fax (202) 358-3342, Email msosebee@hq.nasa.gov – Mark R Stiles, Contracting Officer, Phone (202) 358-1521, Fax (202) 358-3342, Email mstiles@hq.nasa.gov
Email your questions to Michael Sosebee at msosebee@hq.nasa.gov