NASA MODIS Image of the Day: September 20, 2008 – Turkey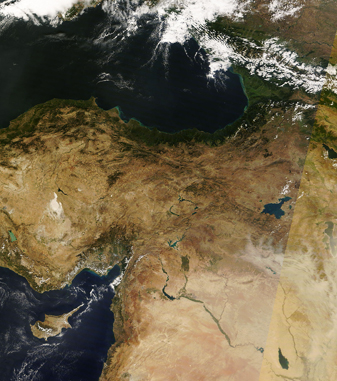 A clear day over Turkey gave the MODIS on the Terra satellite this view on September 12, 2008.
There are eight countries that border Turkey, including Iraq and Syria in the southeast, Armenia, Azerbaijan, and Iran to the east, Georgia in the northeast, Bulgaria in the northwest, and Greece to the west.
South of Turkey is the Mediterranean Sea – visible in it is the large island of Cyprus. One of the most visible features in Turkey is Lake Tuz. Because of its shallow depth and salt content, during the summer, most of the water dries up, leaving just a salt bed that averages 30 cm in depth.