NASA MODIS Image of the Day: October 10, 2007 – Plume from Karymsky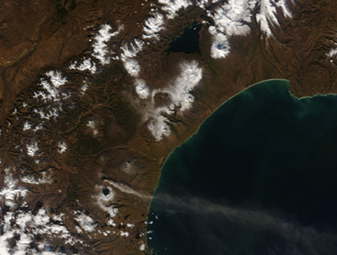 Continuing a pattern of intermittent activity, Karymsky Volcano on Russia's Kamchatka Peninsula released a plume on October 6, 2007.
The MODIS on NASA's Terra satellite took this picture the same day.
In this image, the volcanic plume of ash and/or steam blows eastward toward the coast and over the Bering Sea. Around the volcano, white clouds float overhead, blending with snow caps on the high mountain ridges. Karymsky is a stratovolcano composed of alternating layers of hardened lava, solidified ash, and rocks ejected by previous eruptions. The volcano ranks among the most active of Kamchatka's eastern volcanic zone.