NASA MODIS Image of the Day: July 12, 2009 – Fires in Interior Alaska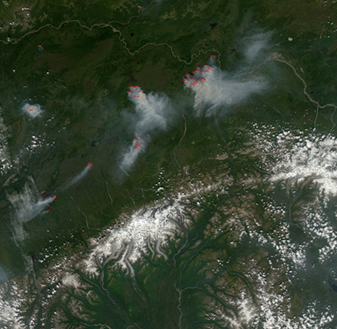 Forest fires produced hazy skies over interior Alaska in the first week of July 2009.
This natural-color (photo-like) image from the MODIS on NASA's Aqua satellite shows several lightning-triggered fires (outlined in red) southwest of Fairbanks, Alaska, on July 7.
The largest was the combined Bear Lake/Minto Flats South Fire; according to the situation summary report from the Alaska Interagency Coordination Center on July 7, the fire was estimated to be just over 79,000 acres. The Bear Creek Fire is just inside the northern perimeter of Denali National Park. Dark brown patches mark the locations of old fires. Most fires in interior Alaska are triggered by lightning. According to observations from the Alaska Fire Service's automated lightning-detection network, interior Alaska's "lightning season" peaks in late June or early July. Most strikes occur between 4 and 6 p.m. as a result of severe storms; a severe storm may be accompanied by anywhere from 2,000 to 5,000 lightning strikes.