NASA MODIS Image of the Day: December 27, 2007 – Simpson Desert Dust Storm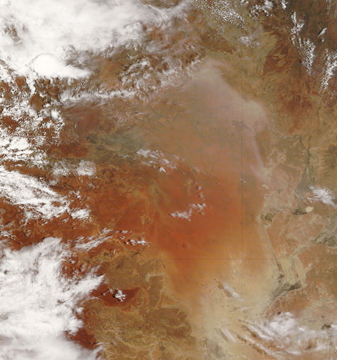 A few weeks after a similar storm blew through the same area, a fresh dust storm struck Australia's Simpson Desert.
The MODIS on NASA's Terra satellite captured this image on December 16, 2007.
Mimicking the colors of the ground below, the dust plume ranges in color from brick red to pale beige. Much of the dust moves directly north of the desert, forming a gray-beige plume that arcs toward the northwest. A thick bank of clouds hovers in the west. The Simpson Desert straddles the borders of the Northern Territory, Queensland, and South Australia, covering 170,000 square kilometers (about 65,000 square miles). The desert receives only slightly more rain than the Sahara Desert, and experiences summertime temperatures exceeding 50 degrees Celsius (122 degrees Fahrenheit), making it vulnerable to dust storms.