NASA MODIS Image of the Day: August 3, 2010 – Fires in Portugal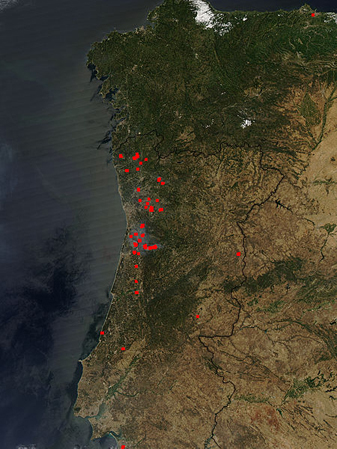 A blue-gray haze surrounds a cluster of red hotspots near the city of Portos, Portugal.
Several dozen similar hotspots mark fires which raged across northern and central Portugal on Tuesday, July 27, 2010, when the MODIS aboard the Aqua satellite captured this true color image.
The National Civil Protection Authority (ANPC) said that on this day, a total of 459 fire outbreaks were recorded, requiring the deployment of 7,200 fire fighters. The fires which burned at the moment this image was captured are primarily in forest and scrubland of the Braga District in the north, the Porto District centrally, and the Aviero District in the South. In this region, summers are typically sunny with average temperatures between 15 °C (59 °F) and 25 °C (77 °F) but can rise to as high as 35 °C (95 °F) during occasional heat waves. During heat waves the humidity remains quite low but forest and scrub fires can add haze and ash to the air. The summer of 2010 has been unseasonably hot, with the temperature on the day of this image rising to 40 ºC (104 ºF). Portugual's forest mosaic consists primarily of several oak species, including the cork oak (Quercus suber), sea pine (Pinus pinaster) and eucalyptus (Eucalyptus globulus). The cork oak is resistant to fires, while eucalyptus and pine are highly flammable. Pines contain resins and oils which flame easily and act as a fire accelerant, especially when combined with dry needles. On hot days, euclytpus oil rises from leaves, creating a halo of flammable air in the tree crown. The current extreme hot and dry conditions, combined with the structure of the forest, create a high risk of fire.