NASA MEPAG: Preliminary Planning for an International Mars Sample Return Mission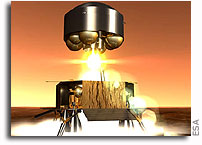 Report of the iMARS (International Mars Architecture for the Return of Samples) Working Group
Executive Summary
The international Mars Architecture for the Return of Samples (iMARS) Working Group was chartered by the International Mars Exploration Working Group (IMEWG) in mid-2006 to develop a potential plan for an internationally sponsored and executed Mars sample return (MSR) mission. Its purpose is to outline the scientific and engineering requirements of such an international mission in the 2018-2023 time frame. The Terms of Reference of iMARS are given in Appendix I.
This report is a summary of Phase I of iMARS' efforts, which were carried out between September 2007, and May 2008. Over this period, the iMARS team developed: scientific objectives; an understanding of the kinds, quantities, and conditions of samples needed to achieve those objectives; draft requirements associated with the objectives; analyses of flight and ground system implementation options and priorities to meet the requirements; a preliminary timeline for MSR for planning long-lead elements and approximate budget phasing; and an analysis of some identified management issues. The result of this effort was consensus on a potential architecture for an international MSR mission, as well as several conclusions regarding MSR and the next steps to achieving it.
The team worked with and was represented on a Next-Decade Science Assessment Group (ND-SAG), which developed guidance regarding the merits of different sample types to achieve high-priority Mars science goals. Engineering analysis included studies of launch opportunities and mission design, along with assessments of the requirements for mobility and time on the surface necessitated by the goal to collect diverse samples from scientifi cally important sites. The iMARS team also considered the requirements and options associated with planetary protection implementation, which will be more signifi cant for this mission than for any other ever flown. The primary conclusions of the iMARS analysis include:
In order for MSR to be broadly acceptable to the international scientifi c community, it would need to be able to return carefully selected, diverse samples from Mars. It would need to return these samples in a controlled way to maintain the sample's scientific integrity. These considerations have signifi cant implications for the design and operations of the end-to-end Mars sample return mission including both the fl ight and ground systems.

Between the flight elements, ground systems, and scientifi c analysis, iMARS identified approximately 20 primary building blocks that could be led or supported by different international participants.

Five high-priority mission design options have been identifi ed, all of which would make use of the launch opportunities from 2018-2022. All options would involve two launches and at least one Sample Receiving Facility (SRF) certifi ed prior to return of the sample.

The development timeline for MSR has two long-lead aspects that must be planned for: New technology development for the flight elements and the SRF(s), and site selection for the latter. In both cases, substantive effort must begin at least 10 years before launch of the flight segment.

The iMARS architecture and plans provide a path towards a fully international, affordable MSR mission.

Public outreach and communication require particular attention due to the nature of this mission and need to be addressed in an open and well-managed way from the very beginning.