NASA Mars Science Laboratory Release 4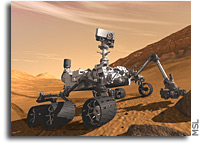 The NASA Planetary Data System announces the fourth release of data from the Mars Science Laboratory (MSL) mission, covering data acquired from Sol 270 through Sol 359 (May 9, 2013, to Aug 10, 2013).
This release consists of raw and derived data sets from the following instruments:
APXS
ChemCam
CheMin
DAN
Hazcam
MAHLI
MARDI
Mastcam
Navcam
RAD
REMS
SAM
SPICE
To access the above data for this release:
Links to all MSL data sets may be found on the PDS Geosciences Node web site:
The data may also be reached from the main PDS home page:
MSL data are archived at the PDS Atmospheres, Planetary Plasma Interactions (PPI), Geosciences, Imaging, and Navigation and Ancillary Information Facility (NAIF) Nodes.
PDS offers two services for searching the MSL archives: The Planetary Image Atlas at the Imaging Node allows selection of MSL image data by specific search criteria.
The MSL Analyst's Notebook at the Geosciences Node allows searching and downloading of all MSL data in the context of mission events.
The PDS Team
pds_operator@jpl.nasa.gov
(818) 393-7165