NASA Mars Rover Status Report 14 January 2005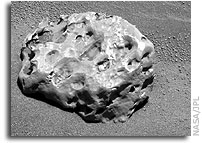 SPIRIT UPDATE: Spirit Close to the Crest – sol 360-366, January 14, 2005
Currently Spirit is approximately 50 meters (164 feet) from a target called "Larry's Lookout" on a ridge line in the "Columbia Hills." During the period from sol 360 through sol 366, engineers focused on maximizing the amount of time Spirit could drive every sol with limited power. The driving is slow and difficult; Spirit is encountering many rock obstacles and patches of soft sand that are causing Spirit to either slip or dig in. Just when it looked like Spirit might not be able to reach Larry's Lookout, the rover had three successful drive sols. Spirit is in excellent health as the team looks forward to celebrating the anniversary of Opportunity's landing on Jan. 24.
Sol-by-sol summaries:
Sol 360 was a repeat of sol 358's drive. Spirit performed an "S" turn and then drove straight for about 4 additional meters (13 feet). This was a refreshingly good result for the tough terrain where Spirit was located. Spirit experienced as much as 48 percent slippage during the drive, but ended up moving a total distance of 9.7 meters (31.8 feet). Spirit also performed 20 minutes of post-drive imaging.
Sol 361 was a restricted sol due to a late downlink of data needed for more extensive planning. That ruled out any driving or use of the instrument deployment device. Spirit completed almost 2 hours of remote sensing observations using the panoramic camera and miniature thermal emission spectrometer.
Sol 362 and 363 were planned in a single planning cycle. Sol 362 was another remote sensing sol. On sol 363, Spirit attempted a 10-meter (33-foot) drive. Spirit accomplished about 3 meters (10 feet) of the drive before stopping due to high wheel slippage. Spirit experienced slippage of up to 98 percent on portions of this drive. Spirit then performed 20 minutes of imaging.
On Sol 364, the rover planners devised a strategy that would attempt to recover when Spirit experienced slippage of greater than 60 percent. The drive sequence was complex and Spirit's planning team had a tight planning cycle, so engineers came painfully close to missing the uplink window. The payoff for the long day was a very good drive. Spirit accomplished 7 meters (23 feet).
Spirit performed another uphill drive on sol 365. The rover drove 9 meters (29 feet) and performed 20 minutes of post-drive imaging.
The plan on sol 366 was to continue the uphill drive toward Larry's Lookout, employing all the latest rover tricks. The drive was successful as Spirit traversed more than 12 meters (39 feet) with slip averaging less than 15 degrees. Spirit performed 30 minutes of post-drive observations. Sol 366 ended on Jan. 12.
Total odometry after sol 366 is 4,030 meters (2.5 miles).
OPPORTUNITY UPDATE: Hovering Near Heat Shield and a Holey Rock – sol 341-346, January 14, 2005
Opportunity is healthy. It acquired microscopic images of the fractured edge of the heat-shield wreckage and began a detailed investigation of an intriguing, pitted rock a few meters to the north, called "Heat Shield Rock." The team continues to closely monitor orbital images for dust storms. The opacity of the atmosphere above Opportunity has averaged 0.75 with a slight downward (clearing) trend over the past week.
Sol-by-sol summaries
Sols 341 through 343 were combined in a three-sol plan for the Earth weekend. On sol 341, Opportunity used a morning Mars Odyssey pass for a communications relay at about 4 a.m. local solar time and then slept until solar-array wakeup at about 8:45 a.m. After another short nap, the rover did a bit of remote sensing and received its new commands for the sol. Opportunity deployed its robotic arm and acquired 96 microscopic images of the fractured edge of the heat shield. In the afternoon it used its Mossbauer spectrometer to analyze dust on the science filter magnet. It used the deep-sleep mode overnight. On sol 342, Opportunity woke from deep sleep at about 7 a.m. local solar time and restarted the Mossbauer integration on the magnet. It was a light day of activity with afternoon remote sensing, an evening Odyssey relay pass, and then deep-sleeping overnight. On sol 343, the rover restarted Mossbauer integration on the magnet and completed afternoon remote sensing before deep-sleeping.
On sol 344, Opportunity stowed its instrument deployment device (robotic arm) and backed up about 4 meters (13 feet) before acquiring a panorama of the heat shield and other remote sensing. The rover did not deep-sleep overnight in order utilize the morning Odyssey relay and return as much data as possible. The flash memory is relatively full.
On sol 345, Opportunity acquired additional navigation-camera images of the heat shield to support a future re-approach for additional microscopic imaging. It then turned and drove north toward "Heat Shield Rock," which has pits in its surface. The rover traversed about 10 meters (33 feet) and arrived at the desired 1-meter (about 3.3 feet) standoff distance to acquire remote sensing of the rock. Opportunity used the energy-conserving deep-sleep mode overnight.
Sol 346 – Opportunity acquired additional remote sensing and then bumped forward, putting the rock within the work volume of the tools on the instrument deployment device. The rover took advantage of an early-morning communications pass, so it did not deep-sleep overnight.