NASA Mars Rover Opportunity Update: July 18-22, 2014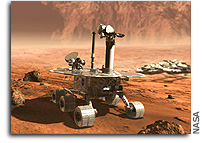 OPPORTUNITY UPDATE: Opportunity Passes 25 Miles of Driving on Mars! – sols 3726-3730, July 18, 2014-July 22, 2014:
Opportunity is exploring south along the west rim of Endeavour Crater heading toward a notch, called 'Marathon Valley' about 1.2 miles (2 kilometers) away.
This valley has been observed from orbit to have an abundant clay mineral signature. On Sol 3727 (July 19, 2014), the rover began the first sol of a two-sol 'Touch 'n Go' with collecting a Microscopic Imager (MI) mosaic of a surface target of opportunity, called 'Barstow,' then placing the Alpha Particle X-ray Spectrometer (APXS) on the same for a multi-hour integration (the 'Touch'). On the next sol, Opportunity drove over 328 feet (100 meters) (the 'Go') surpassing 25 miles (40 kilometers) in drive distance on Mars. The drive included some mid-drive imaging and post-drive Navigation Camera (Navcam) and Panoramic Camera (Pancam) panoramas. On Sol 3730 (July 22, 2014), the rover moved further with a 325-foot (99-meter) drive, again followed by post-drive Navcam and Pancam panoramas. A Flash memory amnesia event occurred on Sol 3727 (July 19, 2014). However, the science data were recovered with a subsequent second readout of the APXS.
As of Sol 3730 (July 22, 2014), the solar array energy production was 676 watt-hours with an atmospheric opacity (Tau) of 0.771 and a solar array dust factor of 0.818.