NASA Mars Rover Opportunity Update: August 29 – September 4, 2012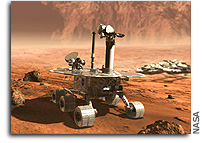 OPPORTUNITY UPDATE: Opportunity Begins Examining Clay Minerals – sols 3057-3063, Aug. 29, 2012-Sept. 4, 2012:
Opportunity has begun the in-situ (contact) science campaign at a putative location of clay minerals at the inboard edge of Cape York on the rim of Endeavour Crater.
Earlier, Opportunity had driven south along the in board edge of Cape York, surveying the exposed outcrop with both Navigation Camera (Navcam) and detailed Panoramic Camera (Pancam images).
On Sol 3056 (Aug. 28, 2012), it was decided to begin the direct approach to the outcrop. Opportunity, on Sol 3057 (Aug. 29, 2012), continued the approach to the outcrop with a 39-feet (12-meter) drive to the west, followed by surveying imagery. From the imagery, a target location was selected. On Sol 3060 (Sept. 1, 2012), the rover began the careful approach with a 20-feet (6-meter drive), followed on the next sol with a salute of the robotic arm to provide an unobstructed view for the mast cameras of potential in-situ targets. Then, on Sol 3063 (Sept. 4, 2012), Opportunity bumped into place with a short 5.6 feet (1.7-meter) move. This move has now positioned the rover so that the robotic arm can reach surface targets. The plan ahead is for a Microscopic Imager (MI) mosaic of a surface target and an Alpha Particle X-ray Spectrometer (APXS) placement on the same for a long integration.
As of Sol 3063 (Sept. 4, 2012), the solar array energy production was 543 watt-hours with an atmospheric opacity (Tau) of 0.658 and a solar array dust factor of 0.667.
Total odometry is 21.77 miles (35,037.19 meters).