NASA Mars Reconnaissance Orbiter Video: Exploration of Details in Athabasca Valles on Mars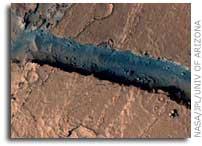 This video provides zoom and pan moves to emphasize the context and features of a Martian valley named Athabasca Valles, perhaps the youngest outflow channel on Mars. The detailed view comes from an image taken by the High Resolution Imaging Science Experiment (HiRISE) camera on NASA's Mars Reconnaissance Orbiter on April 4, 2007.
Features in this and other images reveal that Athabasca Valles is entirely draped by a thin layer of lava. This requires that a fissure eruption fed a large volume of lava through the channels in geologically recent times. Most of the scene is covered by dust, but a few areas appear blue (in exaggerated color) where rocks and sand are exposed.
The location of the terrain explored in this video is at about 10 degrees north latitude, 156 degrees east longitude. The HiRISE source image is catalogued as PSP_003294_1895 .
Play video – Quicktime (6Mb)
Play video – Quicktime (9.8Mb)
Play video – Quicktime (26Mb)
NASA's Jet Propulsion Laboratory, a division of the California Institute of Technology in Pasadena, manages the Mars Reconnaissance Orbiter for NASA's Science Mission Directorate, Washington. Lockheed Martin Space Systems, Denver, is the prime contractor for the project and built the spacecraft. The High Resolution Imaging Science Experiment is operated by the University of Arizona, Tucson, and the instrument was built by Ball Aerospace and Technology Corp., Boulder, Colo.
Image credit: NASA/JPL-Caltech/Univ.of Arizona