NASA Mars Reconnaissance Orbiter HiRISE Images – September 26, 2012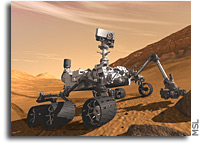 – Getting Luki http://hirise.lpl.arizona.edu/ESP_028368_1500
The central region of this crater consists of uplifted ancient bedrock with a great variety of rock types.
– Enigmatic Pits and Rises in Noctis Labyrinthus http://hirise.lpl.arizona.edu/ESP_028410_1710
All these features are indicative of the crust of Mars having been pulled apart, exposing the deep interior of the planet.
– Topography of a Flood Carved Channel http://hirise.lpl.arizona.edu/ESP_028473_1840
By examining the walls in such detail, we hope to understand the process by which the channel was carved.
– A Pedestal Crater in the Northern Mid-Latitudes http://hirise.lpl.arizona.edu/ESP_028598_2230
Pedestal craters are particularly interesting because some ice may still be present in the mesa, protected by the ejecta surface.
All of the HiRISE images are archived here: http://hirise.lpl.arizona.edu/
Information about the Mars Reconnaissance Orbiter is online at http://www.nasa.gov/mro. The mission is managed by NASA's Jet Propulsion Laboratory, a division of the California Institute of Technology, for the NASA Science Mission Directorate, Washington, D.C. Lockheed Martin Space Systems, of Denver, is the prime contractor and built the spacecraft. HiRISE is operated by the University of Arizona. Ball Aerospace and Technologies Corp., of Boulder, Colo., built the HiRISE instrument.