NASA Mars Reconnaissance Orbiter Examines Dramatic New Crater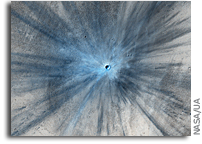 Space rocks hitting Mars excavate fresh craters at a pace of more than 200 per year, but few new Mars scars pack as much visual punch as one seen in a NASA image released today.
The scar appeared at some time between imaging of this location by the orbiter's Context Camera in July 2010 and again in May 2012. Based on apparent changes between those before-and-after images at lower resolution, researchers used HiRISE to acquire this new image on Nov. 19, 2013. The impact that excavated this crater threw some material as far as 9.3 miles (15 kilometers).
The Mars Reconnaissance Orbiter Project is managed by NASA's Jet Propulsion Laboratory, Pasadena, Calif., for NASA's Science Mission Directorate, Washington. JPL is a division of the California Institute of Technology in Pasadena. HiRISE is operated by the University of Arizona, Tucson. The instrument was built by Ball Aerospace & Technologies Corp., Boulder, Colo. Malin Space Science Systems, San Diego, built and operates the Context Camera.
For more information about the Mars Reconnaissance Orbiter, which has been studying Mars from orbit since 2006, visit
http://www.nasa.gov/mro
.