NASA Mars Picture of the Day: Terra Sirenum Gullies
Mars Global Surveyor Mars Orbiter Camera
MGS MOC Release No. MOC2-1416, 29 March 2006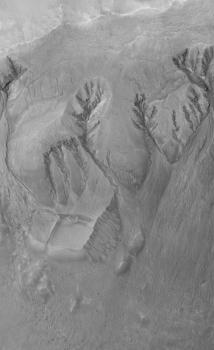 NASA/JPL/Malin Space Science Systems
This Mars Global Surveyor (MGS) Mars Orbiter Camera (MOC) image shows a portion of the northern wall complex of a crater in northwest Terra Sirenum. Several spectacular gully networks extend from a variety of elevations on the wall and run downslope toward the crater floor (bottom of image). The genesis of these features is still hotly debated in the Mars science community. Among the possibilities is that of a combination of mass movement and groundwater seepage and runoff.
Location near: 39.2°S, 164.2°W
Image width: ~3 km (~1.9 mi)
Illumination from: upper left
Season: Southern Summer
Malin Space Science Systems and the California Institute of Technology
built the MOC using spare hardware from the Mars Observer mission.
MSSS operates the camera from its facilities in San Diego, California.
The Jet Propulsion Laboratory's Mars Surveyor Operations Project
operates the Mars Global Surveyor spacecraft with its industrial
partner, Lockheed Martin Astronautics, from facilities in Pasadena,
California and Denver, Colorado.