NASA KSC Solicitation: Expendable Launch Vehicle Intergated Support 2 – ELVIS 2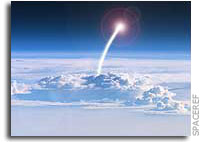 Synopsis – Feb 22, 2011
General Information
Solicitation Number: NNK11362916Ra
Posted Date: Feb 22, 2011
FedBizOpps Posted Date: Feb 22, 2011
Recovery and Reinvestment Act Action: No
Original Response Date: N/A
Current Response Date: N/A
Classification Code: R — Professional, administrative, and mgmt support services
NAICS Code: 541330 – Engineering Services
Set-Aside Code: Total Small Business
Contracting Office Address
NASA/John F. Kennedy Space Center, Procurement, Kennedy Space Center, FL 32899
Description
NASA/KSC plans to issue a Request for Proposal (RFP) for the Expendable Launch Vehicle Integrated Support 2 (ELVIS 2). Previous releases regarding ELVIS 2 were issued under sources sought NNK10ELVIS2R and Draft RFP NNK11362916R. An interested parties list is located at http://elvis2.ksc.nasa.gov .
The Government does not intend to acquire a commercial item using FAR Part 12.
This procurement is a total small business set-aside. NASA/KSC intends to award a single contract with a five year period of performance.
The NAICS Code and Size Standard are 541330 and $27 Million, respectively.
All responsible sources may submit an offer which shall be considered by the agency.
The anticipated release date of the RFP is on or about March 8, 2011, with an anticipated offer due date on or about April 19, 2011.
The solicitation and any documents related to this procurement will be available over the Internet. These documents will reside on a World Wide Web (WWW) server, which may be accessed using a WWW browser application. The Internet site, or URL, for the NASA Business Opportunities home page is http://procurement.nasa.gov/cgi-bin/EPS/bizops.cgi?gr=D&pin= . Prospective offerors are responsible for monitoring this site for the release of the solicitation and any amendments and are responsible for downloading their own copy of the solicitation and amendments (if any).
Prospective offerors are requested to notify the contracting officer of their intent to submit an offer.
Point of Contact
Name: Rob Wolfinger
Title: Contract Specialist
Phone: 321-867-8592
Fax: 321-867-2825
Email: Rob.Wolfinger@nasa.gov
Name: Lisa Morales
Title: Contract Specialist
Phone: 321-867-3860
Fax: 321-867-1188
Email: lisa.morales-1@ksc.nasa.gov