NASA Kepler Science Status: Statement to Ames Center Director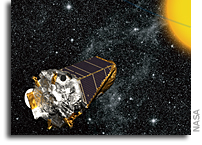 The following NASA statement was sent to Dr. S. Pete Worden, Director, NASA Ames Research Center from the Kepler Science Council on Aug. 2, 2010.
"Recently there have been reports to the effect that Kepler has discovered many Earth-like planets. This is not the case. Analysis of the current Kepler data does not support the assertion that Kepler has found any Earth-like planets.
Kepler is producing excellent results and is on a path to achieving all its mission requirements and actually determining the frequency of Earth-size planets, especially in habitable zones. We will announce our results when they become available and are confirmed."
Signed,
Edward W. Dunham, Kepler Science Team Lead
Thomas N. Gautier, Kepler Project Scientist
William J. Borucki, Kepler Principal Investigator
for the Kepler Science Council