NASA Kepler Mission Manager Update 15 October 2012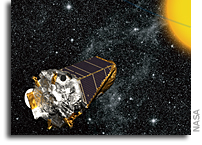 The Kepler team completed another monthly science data download over August 29-30, 2012. This marked the completion of Quarter 14 month 2 science data collection.
Since the apparent failure of reaction wheel #2 in mid-July, the spacecraft's performance has been excellent while operating on three reaction wheels. While still undetermined, the reaction wheel is believed to have suffered an internal hardware failure and is likely irrecoverable. Analysis of telemetry will continue, but additional troubleshooting is not anticipated on the wheel unless further problems warrant. Meanwhile, engineers are taking steps to assure the continued performance of the remaining three wheels. Several mitigating features have been planned, and some already implemented to assure continued operation of the remaining reaction wheels.
Recently, more discovery announcements were made-
* The Kepler-47 system was announced on August 28. This is another Kepler first- a circumbinary system with more than one transiting planet, one of which is in the habitable zone of its parent binary star system.
* 41 New Transiting Planets. Two newly submitted studies verify 41 new transiting planets in 20 star systems. These results may increase the number of Kepler's confirmed planets by more than 50 percent to nearly 120 planets hosted in nearly 70 systems, over half of which contain more than one planet. The papers are currently under scientific peer-review.
The Science Operations Center (SOC) pipeline software release 8.3 continues in the verification and validation phase without incident. SOC 8.3 will allow the team to complete a multi-quarter processing run for the first 12 quarters of data. SOC 8.3 will improve the sensitivity to detecting small planets, and help improve the rejection of false positives. The team expects to deploy SOC 8.3 to operations in early October.
On August 7, the Astronomical Society of the Pacific presented the Kepler Science team with the 2012 Maria and Eric Muhlmann Award. The annual award is given for recent and significant observational results made possible by innovative advances in astronomical instrumentation, software, or observational infrastructure.
Then, on September 12, the American Institute of Aeronautics and Astronautics presented the Kepler Science team with the 2012 Space Science Award. The annual award is given for outstanding leadership by designing and executing a space mission that has completely changed our view of frequency, structure, and diversity of planetary systems around the stars. The team is honored to have received these awards.
This week the team received very sad news that Dr. David Koch, former Kepler deputy principal investigator, passed away. In 1992, he began working on what has become the Kepler mission, for which he served as deputy principal investigator until retiring in August 2011. William Borucki, Kepler principal investigator at NASA Ames Research Center, shared these heart-felt thoughts with the team:
"It is sad to know that Dave will no longer be with us to provide his help, wisdom, and humor. In some small way, his contributions to the Mission show us his basic personality. When no one believed that the Kepler concept could work, Dave believed. When others thought the concept was interesting, Dave was dedicated to making it work. Again and again we wrote and rewrote several-hundred page proposals. Although every rejection hurt and cast doubt on the viability of the concept, Dave's faith and dedication didn't waiver. We would continue to propose until we won. Although no description can do justice to Dave's character, several words come immediately to mind: faith, dedication, persistence, and humor.
Dave was also a Christian of great faith who got along well with his colleagues and was respected for his knowledge and careful reasoning. Before helping start the Kepler Mission, he worked on an X-ray astronomy project and then came to Ames to work on the airborne astronomy project. In 1992 Dave and I wrote our first proposal for the NASA Discovery Program; 3 years prior to the detection of any exoplanet around a normal star!
Dave was intensely interested in bringing the excitement of science to the public, especially through education programs. He enjoyed finding cartoons that would make us all laugh and he was fully involved developing the images that show the Kepler Mission in space and the enormous range of discoveries that are being made. He was a great man; he made the world a better place to live in."
The team is preparing a remembrance of Dave's many contributions that will be shared soon. To read more about Dave's career and contributions to the mission see, Milwaukee Native Helps NASA Search for Earth-Size Planets.
Regards, Roger