NASA Kepler Mission Manager Update 1 August 2012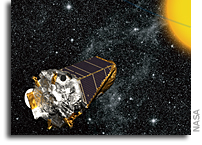 The Kepler team completed another monthly science data download over July 29-30, 2012. This marked the completion of Quarter 13 month 2 of science data collection.
This particular month was interrupted by the pointing error anomaly that Kepler experienced from July 14, 2012 through July 19, 2012. The apparent cause of the anomaly was failure of reaction wheel #2 of the spacecraft's reaction wheel assembly. Recovery actions included configuring the spacecraft to operate on three reaction wheels. Meanwhile, engineers have continued to evaluate spacecraft telemetry to aid in root cause analysis for the reaction wheel #2 anomaly. Further analysis will determine what additional actions are needed to mitigate against a similar anomaly on the spacecraft's remaining reaction wheels.
On July 28, 2012, the Kepler team released to the public the science data collected during Quarter 7 through Quarter 9. The spacecraft collected these data from Sept. 23, 2010 to June 27, 2011. The public archive is available at the Mikulski Archive for Space Telescopes
The new data release includes data taken in Quarter 8. This was an operationally challenging quarter, as the spacecraft exhibited a new behavior that resulted in a safe mode event and an extended interruption in data collection at the beginning of the quarter. Mitigation of the new behavior — excess noise on the perceived sun vector — resulted in another science loss at the end of the quarter. Quarter 8 represents the winter season for the spacecraft, where it is looking over the sun, with relatively small margins against pointing errors. The mitigations against the excess noise proved to be effective this year, when the Quarter 12 winter season was executed without incident.
Interesting results continue to flow from the bounty of data. Recently, the following paper of note was published:
– Sanchis-Ojeda et al, 2012 – Researchers have detected the first exoplanet system with regularly aligned orbits similar to those in our solar system. At the center of this system is Kepler-30, a star as bright and massive as the sun. By monitoring stellar spin using star spots, scientists determined the star rotates around a vertical axis and its three planets have orbits that are all in the same plane. This is the first confirmed system with an orientation very similar to our own solar system. The findings are described in a new study published Wednesday, July 25, in the journal Nature.
Finally, also on July 28, 2012, the Kepler team received the Vision to Reality Award from the Space Frontier Foundation. William Borucki, Kepler mission principal investigator, accepted the award on behalf of the team at the New Space 2012 Gala held in Santa Clara, Calif. This award is bestowed for outstanding achievement in the development and operation of a device, system or entity that helps open the space frontier. Kepler is in distinguished company, as previous winners include NanoRacks, Masten Space Systems, and SpaceX.
Regards,
Roger Hunter