NASA JSC Solicitation: Procurement of Crew Transportation and Rescue Services from Roscosmos 4 Jan 2011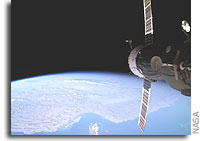 Synopsis – Jan 04, 2011
General Information
Solicitation Number: NNJ11ZBG002R
Posted Date: Jan 04, 2011
FedBizOpps Posted Date: Jan 04, 2011
Recovery and Reinvestment Act Action: No
Original Response Date: Jan 18, 2011
Current Response Date: Jan 18, 2011
Classification Code: 18 — Space vehicles
NAICS Code: 336414 – Guided Missile and Space Vehicle Manufacturing
Contracting Office Address
NASA/Lyndon B. Johnson Space Center, Houston Texas, 77058-3696, Mail Code: BG
Description
NASA/JSC has a requirement for crew transportation services including launch, return, and rescue of US or US-designated astronauts and associated services which include the following requirements for primary and ancillary services:
* Training and training materials for appropriate Soyuz seat certification, individual equipment, medical checks, supplies
* Launch operations, ascent control, and all Baikonur launch site services
* Transportation for fixed number of crew support personnel to launch site, including lodging and meals
* Flight control operations, rendezvous and docking services
* On-orbit Soyuz consumables, life support systems, and habitability services
* Search and rescue services, recovery at landing site, medical operations, transportation to Star City
* On-orbit rescue services for duration of increment
* Rehabilitation post-flight, medical exams and services (on a contingency basis)
* Associated crew cargo upmass commensurate with seat(s) purchased
* Associated crew cargo returned commensurate with seat(s) purchased
* Associated crew trash disposed of commensurate with seat(s) purchased
NASA/JSC intends to contract with Roscosmos for these services on a sole source basis for up to 12 Soyuz seats and associated services beginning in 2014 for a period up to 2 years and 6 months, through June 30, 2016. The maximum number of 12 seats may be procured using multiple modifications in increments of 6 seats to complete this entire effort. These services are being procured through Roscosmos because the Soyuz is the only other proven crew transportation and rescue vehicle, other than the Space Shuttle, which is scheduled to retire. These services are serving as a bridge between the Space Shuttle and the availability of a commercial vehicle. Until a commercial vehicle is available, continued access to Russian human-rated launch, return, and rescue services is essential for planned ISS operations and utilization by all ISS partners.
The Government does not intend to acquire a commercial item using FAR Part 12. See Note 26.
Interested organizations may submit their capabilities and qualifications to perform the effort in writing to the identified point of contact no later than 4:30 p.m. Central Standard time on January 18, 2011. Upon responses of this notice, the Government will evaluate capabilities and qualifications to determine if this proposed effort is to be competed on a full and open competition basis.
Oral communications are not acceptable in response to this notice.
All responsible sources may submit an offer which shall be considered by the agency.
An Ombudsman has been appointed. See NASA Specific Note "B".
Any referenced notes may be viewed at the following URLs linked below.
Point of Contact
Name: Marianne D. Ruiz
Title: Contracting Officer
Phone: 281-483-8528
Fax: 281-244-2370
Email: marianne.d.ruiz@nasa.gov
Name: Lara N. Procknow
Title: Contract Specialist
Phone: 281-483-0155
Fax: 281-244-2370
Email: lara.n.procknow@nasa.gov