NASA ISS On-orbit Status Report 29 April 2010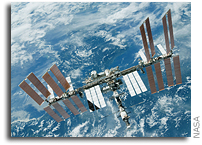 All ISS systems continue to function nominally, except those noted previously or below. Crew off-duty. Japanese Holiday: Sh'wa Day ' honoring the birthday of Emperor Sh'wa (Hirohito).
CDR Kotov performed the regular daily early-morning check of the aerosol filters at the currently running Russian Elektron O2 generator which Maxim Suraev had installed on 10/19/09 in gaps between the BZh Liquid Unit and the oxygen outlet pipe (filter FA-K) plus hydrogen outlet pipe (filter FA-V). [CDR again inspected the filters before bedtime, currently a daily requirement per plan, with photographs to be taken if the filter packing is discolored.]
At wake-up, FE-2 Caldwell-Dyson continued her FD30 (Flight Day 30) session of the Pro K (Dietary Intake Can Predict and Protect against Changes in Bone Metabolism during Spaceflight and Recovery) medical protocol, her second on board, performing the urine pH spot test (not sampling). [Under Pro K, the crewmember measures and logs the pH value of a urine sample, to be collected the same time of day every day for 5 days. The crewmember also prepares a diet log and then annotates quantities of food packets consumed and supplements taken.]
FE-6 Creamer also started a new session of the Pro K protocol, his 4th on board, performing the urine pH spot test and later logging his diet intact of today.
Tracy later undertook her second Generic HRF (Human Research Facility) 24-hr urine sample collections for the Nutrition/Repository/Pro K protocol, stowing the samples in the MELFI (Minus Eighty Laboratory Freezer for ISS) as FE-6 Creamer took documentary photographs. [The operational products for Blood & Urine collections for the HRP (Human Research Program) payloads have been revised, based on crew feedback, new cold stowage hardware, and IPV capabilities. Generic blood & urine procedures have been created to allow an individual crewmember to select their payload complement and see specific requirements populated. Individual crewmembers will select their specific parameter in the procedures to reflect their science complement. Different crewmembers will have different required tubes and hardware configurations, so they should verify their choice selection before continuing with operations to ensure their specific instruction.]
Also at wake-up, Caldwell-Dyson, Noguchi & Creamer completed another session with the Reaction Self Test (Psychomotor Vigilance Self Test on the ISS) protocol. [The RST is performed twice daily (after wakeup & before bedtime) for 3 days prior to the sleep shift, the day(s) of the sleep shift and 5 days following a sleep shift. The experiment consists of a 5-minute reaction time task that allows crewmembers to monitor the daily effects of fatigue on performance while on ISS. The experiment provides objective feedback on neurobehavioral changes in attention, psychomotor speed, state stability, and impulsivity while on ISS missions, particularly as they relate to changes in circadian rhythms, sleep restrictions, and extended work shifts.]
FE-3 Kornienko performed the periodic maintenance of the active Russian BMP Harmful Impurities Removal System by starting the "bake-out" cycle to vacuum on absorbent bed #2 of the regenerable dual-channel filtration system. The process will be terminated later (~5:15pm EDT) before sleeptime, followed tomorrow by regeneration of Bed #1. (Last time done: 4/6-4/7). [Regeneration of each of the two cartridges takes about 12 hours and is conducted only during crew awake periods. The BMP's regeneration cycle is normally done every 20 days.]
The three Russian crewmembers had ~3 hrs set aside to complete the regular weekly task of thorough station cleaning, begun by Oleg & Soichi on 4/24. ["Uborka", usually done on Saturdays, includes removal of food waste products, cleaning of compartments with vacuum cleaner, damp cleaning of the SM (Service Module) dining table, other frequently touched surfaces and surfaces where trash is collected, as well as the sleep stations with a standard cleaning solution; also, fan screens and grilles are cleaned to avoid temperature rises. Special cleaning is also done every 90 days on the HEPA (high-efficiency particulate air) bacteria filters in the Lab.]
As part of the house cleaning, the Russian crewmembers conducted regular maintenance inspection & cleaning of fan screens in the FGB (TsV2) and Group E fan grills in the SM (VPkhO, FS5, FS6, VP).
FE-1 Skvortsov also performed the routine daily servicing of the SOZh system (Environment Control & Life Support System, ECLSS) in the SM. [This includes checking the ASU toilet facilities, replacement of the KTO & KBO solid waste containers and replacement of EDV-SV waste water and EDV-U urine containers].
Caldwell-Dyson again powered up the SDRM (SpaceDRUMS/Space Dynamically Responding Ultrasonic Matrix) experiment hardware, turning it off again ~4.5 hrs later, after data capture. [SpaceDRUMS suspends a solid or liquid sample using 20 acoustic beam emitters during combustion or heat-based synthesis. Materials can be produced in microgravity with an unparalleled quality of shape and composition. SpaceDRUMS will support scientific understanding of processes like combustion synthesis and self-propagating high temperature synthesis and also provide direct commercial benefits from materials processing. Advanced ceramics, polymer, and colloids can be processed in SpaceDRUMS.]
Kotov & Creamer set up and tested the video equipment for covering the Progress 37P docking on Saturday. [After hooking up the UOP DCP (Utility Outlet Panel/Display & Control Panel) power bypass cable at the Lab RWS (Robotic Workstation), Timothy & Oleg configured the RS (Russian Segment) video 'scheme' which utilizes TV conversion on a laptop to U.S. NTSC format and Ku-band of the RS video signal from the SONY HDV camera via MPEG-2 (Moving Pictures Expert Group 2) encoder from FGB & SM, in order to downlink 'streaming video' packets via U.S. OpsLAN and Ku-band. The checkout test with the ground was then conducted from 7:00am-8:30am EDT on Ku-band. Later, FE-6 shut down the associated conversion laptop, an A31p (SSC-1) in the FGB, on which the crew will monitor the video stream during the approach & docking.]
On request from POIC (Payload Operations Integration Center), Creamer checked the MELFI-1 (Minus Eighty Laboratory Freezer for ISS 1) rack to verify the presence of 2 Ziploc DCBs (Double Cold Bags) with CARD Urine samples in Dewar 3, Tray A/2. [CrewNote from TJ: 'Found them, right where they were supposed to be: 1-3-A-2.']
Afterwards, TJ conducted the weekly 10-min. CWC (Contingency Water Container) inventory as part of on-going WRM (Water Recovery & Management) assessment of onboard water supplies. Updated 'cue cards' based on the crew's water calldowns are sent up every other week for recording changes. [The current card (23-0003E), reflecting 19A deliveries, lists 104 CWCs (2,661.8 L total) for the five types of water now identified on board: 1. technical water (24 CWCs with 988.8 L, for Elektron electrolysis, incl. 467.5 L in 12 bags containing Wautersia bacteria, 134.2 L in 3 clean bags for contingency use, 387.1 L in 9 bags still requiring sample analysis, 2. potable water (9 CWCs with 366.7 L, of which 2 bags with 66.0 L require sample analysis, 4 bags with 170.8 L are to be used with microbial filter & 129.3 L in 3 bags are good for contingency use, 3. iodinated water (62 CWCs with 1,138.2 L), 4. condensate water (7 bags with 141.8 L and 4 CWCs with 73.0 L that are to be used with microbial filter, and 5. waste/EMU dump and other (2 CWCs with 26.3 L). Wautersia bacteria are typical water-borne microorganisms that have been seen previously in ISS water sources. These isolates pose no threat to human health.]
Soichi filled out his weekly FFQ (Food Frequency Questionnaire) on the MEC (Medical Equipment Computer). [On the FFQs, NASA astronauts keep a personalized log of their nutritional intake over time on special MEC software. Recorded are the amounts consumed during the past week of such food items as beverages, cereals, grains, eggs, breads, snacks, sweets, fruit, beans, soup, vegetables, dairy, fish, meat, chicken, sauces & spreads, and vitamins. The FFQ is performed once a week to estimate nutrient intake from the previous week and to give recommendations to ground specialists that help maintain optimal crew health. Weekly estimation has been verified to be reliable enough that nutrients do not need to be tracked daily.]
At ~1:30pm, Kotov, Skvortsov & Kornienko are scheduled to downlink Russian PAO TV messages of felicitations for two events: (1) Victory Day (5/8), Coat of Arms & Moscow Flag Day, and 45th anniversary of Moscow receiving the title of Hero City, all to be celebrated by the Moscow Municipal Committee for Public Relations at the Olympiisky Sports Arena; (2) the 'Childhood Without Borders' Festival, an annual event in Moscow, this year dedicated to the 65th anniversary of the victory in the Great Patriotic War and the 20th anniversary of the International Alliance of the Pioneer Organizations 'Federation of Children's Organizations'. ["Happy holiday! Happy Anniversary! Joy, achievements, and good deeds under the same motto ' 'For your Country, for Good, and for Justice!']
CDR & FE-3 had their weekly PFCs (Private Family Conferences) via S-band/audio and Ku-band/MS-NetMeeting application (which displays the uplinked ground video on an SSC laptop), Oleg ~8:00am, Misha at ~9:35am EDT.
The crew completed today's 2-hr. physical workout protocol on the CEVIS cycle ergometer with vibration isolation (FE-2, FE-5, FE-6), TVIS treadmill (CDR, FE-1, FE-3), ARED advanced resistive exerciser (CDR, FE-2, FE-3, FE-5, FE-6), and VELO ergometer bike with bungee cord load trainer (FE-1).
Progress 37P Update: After its awesome night launch yesterday, Progress M-05M/37P is on its way to the ISS, with docking scheduled on 5/1 at ~2:35pm EDT.
37P Approach/Docking Timeline:
Autom. rendezvous start 12:14:59pm
Kurs-A Activation (Progress) 1:01pm
Kurs-P Activation (SM) 1:03pm
Local sunrise 1:24:57pm
Good Kurs-P data (80 km) 1:26:19pm
Kurs-A/-P short test (15km) 1:47:19pm
Progress TV activation (8 km) 1:54:39pm
Begin flyaround (400m) 2:12:37pm
Begin stationkeeping 2:18:10pm
Initialize final approach 2:24:30pm
Local sunset 2:32:52pm
Contact (capture) 2:35:30pm
Hooks closed, ISS to LVH 2:55:30pm
CEO (Crew Earth Observation) photo target uplinked for today was Johannesburg, South Africa (Johannesburg lies in the middle of a 100-mile-long string of gold-mining cities, all right of track. From orbit the cities appear mainly as numerous 'mine dumps' of light-toned mine waste. Shooting margins of the built-up areas. Cities within the box are located where the gold reef was originally discovered outcropping at the surface. Mine dumps outside the box are located at younger, very deep mines that reach the gold reef two miles and more below the surface).
ISS Orbit (as of this morning, 7:53am EDT [= epoch])
Mean altitude ' 349.0 km
Apogee height ' 355.5 km
Perigee height ' 342.5 km
Period — 91.52 min.
Inclination (to Equator) — 51.64 deg
Eccentricity — 0.0009662
Solar Beta Angle — 65.9 deg (magnitude peaking)
Orbits per 24-hr. day — 15.73
Mean altitude loss in the last 24 hours — 65 m
Revolutions since FGB/Zarya launch (Nov. 98) ' 65,580
Significant Events Ahead (all dates Eastern Time and subject to change):
————–Six-crew operations—————–
05/01/10 — Progress M-05M/37P docking (~2:35pm)
05/10/10 — Progress M-04M/36P undock
05/12/10 ' Soyuz TMA-17/21S relocation (FGB Nadir to SM Aft)
05/14/10 — STS-132/Atlantis/ULF4launch (~2:19pm EDT) ' ICC-VLD, MRM-1 'Rassvet'
05/26/10 — STS-132/Atlantis/ULF4 nominal landing (KSC ~8:36 am EDT)
06/02/10 — Soyuz TMA-17/21S undock/landing (End of Increment 23)
————–Three-crew operations————-
06/14/10 — Soyuz TMA-19/23S launch ' Wheelock (CDR-25)/Walker/Yurchikhin
06/17/10 — Soyuz TMA-19/23S docking
————–Six-crew operations—————–
06/28/10 — Progress M-06M/38P launch
06/30/10 — Progress M-06M/38P docking
07/07/10 — US EVA-15 (Caldwell/Wheelock)
07/23/10 — Russian EVA-25 (Yurchikhin/Kornienko)
07/26/10 — Progress M-05M/37P undock
08/30/10 — Progress M-06M/38P undock
08/31/10 — Progress M-07M/39P launch
09/02/10 — Progress M-07M/39P docking
09/16/10 — STS-133/Discovery launch (ULF5 ' ELC4, PMM)
09/16/10 — Soyuz TMA-18/22S undock/landing (End of Increment 24)
————–Three-crew operations————-
09/30/10 — Soyuz TMA-20/24S launch ' Kelly (CDR-26)/Kaleri/Skripochka
10/02/10 — Soyuz TMA-20/24S docking
————–Six-crew operations————-
10/xx/10 — Russian EVA-26
10/27/10 — Progress M-08M/40P launch
10/29/10 — Progress M-08M/40P docking
TBD — STS-134/Endeavour (ULF6 ' ELC3, AMS-02)
11/26/10 — Soyuz TMA-19/23S undock/landing (End of Increment 25)
————–Three-crew operations————-
11/30/10 ' ATV-2 launch' Ariane 5 (ESA) U/R
12/10/10 — Soyuz TMA-21/25S launch ' Kondratyev (CDR-27)/Coleman/Nespoli
12/12/10 — Soyuz TMA-21/25S docking
————–Six-crew operations————-
12/15/10 — Progress M-07M/39P undock
12/17/10 — ATV-2 docking
12/26/10 — Progress M-08M/40P undock
12/27/10 — Progress M-09M/41P launch
12/29/10 — Progress M-09M/41P docking
01/27/11 — HTV-2 docking
03/16/11 — Soyuz TMA-20/24S undock/landing (End of Increment 26)
————–Three-crew operations————-
03/30/11 — Soyuz TMA-22/26S launch ' A. Borisienko (CDR-28)/R, Garan/A.Samokutayev
04/01/11 — Soyuz TMA-22/26S docking
————–Six-crew operations————-
04/27/11 — Progress M-09M/41P undock
04/28/11 — Progress M-10M/42P launch
04/30/11 — Progress M-10M/42P docking
05/16/11 — Soyuz TMA-21/25S undock/landing (End of Increment 27)
————–Three-crew operations————-
05/31/11 — Soyuz TMA-23/27S launch ' M. Fossum (CDR-29)/S. Furukawa/S. Volkov
06/01/11 — Soyuz TMA-23/27S docking
————–Six-crew operations————-
06/21/11 — Progress M-11M/43P launch
06/23/11 — Progress M-11M/43P docking
08/30/11 — Progress M-12M/44P launch
09/01/11 — Progress M-12M/44P docking
09/16/11 ' Soyuz TMA-22/26S undock/landing (End of Increment 28)
————–Three-crew operations————-
09/30/11 — Soyuz TMA-24/28S launch
10/02/11 ' Soyuz TMA-24/28S docking
————–Six-crew operations————-
10/28/11 — Progress M-13M/45P launch
10/30/11 — Progress M-13M/45P docking
11/11/11 — Soyuz TMA-23/27S undock/landing (End of Increment 29)
————–Three-crew operations————-
11/25/11 — Soyuz TMA-25/29S launch
11/27/11 — Soyuz TMA-25/29S docking
————–Six-crew operations————-
12/??/11 — 3R Multipurpose Laboratory Module (MLM) w/ERA ' on Proton.