NASA ISS On-Orbit Status 7 November 2010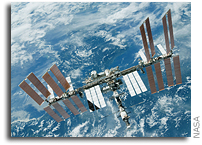 All ISS systems continue to function nominally, except those noted previously or below. Sunday – Crew rest day. Ahead: Week 7 of Increment 25.
CDR Wheelock, FE-6 Walker & FE-3 Kelly continued their current week-long activity with the post-wakeup experiment SLEEP (Sleep-Wake Actigraphy & Light Exposure during Spaceflight), 7th for Wheels & Shannon, 2nd for Scott, transferring data from their Actiwatches to the HRF-1 (Human Research Facility 1) laptop. [To monitor their sleep/wake patterns and light exposure during a SLEEP session, crewmembers wear a special Actiwatch device which measures the light levels encountered by him/her as well as their patterns of sleep and activity throughout the Expedition, using the payload software for data logging and filling in questionnaire entries in the experiment's laptop session file on the HRF-1 laptop. The log entries are done within 15 minutes of final awakening for seven consecutive days.]
At day's begin, FE-1 Kaleri conducted the regular daily early-morning check of the aerosol filters at the Russian Elektron O2 generator which Maxim Suraev had installed on 10/19/09 in gaps between the BZh Liquid Unit and the oxygen outlet pipe (filter FA-K) plus hydrogen outlet pipe (filter FA-V). [Alex again inspects the filters before bedtime tonight, currently a daily requirement per plan, with photographs to be taken if the filter packing is discolored.]
Later, Alex completed the routine daily servicing of the SOZh system (Environment Control & Life Support System, ECLSS) in the SM (Service Module), including the weekly collection of the toilet flush (SP) counter and water supply (SVO) readings for calldown to TsUP-Moscow. [This includes checking the ASU toilet facilities, replacement of the KTO & KBO solid waste containers and replacement of EDV-SV waste water and EDV-U urine containers].
Kaleri also performed the weekly checkup on the Russian POTOK-150MK (150 micron) air filter unit of the SM's SOGS air revitalization subsystem, gathering weekly data on total operating time & "On" durations for reporting to TsUP.
An additional task for Sasha in the SM was the routine weekly inspection of the SVO SRV-K2M (Condensate Water Processor) hoses from the MF-R Diaphragm Separator Filter to the BRPK Condensate Separation & Pumping Unit.
FE-3 Kelly serviced the SPHINX (SPaceflight of Huvec: an Integrated eXperiment) payload in COL after completion of its run, setting the KUBIK-6 incubator temperature to cooling to +6 degC. [SPHINX, in the EDR (European Drawer Rack, studies how HUVEC (Human Umbilical Vein Endothelial Cells) modify their behavior in microgravity which could provide better knowledge of endothelial function and be useful for clinical applications.]
CDR, FE-2, FE-3 & FE-5 had their weekly PFCs (Private Family Conferences) via S-band/audio and Ku-band/MS-NetMeeting application (which displays the uplinked ground video on an SSC laptop), Fyodor at ~7:20am, Oleg at ~9:35am, Scott at ~11:05am, Wheels at ~12:40pm EST.
The crew worked out on today's 2-hr physical exercise protocol on the TVIS treadmill with vibration isolation & stabilization (FE-1, FE-2, FE-5), ARED advanced resistive exercise device (CDR, FE-5, FE-6), T2/COLBERT advanced treadmill (CDR, FE-3, FE-6) and VELO ergometer bike with bungee cord load trainer (FE-1, FE-2). [T2 snubber arm inspection is no longer needed after every T2 session but must be done after the last T2 session of the day.]
A new item added to the discretionary "job jar" task list for Wheels, Scott & Shannon calls for the tear-down & stowage of the BPSMU (Battery Powered Speaker Microphone Unit) equipment with its long drag-through cabling, not now required until Discovery's arrival in early December. [To comply with Drag-through Rules until STS-133/ULF5 launches, cables are to be disconnected for Audio-1 & Audio-2 at the Node-2-to-Lab hatch, Lab-to-Node-1 hatch and Node-1-to-Node-3 hatch. This task also includes gathering serial number and bar code numbers of the cables for future procedure development.]
The Russian discretionary "time permitting" task list still requested Yurchikhin to copy RSS2 laptop files to a flash card to prepare for recovering the RSS2 laptop's hard drive with the current onboard version of MKO (Multiplex Exchange Channel) software in the event of hard drive failure. [Software is due to be reinstalled, and a new T61p laptop will arrive in January.]
No CEO (Crew Earth Observation) photo targets uplinked for today.
ISS Orbit (as of this morning, 8:22am EST [= epoch])
Mean altitude – 351.8 km
Apogee height – 357.0 km
Perigee height – 346.6 km
Period — 91.58 min.
Inclination (to Equator) — 51.65 deg
Eccentricity — 0.0007712
Solar Beta Angle — -15.1 deg (magnitude increasing)
Orbits per 24-hr. day — 15.72
Mean altitude loss in the last 24 hours – 146 m
Revolutions since FGB/Zarya launch (Nov. 98) – 68,602.
Significant Events Ahead (all dates Eastern Time and subject to change):
————–Six-crew operations————-
11/12/10 — Russian EVA-26 dry-run
11/15/10 — Russian EVA-26
11/15/10 — Progress M-05M/37P deorbit (from free flight)
11/30/10 — Soyuz TMA-19/23S undock/landing (End of Increment 25)
11/30/10 — STS-133/Discovery launch (NET – not earlier than)
————–Three-crew operations————-
12/15/10 — Soyuz TMA-20/25S launch – Kondratyev (CDR-27)/Coleman/Nespoli
12/17/10 — Soyuz TMA-20/25S docking (MRM1)
————–Six-crew operations————-
01/24/11 — Progress M-08M/40P undock
01/28/11 — Progress M-09M/41P launch
01/31/11 — Progress M-09M/41P docking (DC1)
02/xx/11 — Russian EVA-28
02/15/11 — ATV-2 "Johannes Kepler" launch
02/19/11 — Progress M-07M/39P undock
02/26/11 — ATV-2 "Johannes Kepler" docking (SM aft)
02/27/11 — STS-134/Endeavour (ULF6 – ELC3, AMS-02) launch
02/29/11 — STS-134/Endeavour (ULF6 – ELC3, AMS-02) docking
03/11/11 — STS-134/Endeavour (ULF6 – ELC3, AMS-02) undock
03/16/11 — Soyuz TMA-01M/24S undock/landing (End of Increment 26)
————–Three-crew operations————-
03/20/11 — Soyuz TMA-21/26S launch – A. Borisienko (CDR-28)/R.Garan/A.Samokutayev
03/22/11 — Soyuz TMA-21/26S docking (MRM2)
————–Six-crew operations————-
04/26/11 — Progress M-09M/41P undock
04/27/11 — Progress M-10M/42P launch
04/29/11 — Progress M-10M/42P docking (DC1)
05/xx/11 — Russian EVA-29
05/16/11 — Soyuz TMA-20/25S undock/landing (End of Increment 27)
————–Three-crew operations————-
05/30/11 — Soyuz TMA-22/27S launch – M. Fossum (CDR-29)/S. Furukawa/S. Volkov
06/01/11 — Soyuz TMA-22/27S docking (MRM1)
————–Six-crew operations————-
06/21/11 — Progress M-11M/43P launch
06/23/11 — Progress M-11M/43P docking (SM aft)
08/29/11 — Progress M-11M/43P undocking
08/30/11 — Progress M-12M/44P launch
09/01/11 — Progress M-12M/44P docking (SM aft)
09/16/11 – Soyuz TMA-21/26S undock/landing (End of Increment 28)
————–Three-crew operations————-
09/30/11 — Soyuz TMA-23/28S launch – D.Burbank (CDR-30)/A.Shkaplerov/A.Ivanishin
10/02/11 – Soyuz TMA-23/28S docking (MRM2)
————–Six-crew operations————-
10/25/11 — Progress M-10M/42P undocking
10/26/11 — Progress M-13M/45P launch
10/28/11 — Progress M-13M/45P docking (DC-1)
11/16/11 — Soyuz TMA-22/27S undock/landing (End of Increment 29)
————–Three-crew operations————-
11/30/11 — Soyuz TMA-24/29S launch – O.Kononenko (CDR-31)/A.Kuipers/D.Pettit
12/02/11 — Soyuz TMA-24/29S docking (MRM1)
————–Six-crew operations—————-
12/??/11 — 3R Multipurpose Laboratory Module (MLM) w/ERA – on Proton.
12/26/11 — Progress M-13M/45P undock
12/27/11 — Progress M-14M/46P launch
12/29/11 — Progress M-14M/46P docking (DC-1)
03/05/12 — Progress M-12M/44P undock
03/16/12 — Soyuz TMA-23/28S undock/landing (End of Increment 30)
————–Three-crew operations————-
03/30/12 — Soyuz TMA-25/30S launch – G.Padalka (CDR-32)/J.Acaba/K.Valkov
04/01/12 — Soyuz TMA-25/30S docking (MRM2)
————–Six-crew operations—————-
05/15/12 — Soyuz TMA-24/29S undock/landing (End of Increment 31)
————–Three-crew operations————-
05/29/12 – Soyuz TMA-26/31S launch – S.Williams (CDR-33)/Y.Malenchenko/A.Hoshide
05/31/12 – Soyuz TMA-26/31S docking
————–Six-crew operations—————-
09/09/12 — Soyuz TMA-25/30S undock/landing (End of Increment 32)
————–Three-crew operations————-
09/23/12 — Soyuz TMA-27/32S launch – K.Ford (CDR-34)/O. Novitskiy/E.Tarelkin
09/25/12 – Soyuz TMA-27/32S docking
————–Six-crew operations————-
10/07/12 — Soyuz TMA-26/31S undock/landing (End of Increment 33)
————–Three-crew operations————-
11/xx/12 — Soyuz TMA-28/33S launch – C.Hadfield (CDR-35)/T.Mashburn/R.Romanenko
11/xx/12 – Soyuz TMA-28/33S docking
————–Six-crew operations————-
03/xx/12 — Soyuz TMA-27/32S undock/landing (End of Increment 34)
————–Three-crew operations————-
03/xx/12 – Soyuz TMA-29/34S launch.
03/xx/12 – Soyuz TMA-29/34S docking
————–Six-crew operations————-