NASA ISS On-Orbit Status 22 December 2012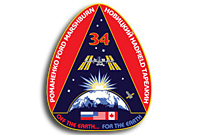 All ISS systems continue to function nominally, except those noted previously or below. Soyuz 33S Docking Day.
Crew sleep cycle shift:
. Wake (this morning): 5:00am
. Docking (this morning): 9:09am
. Sleep (tonight): 8:00pm
. Wake (tomorrow): 5:00am (then return to normal)
Yest kasaniya! Soyuz TMA-07M/33S (#708) docked successfully this morning at 9:09am EST at the MRM2 "Poisk" module, 3 min ahead of schedule and 1 min before orbital sunset. Docking hooks were driven closed at ~9:22am. At "hooks closed" signal, SM (Service Module) returned to active attitude control. The arrival doubles the station crew size to 6 persons and brings the total number of currently docked Russian VVs (visiting vehicles) to 3:
Soyuz TMA-06M/32S (#707) @ MRM2 "Poisk"
Soyuz TMA-07M/33S (#708) @ MRM1 "Rassvet"
Progress M-16M/48P (#416) @ DC-1 "Pirs" nadir.
This is the 130th mission to the ISS and Russia's 85th (incl. 1 failed). Since the first launch, of the FGB "Zarya" module on a Proton-K (1A/R) on 11/20/1998, there also have been a total of 37 US missions, 3 European missions (ATV-1, ATV-2, ATV-3), 3 Japanese missions (HTV1, HTV2, HTV3) and 2 commercial missions (SpX-D, SpX-1). It is also the 6th post-Shuttle manned launch. .
TMA-07M delivered Roman Romanenko (Roskosmos/Russia; ISS-34 FE-4), Dr. (med.) Tom Marshburn (NASA/USA ISS-34 FE-6) & Chris Hadfield (CSA/Canada, ISS-34 FE-5). They joined Exp-34 crewmembers CDR Kevin Ford, FE-1 Oleg Novitskiy, & FE-2 Evgeny Tarelkin.]
Welcome aboard, Roman, Tom & Chris!
CDR Ford started the day with another post-sleep session of the Reaction Self-Test (Psychomotor Vigilance Self-Test on the ISS) protocol, his 13th. [RST is done twice daily (after wakeup & before bedtime) for 3 days prior to the sleep shift, the day(s) of the sleep shift and 5 days following a sleep shift. The experiment consists of a 5-minute reaction time task that allows crewmembers to monitor the daily effects of fatigue on performance while on ISS. The experiment provides objective feedback on neurobehavioral changes in attention, psychomotor speed, state stability, and impulsivity while on ISS missions, particularly as they relate to changes in circadian rhythms, sleep restrictions, and extended work shifts.]
After wakeup, FE-1 Novitskiy performed the routine inspection of the SM PSS Caution & Warning panel as part of regular Daily Morning Inspection. Oleg also completed the periodic (daily) reboot of the Russian RS1 & RS2 laptops.
FE-2 Tarelkin did the regular daily reboot of the Russian RSS1 & RSS2 laptops
Evgeny also prepared "his" Soyuz spacecraft 32S, docked at MRM2 Poisk for monitoring Soyuz 33S approach, by activating the GA/gas analyzer in the 32S spacecraft.
Ford had ~15 min for unstowing and gathering CMS (Countermeasures Systems) physical exercise hardware intended for his US crewmates Chris Hadfield & Tom Marshburn. [The equipment consists of items such as HRM (Heart Rate Monitor) component kits, treadmill harness, SPD (Subject Positioning Device) top assemblies, TVIS PCMCIA memory cards, Ergometer shoes, athletic shoes, etc.]
For covering the 33S docking, Tarelkin activated the Ku-band video "scheme" for converting (encoding) the RS (Russian Segment) video signal from the Sony HVR-Z7E camera and external Klest Kl-154 "+X" camera to U.S. NTSC format and Ku-band from SM, to downlink "streaming video" packets via U.S. OpsLAN and Ku-band. FE-2 checked out the MPEG-2 early in the morning and later monitored the transmission of the docking coverage to the ground. [The image was monitored on the SSC-2 (Station Support Computer 1) at the SM CP (Central Post). Using the NASA MPEG2 VIEWER and ESA MPEG2 ENCODR software, the SSC provided both decoding (viewing) and encoding (converting) during the operation.]
Next, Oleg Novitskiy switched the STTS onboard communications system to pre-docking mode and activated the Soyuz 32S TV monitoring assets.
Starting at ~7:40am, Oleg prepared for monitoring the final rendezvous & approach phase of the spacecraft until its docking at the MRM1 port on DO2 (Daily Orbit 2) at 9:09am, on Soyuz Orbit 34.
For the docking, ISS attitude control authority was handed over to RS thrusters at 7:25am. At 8:29am the station was moded to Free Drift until ~8:41am. Attitude control handover back to US CMG (Control Moment Gyroscope) momentum management was at 12:05pm.
After the docking, Spacecraft CDR Roman Romanenko conducted the leak checking on the Soyuz side (by evacuating the Orbital Module and watching pressure readings).
RS thrusters on the ISS were inhibited from 10:25am-12:30pm during the leak checking and BZV clamp installation.
Hatch opening took place at 12:07pm, followed by Crew Welcome, transmitted to the ground live on PAO TV.
Upon hatch opening, Novitskiy & Romanenko installed the BZV quick disconnect screw clamps of the SSVP (Docking & Internal Transfer Mechanism).
Afterwards, the three newcomers, FE-3 Romanenko, FE-5 Hadfield, & FE-6 Marshburn joined FE-1 Novitskiy & FE-2 Tarelkin for the obligatory Safety Briefing by CDR Ford (~2:40pm-3:25pm), to familiarize them with the potential hazards and available safety measures on-board the ISS. [The joint crew reviewed plans for emergency actions, roles, and, responsibilities in response to depressurization, fire, and toxic release hazards. Each crewmember had to practice the emergency egress route from all station modules, and hatches were inspected for the presence of objects preventing them from being closed, such as cables and air ducts routed through hatches. Each crewmember also reviewed emergency equipment locations in their Soyuz vehicle.]
After hatch opening and crew welcome Evgeny Tarelkin and Oleg Novitskiy –
* Turned the BRTK TVS video system off and subsequently downlinked its footage,
* Reconfigured STTS station comm for the nominal post-docking hardline mode (MBS), and
* Switched the hatch KVDs (PEVs) between MRM1 & Soyuz back to Electric control mode.
High-priority payloads were transferred from the Soyuz spacecraft immediately after clamps installation.
Afterwards, a high priority activity for Roman, Tom & Chris was to prepare and get settled in their CQ (Crew Quarters)/sleep stations. [Activity outfitting steps included inspection of the CQ and cleaning if needed, retrieving personnel clothing and sleeping bag CTBs (Cargo Transfer Bags), installing the sleeping bag on the sleep wall and setting up & securing personnel effects.]
Roman serviced the three Sokol intravehicular spacesuits, setting them up for drying out, and also put up the Sokol gloves for drying.
After deactivating the Soyuz spacecraft, the three newcomers commenced cargo unloading from 33S, with IMS (Inventory Management System) logging.
FE-2 also performed the routine daily servicing of the SOZh system (Environment Control & Life Support System, ECLSS) in the SM; [regular daily SOZh maintenance consists, among else, of checking the ASU toilet facilities, replacement of the KTO & KBO solid waste containers, replacement of EDV-SV waste water and EDV-U urine containers and filling EDV-SV, KOV (for Elektron), EDV-ZV & EDV on RP flow regulator.]
ISS Reboost Preview: At Sunday morning, 12/23, ~1:28am EST, the ISS will perform a 4 min 4.8sec reboost maneuver using Progress 49P, docked at the SM Aft port, for orbital phasing and Progress 50P launch on 2/12.
Significant Events Ahead (all dates Eastern Time and subject to change):
————– Inc-34: Six-crew operations ————-
02/11/13 — Progress M-16M/48P undocking
02/12/13 — Progress M-18M/50P launch
02/14/13 — Progress M-18M/50P docking
03/15/13 — Soyuz TMA-06M/32S undock/landing (End of Increment 34)
————– Inc-35: Three-crew operations ————-
03/28/13 — Soyuz TMA-08M/34S launch – P.Vinogradov (CDR-36)/C.Cassidy/A.Misurkin
03/30/13 — Soyuz TMA-08M/34S docking
04/15/13 – Progress N-17M/49P undock
04/18/13 — ATV4 launch
04/23/13 — Progress M-18M/50P undock
04/24/13 – Progress M-19M/51P launch
04/26/13 – Progress M-19M/51P docking
05/01/13 — ATV4 docking
————– Inc-35: Six-crew operations ————-
05/14/13 — Soyuz TMA-07M/33S undock/landing (End of Increment 35)
————– Inc-36: Three-crew operations ————-
05/28/13 — Soyuz TMA-09M/35S launch – M.Suraev (CDR-37)/K.Nyberg/L.Parmitano
05/30/13 — Soyuz TMA-09M/35S docking
————– Inc-36: Six-crew operations ————-
07/23/13 – Progress M-19M/51P undock
07/24/13 – Progress M-20M/52P launch
07/26/13 — Progress M-20M/52P docking
09/11/13 — Soyuz TMA-08M/34S undock/landing (End of Increment 36)
————– Inc-37: Three-crew operations ————-
09/25/13 — Soyuz TMA-10M/36S launch – M.Hopkins/O.Kotov(CDR-38)/S.Ryanzansky
09/27/13 — Soyuz TMA-10M/36S docking
————– Inc-37: Six-crew operations ————-
11/xx/13 — Soyuz TMA-09M/35S undock/landing (End of Increment 37)
————– Inc-38: Three-crew operations ————-
11/xx/13 — Soyuz TMA-11M/37S launch – K.Wakata (CDR-39)/R.Mastracchio/M.Tyurin
11/xx/13 — Soyuz TMA-11M/37S docking
12/18/13 — Progress M-20M/52P undock
————– Inc-38: Six-crew operations ————-
03/xx/14 — Soyuz TMA-10M/36S undock/landing (End of Increment 38)
————– Inc-39: Three-crew operations ————-