NASA ISS On-Orbit Status 2 October 2010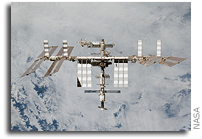 All ISS systems continue to function nominally, except those noted previously or below. Saturday – crew rest day.
At wake-up, FE-5 Yurchikhin conducted the regular daily early-morning check of the aerosol filters at the Russian Elektron O2 generator which Maxim Suraev had installed on 10/19/09 in gaps between the BZh Liquid Unit and the oxygen outlet pipe (filter FA-K) plus hydrogen outlet pipe (filter FA-V). [FE-5 again inspects the filters before bedtime tonight, currently a daily requirement per plan, with photographs to be taken if the filter packing is discolored.]
CDR Wheelock & FE-6 Walker continued their current week-long activity with the post-wakeup experiment SLEEP (Sleep-Wake Actigraphy & Light Exposure during Spaceflight), 5th for both of them, transferring data from their Actiwatches to the HRF-1 (Human Research Facility 1) laptop. [To monitor his/her sleep/wake patterns and light exposure, the crewmember wears a special Actiwatch device which measures the light levels encountered by him/her as well as their patterns of sleep and activity throughout the Expedition, using the payload software for data logging and filling in questionnaire entries in the experiment's laptop session file on the HRF-1 laptop. The log entries are done within 15 minutes of final awakening for seven consecutive days.]
Walker completed Day 3 of her current 4-day session on the medical protocol Pro K (Dietary Intake Can Predict and Protect against Changes in Bone Metabolism during Spaceflight and Recovery), her 4th onboard run, with controlled diet and diet logging after the urine pH spot test. [Under Pro K, the crewmember measures and logs the pH value of a urine sample, to be collected the same time of day every day for 4 days. The crewmember also prepares a diet log and then annotates quantities of food packets consumed and supplements taken.]
Wheelock had Day 2 of his new Pro K session, his 4th on board.
As part of the crew's regular morning inspection tour, Fyodor Yurchikhin conducted the routine checkup of circuit breakers & fuses in the DC-1 Docking Compartment. [The monthly checkup in the "Pirs" module looks at AZS circuit breakers on the BVP Amp Switch Panel (they should all be On) and the LEDs (light-emitting diodes) of 14 fuses in fuse panels BPP-30 & BPP-36.]
The three station residents completed the regular weekly three-hour task of thorough cleaning of their home, including COL and Kibo JPM (JEM Pressurized Module). ["Uborka", usually done on Saturdays but pulled forward a day because of the pending Progress arrival, includes removal of food waste products, cleaning of compartments with vacuum cleaner, damp cleaning of the SM (Service Module) dining table, other frequently touched surfaces and surfaces where trash is collected, as well as the sleep stations with a standard cleaning solution; also, fan screens and grilles are cleaned to avoid temperature rises. Special cleaning is also done every 90 days on the HEPA (high-efficiency particulate air) bacteria filters in the Lab.]
Fyodor completed the routine daily servicing of the SOZh system (Environment Control & Life Support System, ECLSS) in the SM. [Regular daily SOZh maintenance consists, among else, of checking the ASU toilet facilities, replacement of the KTO & KBO solid waste containers and replacement of EDV-SV waste water and EDV-U urine containers.]
After setting up the KODAK DSC 760 video cameras for two standard definition views and the G1 camcorder for one HD (High Definition) view, Doug Wheelock & Shannon Walker each took the refurbished T2/COLBERT treadmill in Node-3 through a manned AOC (Activation & Checkout) session. [The runs had been approved by ground engineers after yesterday's unmanned ACO.]
Wheels filled out his weekly FFQ (Food Frequency Questionnaire) on the MEC (Medical Equipment Computer). [On the FFQs, NASA astronauts keep a personalized log of their nutritional intake over time on special MEC software. Recorded are the amounts consumed during the past week of such food items as beverages, cereals, grains, eggs, breads, snacks, sweets, fruit, beans, soup, vegetables, dairy, fish, meat, chicken, sauces & spreads, and vitamins. The FFQ is performed once a week to estimate nutrient intake from the previous week and to give recommendations to ground specialists that help maintain optimal crew health. Weekly estimation has been verified to be reliable enough that nutrients do not need to be tracked daily.]
Before her sleeptime, Shannon sets up the equipment for her next 24-hour urine collections of the Generic HRF (Human Research Facility) urine sampling protocol, starting tomorrow. [Based on crew feedback, new cold stowage hardware, and IPV (International Procedures Viewer) capabilities, the generic blood & urine procedures were created to allow an individual crewmember to select their payload complement and see specific requirements populated. Individual crewmembers will select their specific parameter in the procedures to reflect their science complement. Different crewmembers will have different required tubes and hardware configurations, so they should verify their choice selection before continuing with operations to ensure their specific instruction.]
At ~9:25am EDT, the crew conducted their regular WPC (Weekly Planning Conference) with the ground, discussing next week's "Look-Ahead Plan" (prepared jointly by MCC-H and TsUP-Moscow timeline planners), via S-band/audio, reviewing upcoming activities and any concerns about future on-orbit events.
The crew worked out on today's 2-hr physical exercise protocol on the TVIS treadmill with vibration isolation (FE-5), ARED advanced resistive exercise device (CDR, FE-5, FE-6), and T2/COLBERT advanced treadmill (CDR/ACO, FE-6/ACO).
Jobs listed for Fyodor on the Russian discretionary "time permitting" task list today were –
* Another ~30-min. run of the GFI-8 "Uragan" (hurricane) earth-imaging program with the FSS hardware for simultaneous spectrometry of the Strelets Steppe Preserve in the vicinity of the City of Kursk and the Kursk Nuclear Power Plant, taking track imagery of the Kursk target area to the Strelets Preserve [the FSS system consists of an image recording module with lens and a spectroradiometer module with an electronics module. The orbital imagery is supported by a field team on the ground in the Preserve till 10/4. For today's session, Fyodor last night charged and checked the ME/Electronics Module & MRI/Image Recording Module batteries and also set up the FSS science hardware near window #9.] and
* A ~30-min. session for Russia's EKON Environmental Safety Agency, making observations and taking KPT-3 aerial photography of environmental conditions on Earth using the NIKON D3X camera with the RSK-1 laptop.
Weekly Science Update (Expedition Twenty-Five — Week 1).
2-D NANO Template (JAXA): No report.
3-D SPACE: No report.
AgCam (Agricultural Camera): No report.
ALTCRISS (Alteino Long Term monitoring of Cosmic Rays on the ISS): Complete.
ALTEA SHIELD (NASA/ASI): Since 9/25 two out of the 6 Silicon Detector Units (SDU) are not generating data. Their power profile is nominal leading to the suspicion that the data connector might be loose. The 6 detectors are positioned in 3 directions, each direction 2 detectors. The 2 SDUs not producing data are along the same axis and therefore data from 1 of the 3 measuring directions is currently lost. Science impact depends on recovery time. If the problem can be solved soon, then interpolation of the data coming from the 2 other directions might be possible, leading to limited science impact. However, if the problem cannot be solved, then the concept of the experiment is impacted, leading to difficulties determining the orientation of the detectors for the second part of the ALTEA-SHIELD experiment (Shield).
APEX (Advanced Plant Experiments on Orbit) -Cambium: No report.
APEX-TAGES (Transgenic Arabidopsis Gene Expression System): No report.
BCAT-4/5 (Binary Colloidal Alloy Test 4/5): No report.
BIOLAB (ESA): No report.
BIORHYTHMS (JAXA, Biological Rhythms): No report.
BISE (CSA, Bodies in the Space Environment): No report.
BISPHOSPHONATES: No report.
CARD (Long Term Microgravity: Model for Investigating Mechanisms of Heart Disease, ESA): "Thank you for taking the Cardiolab Blood Pressure Holter troubleshooting activity from the task list. It showed the same error as before, confirming a problem with the holter and not the cuff."
CARDIOCOG-2: Complete.
CB (JAXA Clean Bench): No report.
CBEF (JAXA Cell Biology Experiment Facility)/SPACE SEED: No report.
CCISS (Cardiovascular & Cerebrovascular Control on Return from ISS): No report.
CERISE (JAXA): No report.
CFE (Capillary Flow Experiment): No report.
CSI-3/CGBA-5 (CGBA Science Insert #2/Commercial Generic Bioprocessing Apparatus 5): Ongoing.
CGBA-2 (Commercial Generic Bioprocessing Apparatus 2): Complete.
CIR (Combustion Integrated Rack), MDCA/Flex: No report.
Commercial Photo (JAXA): No report.
CSLM-2 (Coarsening in Solid-Liquid Mixtures 2): No report.
CubeLab: No report.
CW/CR (Cell Wall/Resist Wall) in EMCS (European Modular Cultivation System): Complete.
DECLIC (Device for the Study of Critical Liquids & Crystallization, CNES/NASA): No report.
DomeGene (JAXA): Complete.
DOSIS (Active Measure, ESA): Successful DOSTEL2 data downlink on 9/30.
EarthKAM (Earth Knowledge Acquired by Middle School Students): No report.
EDR (European Drawer Rack, ESA): No report.
ELITE-S2 (Elaboratore Immagini Televisive – Space 2): Planned.
EMCS (European Modular Cultivation System): No report.
ENose (Electronic Nose): No report.
EPM (European Physiology Module): Activated in support of CARD.
EPO (Educational Payload Operations, NASA): (Kids in Space): No report.
EPO LES-2 (ESA): No report.
EPO COMMERCIAL (JAXA): No report.
.
EPO 3-min Video (JAXA): No report.
EPO J-Astro Report (JAXA): No report.
EPO Dewey's Forest (JAXA): Closed out on 3/15.
EPO Space Clothes (JAXA): Complete.
EPO Hiten (Dance, JAXA): No report.
EPO-5 SpaceBottle (Message in a Bottle, JAXA): No report.
EPO Moon Score (JAXA): No report.
EPO Try Zero-G (JAXA): No report.
EPO Kibo Kids Tour (JAXA): Complete.
EPO Paper Craft (Origami, JAXA): No report.
EPO Poem (JAXA): No report.
EPO Spiral Top (JAXA): No report.
ERB-2 (Erasmus Recording Binocular, ESA): [ERB-2 aims are to develop narrated video material for various PR & educational products & events, including a 3D interior station view.] No report.
ETD (Eye Tracking Device): Completed.
FACET-2 (JAXA): "3rd run working on 9/29. Some preliminary results and notes follow: The sharpness of the interference fringe has been compared to ground model with t-Butyl alcohols localization between liquid and solid phases at C/O in August."
FERULATE (JAXA): No report.
FIR/LMM/CVB (Fluids Integrated Rack / Light Microscopy Module / Constrained Vapor Bubble): No report.
Fish Scales (JAXA): Completed on FD7/ULF-4 and returned on STS-132.
FOAM STABILITY (ESA): No report.
FOCUS: No report.
FSL (Fluid Science Laboratory, ESA): No report.
FWED (Flywheel Exercise Device, ESA): No report.
GENARA-A (Gravity Regulated Genes in Arabidopsis A/ESA): No report.
GEOFLOW: No report.
HAIR (JAXA): No report.
HDTV System (JAXA): Was delivered by HTV1.
Holter ECG (JAXA): No report.
HQPC (JAXA): Was delivered by 34P.
HREP (HICO/Hyperspectral Imager for the Coastal Ocean & RAIDS/Remote Atmospheric & Ionospheric Detection System/JAXA): HREP is operating nominally and 1730 images have been taken to date.
ICE CRYSTAL (JAXA): Complete.
ICV (Integrated Cardiovascular): No report.
IMMUNO (Neuroendocrine & Immune Responses in Humans During & After Long Term Stay at ISS): Complete.
INTEGRATED IMMUNE: "Shannon & Wheels, the return of 22S marked the completion of your first Integrated Immune sampling session. The Investigator Team received your blood and saliva samples on the ground in Houston and sample analysis is on-going. Initial processing went well and the team received your surveys earlier this week. We would like to thank you both for all your efforts to ensure successful sample collections and the team is looking forward to your next Integrated Immune session during STS-135 docked operations."
InSPACE-2 (Investigating the Structure of Paramagnetic Aggregates from Colloidal Emulsions 2): No report.
IRIS (Image Reversal in Space, CSA): No report.
ISS Amateur/Ham Radio: Successful contact with University of Western Australia performed by Shannon Walker.
IV Gen (Intravenous Fluids Generation): No report.
KID/KUBIK6: No report.
Kids in Micro-G: All runs are completed and videos look great! Thanks to everyone for doing a great job on these student-designed experiments!!
KUBIK 3 (ESA): No report.
LOCAD-PTS (Lab-on-a-Chip Application Development-Portable Test System): No report.
Matryoshka-2 (RSA): Acquiring science data in JAXA's Kibo.
Marangoni Exp (JAXA): The cassette is now installed in FPEF for experiment planned to start on week 5 (week of 10/25).
Marangoni UVP (JAXA): Sample cassette for Inc 27-28 was confirmed for the current location (for GMT245, MI-CASSETTE-XFER) in week 25, Inc23/24. As further preparation task, leak check will be planned later on. Some brief notes and PI observations for the 23/24 Marangoni UVP follow. This includes 3 experiments over weeks 14 to 15:
This sample includes photoclomic dyes as a tracer. When irradiated by UV rays, we can detect a convection current and surface velocity. In these weeks, the PI conducted experiments with a longitude bridge under high temperature conditions. Rotating flow in a liquid bridge was detected. This was a very good result in this field.
MAXI (Monitor of All-sky X-ray Image, JAXA): New X-ray nova, named MAXI J166659-152 was detected on 9/25. X-ray brightening was seen on the light curve data chart on telemetry. This detection is consistent with the same-day detection by the Swift Burst Alert Telescope. Source has continued to brighten since the initial observation.
MDCA/Flex: See under CIR.
MEIS (Marangoni Experiment for ISS) in JAXA FPEF (Fluid Physics Experiment Facility): No report.
Microbe-1 (JAXA): No report.
Micro-G Clay (JAXA EPO): Complete.
MMA (JAXA/Microgravity Measurement Apparatus): No report.
MISSE-7 (Materials ISS Experiment): MISSE-7 is operating nominally and all Science data continues to be downlinked.
MPAC/SEED (JAXA): Completed on 19A FD4.
MSG-SAME (Microgravity Science Glovebox-Smoke Aerosol Measurement Experiment): No report.
MSL (Materials Science Laboratory, ESA): No report.
MTR-2 (Russian radiation measurements): Passive dosimeters measurements in DC-1 "Pirs".
MULTIGEN-1: Completed.
MYCO 2 (JAXA): Caldwell, Wheelock, and Walker performed on 8/30.
MyoLab (JAXA): Completed on 4/20.
NANOSKELETON (Production of High Performance Nanomaterials in Microgravity, JAXA): Returned on 19A.
NEURORAD (JAXA): No report.
NEUROSPAT (ESA/Study of Spatial Cognition, Novelty Processing and Sensorimotor Integration): No report.
NOA-1/-2 (Nitric Oxide Analyzer, ESA): Complete.
NUTRITION w/REPOSITORY/ProK: No report.
PADIAK: No report.
PADLES (JAXA, Area PADLES 3/4; Passive Area Dosimeter for Lifescience Experiment in Space): No report.
PASSAGES (JAXA): No report.
PCDF-PU (Protein Crystallization Diagnostic Facility – Process Unit): No report.
PCG (JAXA, Protein Crystal Growth): PCG had arrived with 39P, has been installed in the PCRF and experimenting is going on nominally.
PCRF (Protein Crystallization Research Facility) Reconfiguration (JAXA): See PCG.
PMDIS (Perceptual Motor Deficits in Space): Complete.
POLCA/GRAVIGEN (ESA): Complete.
Pro K: No report.
RadGene & LOH (JAXA): Complete.
RadSilk (JAXA): Samples were returned to ground on ULF3.
RST/Reaction Self Test (Psychomotor Vigilance Self Test on the ISS): "Wheels and Shannon, thank you for participating in Reaction Self Test! Next week you will begin your first sleep shift sequence for Reaction Self Test. For a sleep shift sequence, Reaction Self Test is performed twice daily for 3 days prior to a sleep shift, the day(s) of the sleep shift and 5 days following the sleep shift. Therefore, for this sleep shift sequence, Reaction Self Test will be scheduled twice daily from GMT 279 to GMT 288."
RYUTAI Rack (JAXA): No report.
SAIBO Rack (JAXA): No report.
SAMS/MAMS (Space & Microgravity Acceleration Measurement Systems): No report.
SAMPLE: Complete.
SCOF (Solution Crystallization Observation Facility, JAXA): No report.
SEDA-AP (Space Environment Data Acquisition Equipment-Attached Payload, JAXA): The experiment (observation) has been resumed from 8/23.
SHERE (Shear History Extensional Rheology Experiment): Complete.
SLAMMD (Space Linear Acceleration Mass Measurement Device): No report.
SLEEP (Sleep-Wake Actigraphy & Light Exposure during Spaceflight): "Shannon, you are currently completing your first week of Sleep logging for Increment 25. The data was downlinked on the 28th and sent to the PI for analysis. Wheels, you are currently completing your first week of Sleep logging for Increment 25. The data was downlinked on the 28th and sent to the PI for analysis. Shannon, thanks for downloading and initializing everyone's Actiwatches and the extra information about Tracy's watch. We are evaluating options and may return Tracy's watch on ULF5 for testing on the ground. If an additional download is required, we will schedule with the next monthly Actiwatch download."
SMILES (JAXA): Under 9th cooling mode. SLOC (Submillimeter Local Oscillator Control) electronics of SMILES has failed. As a result, the SLOC is currently deactivated. Ground Technical Support Team has been working on troubleshooting for this issue. SMILES has been in stand-by mode and not gathering data since Apr 2010, before anomalous current peak was obtained.
SODI/IVIDIL (Selectable Optical Diagnostics Instrument/Influence of Vibration on Diffusion in Liquids, ESA): No report.
SODI/COLLOID (Selectable Optical Diagnostics Instrument/Colloid): "Thank you, Shannon, for exchanging the flash disk on 9/27. On 9/28, SODI rebooted spontaneously during the cool-down period between runs 88 and 89. After re-powering SODI on 9/29, run 89 could be started. All 96 runs have been successfully completed on 9/30. The science team reported from analyzing the data of most of the runs that they are seeing very good and clear data. However, on the basis of the obtained results so far, the science team reported that the goals set out at the start of the experiment are not yet achieved and that complementary measurements are needed. The main reasons are: measurements performed at the aggregation temperature are not reproducible and more repetitions are needed to produce a statistically significant statement. Additionally, those measurements are impacted by the appearance of fringes impeding the observation of the early stage aggregation. At the aggregation temperature, the growth of aggregates is slower than at temperatures above the aggregation temperature, therefore the science team would like to extend the aggregation time. Another motivation for additional runs is the lack of crystal growth observation. By decreasing the temperature steps, the science team expects to lower the amount of particle interactions and enhance the formation of crystals."
SOLAR (Solar Monitoring Observatory): Sun visibility window ended on 9/14.
SOLO (Sodium Loading in Microgravity): No report.
Space-DRUMS (Space Dynamically Responding Ultrasonic Matrix System): No report.
SPHERES (Synchronized Position Hold, Engage, Reorient, Experimental Satellite): No report.
SPICE (Smoke Point In Co-flow Experiment): No report.
SPINAL (Spinal Elongation): No report.
SWAB (Characterization of Microorganisms & Allergens in Spacecraft): No report.
TASTE IN SPACE (ESA): No report.
THERMOLAB (ESA): No report.
TRAC (Test of Reaction & Adaptation Capabilities): Planned.
TRIPLELUX-B (ESA): No report.
ULTRASOUND: Planned.
VASCULAR (CSA): No report.
VCAM (Vehicle Cabin Atmosphere Module, NASA): No report.
VESSEL ID System (ESA): "Thank you Doug for the troubleshooting on 9/27. Unfortunately the LuxAIS receiver could still not establish a good communication with the ERNObox. We are proceeding with other troubleshooting steps from ground."
VESSEL IMAGING (ESA): Acquiring data. Command list file uplink performed on 9/1.
VO2max (NASA): No report.
VLE (Video Lessons ESA): No report.
WAICO #1/#2 (Waving and Coiling of Arabidopsis Roots at Different g-levels; ESA): No report.
YEAST B (ESA): No report.
CEO (Crew Earth Observation): Through 9/29, the ground has received a total of 75 frames of Exp-25 CEO imagery for review and cataloging. "We are pleased to report your acquisition of the following targets with times corresponding to those of our daily CEO Target Request lists: Twitchell Canyon Fire, Utah – several excellent frames indicating change in the character of this ongoing fire; Edwards Plateau Land-use, Texas – under evaluation; and Muscat, Oman – several excellent context frames of target area – more detailed views will be requested in the future. A dramatic panoramic view of the northern Caspian Sea from Increment 24 was published on NASA/GSFC's Earth Observatory website this past weekend. This recent image included the deltas of both the Volga and Ural Rivers with sun glint enhancement as well as the immense, pulsing smoke plume of a significant fire in the coastal wetlands of the Ural itself. Thanks for this excellent, publication-worthy, dynamic event shot!"
CEO photo targets uplinked for today were Kathmandu, Nepal (weather was predicted to be clear over the capital city of Nepal. The city is located within the southern front ranges of the Himalayas within the Kathmandu Valley. Overlapping mapping frames of the urban area were requested), Semeru Volcano, Java, Indonesia (Semeru is the highest volcano on the island of Java. While it is extremely rare to have a cloud free look at the volcanoes on Java, the peaks of the volcanoes are typically visible above the clouds. Looking slightly right of track for a cluster of volcanoes in eastern Java. Shooting the volcano nearest the south coast of Java), and Wells Creek Impact Crater, TN (Wells Creek in an exposed impact crater in Tennessee. This target should have been directly under the orbit track. Overlapping images were requested. The crater is 12 km in diameter and is estimated to be about 200 million years old).
ISS Orbit (as of this morning, 5:25am EDT [= epoch])
Mean altitude – 354.3 km
Apogee height – 359.3 km
Perigee height – 349.3 km
Period — 91.63 min.
Inclination (to Equator) — 51.64 deg
Eccentricity — 0.000746
Solar Beta Angle — -27.1 deg (magnitude decreasing)
Orbits per 24-hr. day — 15.71
Mean altitude loss in the last 24 hours – 76 m
Revolutions since FGB/Zarya launch (Nov. 98) – 68,033.
Significant Events Ahead (all dates Eastern Time and subject to change):
————–Three-crew operations————-
10/07/10 — Soyuz TMA-20/24S launch – Kelly (CDR-26)/Kaleri/Skripochka – 7:10:55pm EDT
10/09/10 — Soyuz TMA-20/24S docking – ~8:02pm
————–Six-crew operations————-
10/26/10 — Progress M-05M/37P undock
10/27/10 — Progress M-08M/40P launch
10/29/10 — Progress M-08M/40P docking
11/01/10 — STS-133/Discovery launch (ULF5 – ELC4, PMM) ~4:33pm EDT
11/12/10 — Russian EVA-26
11/17/10 — Russian EVA-27
11/30/10 — Soyuz TMA-19/23S undock/landing (End of Increment 25)
————–Three-crew operations————-
12/14/10 — Soyuz TMA-21/25S launch – Kondratyev (CDR-27)/Coleman/Nespoli
12/16/10 — Soyuz TMA-21/25S docking
————–Six-crew operations————-
12/20/10 — Progress M-07M/39P undock
01/24/11 — Progress M-08M/40P undock
01/28/11 — Progress M-09M/41P launch
01/31/11 — Progress M-09M/41P docking
02/xx/11 — Russian EVA-28
02/15/11 — ATV-2 "Johannes Kepler" launch
02/27/11 — STS-134/Endeavour (ULF6 – ELC3, AMS-02)
03/16/11 — Soyuz TMA-20/24S undock/landing (End of Increment 26)
————–Three-crew operations————-
03/30/11 — Soyuz TMA-22/26S launch – A. Borisienko (CDR-28)/R.Garan/A.Samokutayev
04/01/11 — Soyuz TMA-22/26S docking
————–Six-crew operations————-
04/26/11 — Progress M-09M/41P undock
04/27/11 — Progress M-10M/42P launch
04/29/11 — Progress M-10M/42P docking
05/xx/11 — Russian EVA-29
05/16/11 — Soyuz TMA-21/25S undock/landing (End of Increment 27)
————–Three-crew operations————-
05/30/11 — Soyuz TMA-23/27S launch – M. Fossum (CDR-29)/S. Furukawa/S. Volkov
06/01/11 — Soyuz TMA-23/27S docking
————–Six-crew operations————-
06/21/11 — Progress M-11M/43P launch
06/23/11 — Progress M-11M/43P docking
08/29/11 — Progress M-11M/43P undocking
08/30/11 — Progress M-12M/44P launch
09/01/11 — Progress M-12M/44P docking
09/16/11 – Soyuz TMA-22/26S undock/landing (End of Increment 28)
————–Three-crew operations————-
09/30/11 — Soyuz TMA-24/28S launch – D.Burbank (CDR-30)/A.Shkaplerov/A.Ivanishin
10/02/11 – Soyuz TMA-24/28S docking
————–Six-crew operations————-
10/20/11 — Progress M-10M/42P undocking
10/21/11 — Progress M-13M/45P launch
10/23/11 — Progress M-13M/45P docking
11/16/11 — Soyuz TMA-23/27S undock/landing (End of Increment 29)
————–Three-crew operations————-
11/30/11 — Soyuz TMA-25/29S launch – O.Kononenko (CDR-31)/A.Kuipers/D.Pettit
12/02/11 — Soyuz TMA-25/29S docking
————–Six-crew operations—————-
12/??/11 — 3R Multipurpose Laboratory Module (MLM) w/ERA – on Proton.
12/26/11 — Progress M-13M/45P undock
03/14/12 — Soyuz TMA-24/28S undock/landing (End of Increment 30)
————–Three-crew operations————-
03/26/12 — Soyuz TMA-26/30S launch – G.Padalka (CDR-32)/J.Acaba/K.Valkov
03/28/12 — Soyuz TMA-26/30S docking
————–Six-crew operations—————-
05/15/12 — Soyuz TMA-25/29S undock/landing (End of Increment 31)
————–Three-crew operations————-
05/29/12 – Soyuz TMA-27/31S launch – S.Williams (CDR-33)/Y.Malenchenko/A.Hoshide
05/31/12 – Soyuz TMA-27/31S docking
————–Six-crew operations—————-
09/09/12 — Soyuz TMA-26/30S undock/landing (End of Increment 32)
————–Three-crew operations————-
09/23/12 — Soyuz TMA-28/32S launch – K.Ford (CDR-34)/O. Novitskiy/E.Tarelkin
09/25/12 – Soyuz TMA-28/32S docking
————–Six-crew operations————-
10/07/12 — Soyuz TMA-27/31S undock/landing (End of Increment 33)
————–Three-crew operations————-
11/xx/12 — Soyuz TMA-29/33S launch – C.Hadfield (CDR-35)/T.Mashburn/R.Romanenko
11/xx/12 – Soyuz TMA-29/33S docking
————–Six-crew operations————-
03/xx/12 — Soyuz TMA-28/32S undock/landing (End of Increment 34)
————–Three-crew operations————-
03/xx/12 – Soyuz TMA-30/34S launch.
03/xx/12 – Soyuz TMA-30/34S docking
————–Six-crew operations————-