NASA ISS On-Orbit Status 16 December 2012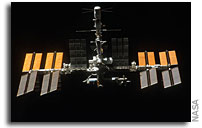 All ISS systems continue to function nominally, except those noted previously or below. Sunday – Crew off duty. Ahead: Week 5 of Increment 34 (three-person crew).
The reboost was successfully conducted at the scheduled time (8:34am). [A total of three pre-positioned Russian "cyclograms" were used during the reboost/PDAM (Pre-Determined Debris Avoidance Maneuver) test with the mid-ring thrusters of Progress 48P at the DC1 Docking Compartment. The primary was the PDAM cyclogram which TsUP/Moscow initiated at TIG (Time of Ignition)-1 hr. Three TIG options have been provided by TsUP at their request to target for this test. The primary TIG for the PDAM reboost was 8:34am; it enabled the entire burn to occur over a RGS (Russian Groundsite) in order to allow Moscow to receive full Progress data during the burn (there is no requirement for future translational maneuvers to occur over RGSs). As a real-time backup capability, NASA/Energia coordination has also resulted in a TIG of 8:40am in the event that timeline impacts require a very small delay in cyclogram initiation. The last 1-2 min of the backup burn time fell outside of the Russian ground-site. The remaining two cyclograms consist of a Handover & a Reboost/Standard cyclogram, also called cyclogram #87 & #89, respectively. Both of these cyclograms enable or disable the Pulse Train and SM Yaw Bias patches depending on the configuration of software flags.]
After wakeup, FE-1 Novitskiy performed the routine inspection of the SM (Service Module) PSS Caution & Warning panel as part of regular Daily Morning Inspection and also completed the daily reboot of the Russian RS1 & RS2 laptops.
FE-2 Tarelkin rebooted the Russian RSS1 & RSS2 laptops and completed daily routine maintenance on the BRI smart switch router (SSR), checking its temperature via DeviceControl on the RSS1 laptop to ensure nominal operation. [The BRI fan module consists of 4 individual fans. If one or several of these exhibit malfunction or rotation speed decreases, a combined warning is sent to the DeviceControl application on the RSS1 laptop to generate an emergency message and telemetry signal, "BRI1". The fan module is an ORU (On-orbit Replaceable Unit).]
CDR Ford closed the protective shutters of the Lab, Node-3/Cupola & Kibo JPM (JEM Pressurized Module) in preparation for the SARJ (Solar Alpha Rotary Joint) feathering (5:44am EST) and subsequent reboost/PDAM.
Oleg Novitskiy activated the Russian payload TEKh-39 LCS (Laser Communications System, Russian: SLS) in the SM. About 2hr35m later, FE-1 copied the collected test data from the RSE-SLS A31p laptop to the RSS2 laptop for data downlink and log file dump.
Evgeny Tarelkin completed the routine daily & weekly servicing of the SOZh system (Environment Control & Life Support System, ECLSS) in the SM and FGB. [This included the weekly collection of the toilet flush (SP) counter and water supply (SVO) readings of SM & FGB for calldown to TsUP-Moscow, as well as the weekly checkup on the Russian POTOK-150MK (150 micron) air filter unit of the SM's & FGB's SOGS air revitalization subsystem, gathering weekly data on total operating time & "On" durations for calldown. SOZh servicing includes checking the ASU toilet facilities, replacement of the KTO & KBO solid waste containers and replacement of EDV-SV waste water and EDV-U urine containers as required.]
At ~5:30am EST, Oleg had his weekly PFC (Private Family Conference) via S-band/audio and Ku-band/MS-NetMeeting application (which displays the uplinked ground video on an SSC laptop).
The three crewmembers worked out on the TVIS treadmill with vibration isolation & stabilization (FE-1, FE-2), ARED advanced resistive exercise device (CDR, FE-2), T2/COLBERT advanced treadmill (CDR) and VELO ergometer bike with load trainer (FE-1).
Tasks listed for Evgeny & Oleg on the Russian discretionary "time permitting" job for today were –
* More preparation & downlinking of reportages (written text, photos, videos) for the Roskosmos website to promote Russia's manned space program (max. file size 500 Mb),
* A 10-min. photography session for the DZZ-13 "Seiner" ocean observation program, obtaining SKPF-U (Photo Image Coordinate Reference System) HDV (Z1) camcorder footage of color bloom patterns in the waters of South-Eastern Atlantic (SEA), South-East Pacific (SEP), South-Western Atlantic (SWA) and Central-Eastern Atlantic (CEA), then copying the images to the RSK-1 laptop,
* A ~30-min. run of the GFI-8 "Uragan" (hurricane) earth-imaging program with the NIKON D3X digital camera with Sigma AF 300-800mm telelens and PI emission platform using the SKPF-U to record target sites on the Earth surface, and
* A ~30-min. session for Russia's EKON Environmental Safety Agency, making observations and taking KPT-3 aerial photography of environmental conditions on Earth using the NIKON D3X camera with the RSK-1 laptop.
CEO (Crew Earth Observation) targets uplinked for today were Irrawaddy River Delta, Myanmar (the Irrawaddy River begins in the high mountains of northern Burma. It is one of southeastern Asia's 5 major rivers [Yangtze, Red, Mekong, Salween, and Irrawaddy] whose source regions are all very close together in the Folded Ranges. ISS had a mid-afternoon pass in fair weather with the delta at nadir. After tracking over the southern Bay of Bengal, the crew approached this target from the SW, trying for detailed shots of the delta with a long lens, if possible. If not, they were to shoot a 180mm contextual view to update existing data), and Tropical Cyclone Evan (Dynamic Event: Tropical Cyclone Evan continues to grow over the South Pacific islands. As of 12/14 at 10:30am EST, Evan was a Category 3 storm, with winds at 115mph and gusts at 145mph. It is forecasted that this storm will move WSW very slowly and eventually use the warmer waters between Samoa and Fiji to still be at least a Category 1 storm by the time of today's pass. As ISS tracked NE just north of New Zealand, the crew was to begin looking up track towards Fiji to take contextual views of the storm and the storm bands, if possible and applicable using a long lens to take detailed shots of the eye of the storm. CEO staff is attempting to track this storm from beginning to end with ISS/CEO imagery).
Significant Events Ahead (all dates Eastern Time and subject to change):
————– Inc-34: Three-crew operations ————-
12/19/12 — Soyuz TMA-07M/33S launch – 7:12:36am EST – C.Hadfield (CDR-35)/T.Mashburn/R.Romanenko
12/21/12 — Soyuz TMA-07M/33S docking – ~9:12:39am EST
————– Inc-34: Six-crew operations ————-
02/11/13 — Progress M-16M/48P undocking
02/12/13 — Progress M-18M/50P launch
02/14/13 — Progress M-18M/50P docking
03/15/13 — Soyuz TMA-06M/32S undock/landing (End of Increment 34)
————– Inc-35: Three-crew operations ————-
03/28/13 — Soyuz TMA-08M/34S launch – P.Vinogradov (CDR-36)/C.Cassidy/A.Misurkin
03/30/13 — Soyuz TMA-08M/34S docking
04/15/13 – Progress N-17M/49P undock
04/18/13 — ATV4 launch
04/23/13 — Progress M-18M/50P undock
04/24/13 – Progress M-19M/51P launch
04/26/13 – Progress M-19M/51P docking
05/01/13 — ATV4 docking
————– Inc-35: Six-crew operations ————-
05/14/13 — Soyuz TMA-07M/33S undock/landing (End of Increment 35)
————– Inc-36: Three-crew operations ————-
05/28/13 — Soyuz TMA-09M/35S launch – M.Suraev (CDR-37)/K.Nyberg/L.Parmitano
05/30/13 — Soyuz TMA-09M/35S docking
————– Inc-36: Six-crew operations ————-
07/23/13 – Progress M-19M/51P undock
07/24/13 – Progress M-20M/52P launch
07/26/13 — Progress M-20M/52P docking
09/11/13 — Soyuz TMA-08M/34S undock/landing (End of Increment 36)
————– Inc-37: Three-crew operations ————-
09/25/13 — Soyuz TMA-10M/36S launch – M.Hopkins/O.Kotov(CDR-38)/S.Ryanzansky
09/27/13 — Soyuz TMA-10M/36S docking
————– Inc-37: Six-crew operations ————-
11/xx/13 — Soyuz TMA-09M/35S undock/landing (End of Increment 37)
————– Inc-38: Three-crew operations ————-
11/xx/13 — Soyuz TMA-11M/37S launch – K.Wakata (CDR-39)/R.Mastracchio/M.Tyurin
11/xx/13 — Soyuz TMA-11M/37S docking
12/18/13 — Progress M-20M/52P undock
————– Inc-38: Six-crew operations ————-
03/xx/14 — Soyuz TMA-10M/36S undock/landing (End of Increment 38)