NASA ISS On-Orbit Status 12 September 2009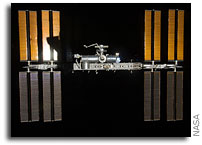 All ISS systems continue to function nominally, except those noted previously or below. Saturday — half-duty day for the crew.
STS-128/Discovery (ISS-17A) returned to Earth last evening after two weather-caused wave-offs on 9/10 plus two more yesterday at KSC, landing at EAFB at 8:53:25pm EDT after a highly successful mission lasting 13d 20h 53m 45 s and covering more than 5.7 million miles. It was the 54th Shuttle landing at Dryden Flight Research Center, California.
Aboard ISS, immediately after wakeup (2:00am), FE-2 Stott began the first day of her first session with the NASA/JSC experiment NUTRITION w/Repository, commencing with the blood draw. Dr. Mike Barratt assisted in the phlebotomy from an arm vein. Later in the day, Nicole also started her 24-hr urine collections. [After the phlebotomy, Stott's samples were first allowed to coagulate in the Repository for 20-30 minutes, then spun in the HRF RC (Human Research Facility/Refrigerated Centrifuge) and finally placed in MELFI (Minus-Eighty Laboratory Freezer for ISS). No thruster activity was allowed during the blood drawing. The RC was later powered off after a temperature reset to limit wear on the compressor, and cleaned. The NUTRITION project is the most comprehensive in-flight study done by NASA to date of human physiologic changes during long-duration space flight. It includes measures of bone metabolism, oxidative damage, nutritional assessments, and hormonal changes, expanding the previous Clinical Nutritional Assessment profile (MR016L) testing in three ways: Addition of in-flight blood & urine collection (made possible by supercold MELFI dewars), normative markers of nutritional assessment, and a return session plus 30-day (R+30) session to allow evaluation of post-flight nutrition and implications for rehabilitation.]
FE-3 Roman Romanenko terminated his seventh experiment session, started last night, for the long-term Russian sleep study MBI-12/SONOKARD, by taking the recording device from his SONOKARD sports shirt pocket and later copying the measurements to the RSE-MED laptop for subsequent downlink to the ground. [SONOKARD objectives are stated to (1) study the feasibility of obtaining the maximum of data through computer processing of records obtained overnight, (2) systematically record the crewmember's physiological functions during sleep, (3) study the feasibility of obtaining real-time crew health data. Investigators believe that contactless acquisition of cardiorespiratory data over the night period could serve as a basis for developing efficient criteria for evaluating and predicting adaptive capability of human body in long-duration space flight.]
The crew performed the regular weekly three-hour task of thorough station cleaning, including COL (Columbus Orbital Laboratory) and Kibo. ["Uborka", usually done on Saturdays, includes removal of food waste products, cleaning of compartments with vacuum cleaner, damp cleaning of the SM (Service Module) dining table, other frequently touched surfaces and surfaces where trash is collected, as well as the sleep stations with a standard cleaning solution; also, fan screens and grilles are cleaned to avoid temperature rises. Special cleaning is also done every 90 days on the HEPA (high-efficiency particulate air) bacteria filters in the Lab.]
As part of the house cleaning, CDR Padalka & FE-3 Romanenko conducted regular maintenance inspection & cleaning of the TsV2 fan screen in the FGB and also performed inspection (for moisture) of structural elements, cables, and instruments behind panel 404, 405, 407, 409, and on the soft air duct of the VTK2 fan (the inspection is done as part of regular "uborka" when an SKV air conditioner is running).
At ~9:05am EDT, the crew held their regular WPC (Weekly Planning Conference) with the ground, discussing next week's "Look-Ahead Plan" (prepared jointly by MCC-Houston and TsUP-Moscow timeline planners) via S-band/audio, reviewing the monthly calendar, upcoming activities, and any concerns about future on-orbit events.
For today's VolSci (Voluntary Weekend Science) activity, Mike Barratt conducted another session with the experiment BISE (Bodies in the Space Environment), first setting up the camcorder and updating BISE software, then conducting the experiment while Nicole Stott took documentary photography. [The CSA (Canadian Space Agency)-sponsored BISE experiment studies how astronauts perceive Up and Down in microgravity. The specific objective of the BISE project is to conduct experiments during long-duration micro-G conditions to better understand how humans first adapt to micro-G and then re-adapt to normal gravity conditions upon return to earth. This experiment involves comparisons of preflight, flight, and post-flight perceptions and mental imagery, with special reference to spaceflight-related decreases in the vertical component of percepts. The test involves having subjects view a computer screen through a cylinder that blocks all other visual information. The astronauts are being presented with background images with different orientations relative to their bodies.]
FE-4 Bob Thirsk configured two SSC (Station Support Computer) laptops to provide additional monitor views at the LAB RWS (Robotic Workstation) in support of the subsequent HTV (H-II Transfer Vehicle) activities.
Then, FE-5 Frank De Winne set up the DOUG (Dynamic Operations Ubiquitous Graphics) for the subsequent SSRMS (Space Station Robotic Manipulator System) activities during which he & Nicole used the SSRMS to practice free-flyer grappling by approaching & capturing the PMA-3 FRGF (Pressurized Mating Adapter 3 Flight Releasable Grapple Fixture) as a "stand-in" for the HTV. Frank later deactivated the RWS monitor setup. [Purpose of the exercise: to allow the crew to practice manual SSRMS maneuvers. After two Joint OCAS (Operator Commanded Auto Sequence) maneuvers, the SSRMS was set up in a "high hover" position over the PMA-3 FRGF, at a distance comparable to the high hover position for HTV. There are some artificial aspects to these approaches compared to the actual HTV capture, but they should provide a representation of the real SSRMS dynamics and capture sequence (including hand controller technique, Loaded Parameters, rate scale, POHS off, fast capture with dual stage rigidization and time pressure). DOUG is a frequently updated special software program running on the MSS (Mobile Service System) RWS laptops that provides a graphical birdseye-view image of the external station configuration and the SSRMS arm, showing its real-time location and configuration on a laptop during its operation.]
Barratt completed the regular bi-monthly reboots of the OCA Router and File Server SSC laptops.
Romanenko performed the monthly & quarterly TVIS treadmill maintenance. [The inspection checks out the TVIS in the current SLD (subject loading device) contingency configuration, primarily looking at the condition of the SPDs (subject positioning devices) with clamp/rope assembly wire rope isolators for fraying and damage, plus recording time & date values.]
Thirsk meanwhile conducted the periodic maintenance & visual inspection of the ARED (Advanced Resistive Exercise Device) and its VIS (Vibration Isolation System), guide rails & rollers, greasing the Y- and Z-axis rails & rollers and also evacuating its cylinder flywheels to maintain proper vacuum condition and sensor calibration.
Bob also undertook another periodic relocation of the TEPC (Tissue Equivalent Proportional Counter) detector assembly, the primary radiation measurement tool in the ISS, moving it from COL (Columbus Orbital Laboratory, COL1A3/A2) back to SM Panel 327 (where it was until its move to COL on 8/21).
The crew performed their regular daily 2.5-hr. physical workout program on the CEVIS cycle ergometer (FE-1, FE-2), TVIS treadmill with vibration isolation (CDR, FE-3, FE-4, FE-5), ARED advanced resistive exercise device (CDR, FE-1, FE-2, FE-4, FE-5), and VELO cycle ergometer with bungee cord load trainer (FE-3).
Afterwards, Mike transferred the exercise data files to the MEC (Medical Equipment Computer) for downlink, including the daily wristband HRM (Heart Rate Monitor) data of the workouts on ARED, followed by their erasure on the HRM storage medium (done six times a week).
At ~4:20am EDT, FE-1 Barratt powered up the SM's amateur radio equipment (Kenwood VHF transceiver with manual frequency selection, headset, & power supply) and conducted, at 4:25am, a ham radio exchange with students at Tokyo Denki University High/Junior High School, Koganei, Tokyo, Japan. [The Tokyo Dendai (Tokyo Electric University) junior high/high school was established in 1948. The school has about 1200 students.]
At ~12:20pm, Padalka & Romanenko engaged in a PAO TV interview with Ekaterina Beloglazova, Editor of Rossiyskiy Kosmos Magazine, an old friend of ISS cosmonauts. ["Please, give us some summary of your work on the ISS. Was everything a success? What are your thoughts before descent? When will you start getting ready? How did your joint activity with STS-128 go? What are you currently involved in at the ISS? What kind of welcome do you have in mind for your guest and new tenants?"]
Weekly Science Update (Expedition Twenty — Week 15)
3-D SPACE: No report.
AgCam (Agricultural Camera): No report.
ALTCRISS (Alteino Long Term monitoring of Cosmic Rays on the ISS): Complete.
ALTEA DOSI (NASA/ASI): Standing by.
BCAT-4/5 (Binary Colloidal Alloy Test 4/5): "Thank you for completing the BCAT task list item, and especially your extra care in inspecting samples 1,2,3, and 10."
BIOLAB (ESA): No report.

Biological Rhythms (JAXA, BIORHYTHMS): No report.
BISE (CSA, Bodies in the Space Environment): No report.
BISPHOSPHONATES: "Bob, thanks for completing your pill ingestion. Your next session is scheduled for 9/14".

CARD (Long Term Microgravity: Model for Investigating Mechanisms of Heart Disease, ESA): No report.
CARDIOCOG-2: Complete.
CB (JAXA Clean Bench): No report.
CBEF (JAXA Cell Biology Experiment Facility)/SPACE SEED: "Appreciate all the effort to start the experiment within the final window. We started the 63 day long SEED experiment on 9/10.
CCISS (Cardiovascular & Cerebrovascular Control on Return from ISS): No report.
CFE (Capillary Flow Experiment): Reserve.
CSI-3/CGBA-5 (CGBA Science Insert #2/Commercial Generic Bioprocessing Apparatus 5): Complete.

CGBA-2 (Commercial Generic Bioprocessing Apparatus 2): Complete.
CIR (Combustion Integrated Rack), MDCA/Flex: No report.
CSLM-2 (Coarsening in Solid-Liquid Mixtures 2): Complete.
Commercial 2 (JAXA): Completed.
Commercial 3 (JAXA): Completed.
CW/CR (Cell Wall/Resist Wall) in EMCS (European Modular Cultivation System): Complete.

DomeGene (JAXA): Complete.
DOSIS (ESA): Experiment is progressing nominally with active and passive dosimeters measurements. Data downlink was performed on 8/31.
EarthKAM (Earth Knowledge Acquired by Middle School Students): Planned.
EDR (European Drawer Rack, ESA): The rack is continuously active in support of the Protein Crystallization Diagnostic Facility (PCDF) experiment. EDR is providing power/data and temperature control (via cooling loop) to PCDF.
ELITE-S2 (Elaboratore Immagini Televisive – Space 2): Planned.
ENose (Electronic Nose): No report.
EPM (European Physiology Module): No report.

EPO (Educational Payload Operations, NASA): No report.
EPO 3-min Video (JAXA): No report.

EPO J-Astro Report (JAXA): Ongoing.

EPO Space Clothes (JAXA): Complete.
EPO Hiten (Dance, JAXA): No report.
EPO Moon Score (JAXA): "Complete, but PI team is now investigating a request for additional sessions to improve the photo moon data. First opportunity for additional sessions is 10/3-5; second opportunity will be 10/20-21."
EPO Try Zero-G (JAXA): "No report.
EPO Kibo Kids Tour (JAXA): Complete.

EPO Spiral Top (JAXA): No report.
ETD (Eye Tracking Device): Completed.
EuTEF (European Technology Exposure Facility): No report.
FACET (JAXA): No report.
FSL (Fluid Science Laboratory): No report.
GEOFLOW: No report.
HDTV System (JAXA): To be launched by HTV1.
Holter ECG (JAXA): No report.
HQPC (JAXA): To be launched by 34P.
ICE CRYSTAL (JAXA): Complete.
ICV (Integrated Cardiovascular): "Nicole and Frank, great job – the PIs were very pleased with the images from Nicole's first echo! The FD14 session will continue next week with Ambulatory Monitoring. Bob is an old hand at "gizmo-wear" so you might want to check with him for pointers."

IMMUNO (Neuroendocrine & Immune Responses in Humans During & After Long Term Stay at ISS): Complete.
INTEGRATED IMMUNE: No report.
InSPACE-2 (Investigating the Structure of Paramagnetic Aggregates from Colloidal Emulsions 2): No report.
IRIS (Image Reversal in Space): No report.
LOCAD-PTS (Lab-on-a-Chip Application Development-Portable Test System): No report.
MEIS (Marangoni Experiment for ISS) in JAXA FPEF (Fluid Physics Experiment Facility): "Will start preparation (FPEF configuration) in the next week."

MAXI (Monitor of All-sky X-ray Image, JAXA): On 9/8, Ethernet trouble occurred again. Troubleshooting (analysis) is in progress on the ground.
MDCA/Flex: See under CIR.
MDS (Mice Drawer System): "Great job with the mice transfer and maintenance. We were happy to hear they're healthy and happy."
Microbe-1 (JAXA): "Complete, thank you for the good job. Microbe Swab Sampling on 3 Diffusers and tube installation into MELFI were completed. 2nd sample collection and photograph was completed and returned by 17A."
Micro-G Clay (JAXA EPO): Complete.

MMA (JAXA/Microgravity Measurement Apparatus): MMA data downlink performed on 7/1. FSL Optical Target #4 check-out was completed by 7/1.
MISSE (Materials ISS Experiment): Ongoing.
Moon Photography from ISS (JAXA EPO): No report.
MSG-SAME (Microgravity Science Glovebox): Complete.

MTR-2 (Russian radiation measurements): Passive dosimeters measurements in DC1 "Pirs".
MULTIGEN-1: Completed.
NEUROSPAT (ESA/Study of Spatial Cognition, Novelty Processing and Sensorimotor Integration): No report.

NOA-1/-2 (Nitric Oxide Analyzer, ESA): Complete.

NUTRITION w/REPOSITORY: Ongoing.

PADLES (JAXA, Area PADLES 3; Passive Area Dosimeter for Lifescience Experiment in Space): Area Dosimeters (PADLES 2) were removed (FD2) and return by 17A. PADLES 3 is scheduled for deployment on 9/14 to start radiation monitoring. "Thanks for the effort to fit this task into the timeline."
PCDF-PU (Protein Crystallization Diagnostic Facility – Process Unit): No report.
PCG (JAXA, Protein Crystal Growth): No report.

PCRF (Protein Crystallization Research Facility) Reconfiguration (JAXA): Complete.

PMDIS (Perceptual Motor Deficits in Space): Complete.
POLCA/GRAVIGEN (ESA): Complete.
RadGene & LOH (JAXA): Complete.

RadSilk (JAXA): RadSilk sample transfer to MELFI completed 9/3.and started experiment. Sortie sample (launch control sample) returned on 17A.

SAMS/MAMS (Space & Microgravity Acceleration Measurement Systems): Ongoing.
SAMPLE: Complete.
SEDA-AP (Space Environment Data Acquisition Equipment-Attached Payload, JAXA): No report.
SHERE (Shear History Extensional Rheology Experiment): Complete.

SLEEP (Sleep-Wake Actigraphy & Light Exposure during Spaceflight): The next monthly Sleep Actiwatch download will be on the task list from 9/12 to 9/18 and hard scheduled on 9/20. The Actiwatches will stop recording data on 9/20. Nicole, next week we are targeting your first week of Sleep logging. Mike, next week we are targeting another week of Sleep logging. Your data was downlinked on 9/5 and sent to the Sleep PI. All the data looks good. Bob, next week we are targeting another week of Sleep logging. Your data was downlinked on 9/5 and sent to the Sleep PI. All the data looks good. Frank, next week we are targeting another week of Sleep logging. Your data was downlinked on 9/5 and sent to the Sleep PI. All the data looks good.
SMILES (JAXA): Exposed Payload, launched on HTV1 910.

SOLAR (Solar Monitoring Observatory): The current Sun observation window ended on 0/25. Next Sun observation window is predicted to start on 9/15.
SOLO (Sodium Loading in Microgravity): No report.

SPHERES (Synchronized Position Hold, Engage, Reorient, Experimental Satellite): No report.
SPICE (Smoke Point In Co-flow Experiment): No report.
SPINAL (Spinal Elongation): "Nicole, thank you for being the operator for the first ever Spinal Elongation operations! We were pleased we received the setup photos in a timely fashion and everything was correct, thanks to you and Pat for working that out. We look forward to analyzing the data. Also, thank you for the crew note indicating the Spinal Elongation Kit was transferred back to ISS. We look forward to the next operations on STS-129 with you!"
SWAB (Characterization of Microorganisms & Allergens in Spacecraft): No report.
TRAC (Test of Reaction & Adaptation Capabilities): Planned.
ULTRASOUND: Planned.
VLE (Video Lessons ESA): VLE-1 completed.
WAICO #1/#2 (Waving and Coiling of Arabidopsis Roots at Different g-levels): Complete/Planned (2J/A Stage). No report.
CEO (Crew Earth Observations): No report.
CEO (Crew Earth Observation) photo targets uplinked for today were Betsiboka River Delta, Madagascar (the high sediment content of the Betsiboka River colors the river channel and deltaic deposits a striking red color visible from orbit. Overlapping frames taken along track were requested to map the current configuration of the delta), Etosha Pan, Namibia (Dynamic Event. Flooding of the Etosha Pan continues following high rainfall in neighboring Angola. Look for the characteristic white to greenish lake surface ahead and to the left of track as ISS crossed the African coastline. Overlapping frames of the lake perimeter were requested to gauge the level of flooding), and Ubinas Volcano, Peru (the crew had a nadir pass over Peru's most active volcano Ubinas; some clouds may have been present. The summit caldera contains an ash cone, and debris avalanche deposits extend 10 km from the southeast flank of the volcano. Overlapping frames of the volcano summit and flanks were requested. CEO observers recommended commencing photography as ISS crossed the Peruvian coastline and terminating as it approached Lake Titicaca as the best means of capturing the volcano).
CEO photography can be studied at this "Gateway" website:
http://eol.jsc.nasa.gov (as of 9/1/08, this database contained 770,668 views of the Earth from space, with 324,812 from the ISS alone).
ISS Orbit (as of this morning, 7:45am EDT [= epoch])
Mean altitude — 347.2 km
Apogee height – 353.5 km
Perigee height — 340.9 km
Period — 91.48 min.
Inclination (to Equator) — 51.64 deg
Eccentricity — 0.0009265
Solar Beta Angle — 39.8 deg (magnitude decreasing)
Orbits per 24-hr. day — 15.74
Mean altitude loss in the last 24 hours — 40 m
Revolutions since FGB/Zarya launch (Nov. 98) — 61970
HTV FD (Flight Day) Overview:
FD2: HTV successfully completed all FD2 far-field rendezvous demonstration activities [CPU Passive Abort, three different CAMs (Collision Avoidance Maneuvers): a CPU Medium CAM, a CPU Large CAM and an ACU Checkout CAM, also an IOC Passive Abort, plus Free Drift mode.]
FD3: Far field demonstrations
FD4, FD5: Far field rendezvous
FD6: IMMT review of demonstrations
FD7: Far field rendezvous
FD8: Prox Ops, Capture (~3:50pm if on 9/17), Installation

Capture will occur during time without Ku-Band available.

FD9: Crew half-duty day, Ingress
FD10: JEMRMS checkout and EP (two payloads) prep
FD11: EP Transfer to JEM-EF
FD12: Payloads Transfer from EP to EF (Exposed Facility) with Kibo RMS (Robotic Manipulator System)
FD13: EP Transfer back to HTV
FD14-38: Cargo transfer from HTV to ISS
FD38: Prep for release
FD39: Deactivation and Release
FD40: Re-entry
Significant Events Ahead (all dates Eastern Time, some changes possible!):
09/17/09 — H-IIB (JAXA HTV-1) capture & berth w/SSRMS (~3:50pm)
09/21/09 — Progress 34P undock
09/30/09 — Soyuz TMA-16/20S launch
10/02/09 — Soyuz TMA-16/20S docking (SM aft, until MRM-2 w/new port)
10/11/09 — Soyuz TMA-14/18S undock
10/14/09 — H-IIB (JAXA HTV-1) unberth (under review)
10/15/09 — Progress 35P launch
11/10/09 — 5R/MRM-2 (Russian Mini Research Module 2) on Soyuz-U
11/12/09 — STS-129/Atlantis/ULF3 – ELC1, ELC2
12/07/09 — Soyuz TMA-17/21S launch
12/26/09 — Progress 36P launch
02/03/10 — Progress 37P launch
02/04/10 — STS-130/Endeavour/20A – Node-3 + Cupola
03/18/10 — STS-131/Discovery/19A – MPLM(P), LMC
04/02/10 — Soyuz TMA-18/22S launch
04/27/10 — Progress 38P launch
05/14/10 — STS-132/Atlantis/ULF4 – ICC-VLD, MRM-1
05/29/10 — Soyuz TMA-19/23S launch
06/25/10 — Progress 39P launch
07/29/10 — STS-133/Endeavour (ULF5 – ELC4, MPLM) or STS-134/Discovery (ULF6 – ELC3, AMS)
08/11/10 — Progress 40P launch
09/16/10 — STS-133/Endeavour (ULF5 – ELC4, MPLM) or STS-134/Discovery (ULF6 – ELC3, AMS)
09/29/10 — Soyuz TMA-20/24S launch
10/19/10 — Progress 41P launch
11/??/10 — ATV2 – Ariane 5 (ESA)
12/??/11 — 3R Multipurpose Laboratory Module (MLM) w/ERA – on Proton