NASA ISS On-Orbit Status 12 June 2012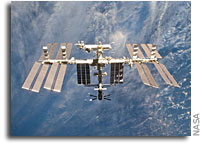 ISS On-Orbit Status 06/12/12
All ISS systems continue to function nominally, except those noted previously or below.
Happy Russia Day! Den' Rossii, 6/12, is Russia's National Holiday (established by Boris Yeltsin to celebrate national unity after the Russian parliament in 1990 formally declared its sovereignty), with large crowds in Red Square in Moscow.
After wakeup & breakfast, Sergei Revin performed the routine inspection of the SM (Service Module) PSS Caution & Warning panel as part of regular Daily Morning Inspection.
FE-6 Don Pettit had Day 1 of the pH test and diet log entry for the Pro K pH plus controlled diet menu protocol of his 5th Pro K Controlled Diet activity. [For the Pro K (Dietary Intake Can Predict and Protect against Changes in Bone Metabolism during Spaceflight and Recovery) protocol, there are five in-flight sessions (FD15, FD30, FD60, FD120, FD180) of samplings, to be shared with the NUTRITION w/Repository protocol, each one with five days of diet & urine pH logging and photography on the last day. The crewmember prepares a diet log and then annotates quantities of food packets consumed and supplements taken. Urine collections are spread over 24 hrs; samples go into the MELFI (Minus Eighty Laboratory Freezer for ISS) within 30 min after collection. Blood samples, on the last day, are centrifuged in the RC (Refrigerated Centrifuge) and placed in MELFI at -80 degC. There is an 8-hr fasting requirement prior to the blood draw (i.e., no food or drink, but water ingestion is encouraged). MELFI constraints: Maximum MELFI Dewar open time: 60 sec; at least 45 min between MELFI dewar door openings. Background on pH: In chemistry, pH (Potential Hydrogen) is a measure of the acidity or basicity of a watery solution. Pure water is neutral, with a pH close to 7.0 at 25 degC. Solutions with a pH less than 7 are "acidic" and solutions with a pH greater than 7 are "basic" or "alkaline". pH measurements are important in medicine, biology, chemistry, agriculture, forestry, food science, environmental science, oceanography, civil engineers and many others.]
For his on-going 5th Ambulatory Monitoring session of the ESA ICV (Integrated Cardiovascular) experiment, FE-5 André Kuipers reached midpoint at about 12:45pm EDT, after which he began the second 24h data collection period, replacing freshly charged Makita batteries as needed. [For the second 24 hr period, the Cardiopres was temporarily doffed and the HM2 HiFi CF Card and AA Battery were changed out to allow continuation of the session for another 24 hours. After data collection is complete, the Actiwatches and both HM2 HiFi CF Cards are downloaded to the HRF PC1, while Cardiopres data are downloaded to the EPM (European Physiology Module) Rack and transferred to the HRF PC1 via a USB key for downlink. The sessions are scheduled at or around FD14, FD30, FD75, FD135 and R-15 (there will be fewer sessions if mission duration is less than six months). (ICV activities consist of two separate but related parts over a one-week time period: an ultrasound echo scan & an ambulatory monitoring session.)]
Oleg Kononenko took care of the routine daily servicing of the SOZh system (Environment Control & Life Support System, ECLSS) in the SM. [Regular daily SOZh maintenance consists, among else, of checking the ASU toilet facilities, replacement of the KTO & KBO solid waste containers, replacement of EDV-SV waste water and EDV-U urine containers and filling EDV-SV, KOV (for Elektron), EDV-ZV & EDV on RP flow regulator.]
Joe Acaba & Don Pettit spent several hours working on the CDRA (Carbon Dioxide Removal Assembly) in the US Lab. [The task was to bypass two degraded temperature sensors (A & B) in Bed 2 and reconnect temp sensor C by removing jumper leads from the failed sensor B and installing them instead on sensor C (which had been inactive) to get it back in the loop. When sensor A failed some time ago, B was brought in, but C could not be mated. Yesterday, sensor B failed, and today's IFM (Inflight Maintenance) was to restore one-sensor functionality for Bed 2. Meanwhile the Node-3 CDRA could sufficiently remove CO2 and was operating during the work on the Lab CDRA.]
At ~5:15am, André Kuipers powered up the SM's amateur radio equipment (Kenwood VHF transceiver with manual frequency selection, headset, & power supply) and at 5:25am conducted a ham radio session with attendants at the ESA-ESTEC Nederlands Ruimtevaartmuseum (Spaceflight Museum) at Lelystad, Netherlands.
Don & Joe had a time slot/placeholder reserved each for making entries in their electronic Journals on the personal SSC (Station Support Computer). [Required are three journaling sessions per week.]
Before Presleep, FE-6 will turn on the MPC (Multi-Protocol Converter) and start the Ku-band data flow of video recorded during the day to the ground, with POIC (Payload Operations & Integration Center) routing the onboard HRDL (High-Rate Data Link). After about an hour, Don turns MPC routing off again. [This is a routine operation which regularly transmits HD onboard video (live or tape playback) to the ground on a daily basis before sleeptime.]
The crew worked out with their regular 2-hr physical exercise protocol on the CEVIS cycle ergometer with vibration isolation (FE-3, FE-5), TVIS treadmill with vibration isolation & stabilization (CDR, FE-1, FE-2), ARED advanced resistive exerciser (CDR, FE-2, FE-3, FE-5, E-6), T2/COLBERT advanced treadmill (FE-6), and VELO bike ergometer with load trainer (FE-1). [FE-6 is on the special experimental SPRINT protocol which diverts from the regular 2.5 hrs per day exercise regime and introduces special daily sessions involving resistive and aerobic (interval & continuous) exercise, followed by a USND (Ultrasound) leg muscle self scan in COL. No exercise is being timelined for Fridays. If any day is not completed, Don picks up where he left off, i.e., he would be finishing out the week with his last day of exercise on his off day. If any day is not completed, Don picks up where he left off, i.e., he would be finishing out the week with his last day of exercise on his off day.]
CEO (Crew Earth Observation) targets uplinked for today were Dodoma, Tanzania (Capital Cities Collection: Some patchy clouds may be present in the Dodoma region. The city presents little contrast with its surroundings, but is located directly to the north of a grouping of small dark hills. The crew was to begin to acquire nadir-viewing mapping frames as they approached and then passed over the target), and St. Paul Rocks islets, Brazil (HMS Beagle Site: Darwin and the Beagle briefly visited this isolated, equatorial Atlantic site in early February of 1832. This tiny group of islets and rocks is also known as the Saint Peter and Saint Paul Archipelago. The islands are of particular interest to geologists as they expose rocks associated with the Earth's mantle above sea level. Looking just right of track for the islands as ISS approached the area from the SW. With late-afternoon light and a few clouds the crew should have been able to photograph all of them in a mapping pass.
Significant Events Ahead (all dates Eastern Time and subject to change):
————–Six-crew operations—————-
07/01/12 — Soyuz TMA-03M/29S undock/landing (End of Increment 31)
————–Three-crew operations————-
07/15/12 — Soyuz TMA-05M/31S launch – S.Williams (CDR-33)/Y.Malenchenko/A.Hoshide
07/17/12 — Soyuz TMA-05M/31S docking
07/20/12 — HTV3 launch (~10:18pm EDT)
07/22/12 — Progress M-15M/47P undock
07/24/12 — Progress M-15M/47P re-docking
07/30/12 — Progress M-15M/47P undocking/deorbit
07/31/12 — Progress M16M/48P launch
08/02/12 — Progress M16M/48P docking
————–Six-crew operations—————-
09/17/12 — Soyuz TMA-04M/30S undock/landing (End of Increment 32)
————–Three-crew operations————-
10/15/12 — Soyuz TMA-06M/32S launch – K.Ford (CDR-34)/O.Novitsky/E.Tarelkin
10/17/12 — Soyuz TMA-06M/32S docking
————–Six-crew operations————-
11/01/12 — Progress M-17M/49P launch
11/03/12 — Progress M-17M/49P docking
11/12/12 — Soyuz TMA-05M/31S undock/landing (End of Increment 33)
————–Three-crew operations————-
12/05/12 — Soyuz TMA-07M/33S launch – C.Hadfield (CDR-35)/T.Mashburn/R.Romanenko
12/07/12 — Soyuz TMA-07M/33S docking
————–Six-crew operations————-
12/26/12 — Progress M-18M/50P launch
12/28/12 — Progress M-18M/50P docking
03/19/13 — Soyuz TMA-06M/32S undock/landing (End of Increment 34)
————–Three-crew operations————-
04/02/13 — Soyuz TMA-08M/34S launch – P.Vinogradov (CDR-36)/C.Cassidy/A.Misurkin
04/04/13 — Soyuz TMA-08M/34S docking
————–Six-crew operations————-
05/16/13 — Soyuz TMA-07M/33S undock/landing (End of Increment 35)
————–Three-crew operations————-
05/29/13 — Soyuz TMA-09M/35S launch – M.Suraev (CDR-37)/K.Nyberg/L.Parmitano
05/31/13 — Soyuz TMA-09M/35S docking
————–Six-crew operations————-
09/xx/13 — Soyuz TMA-08M/34S undock/landing (End of Increment 36)
————–Three-crew operations————-
09/xx/13 — Soyuz TMA-10M/36S launch – M.Hopkins/TBD (CDR-38)/TBD
09/xx/13 — Soyuz TMA-10M/36S docking
————–Six-crew operations————-
11/xx/13 — Soyuz TMA-09M/35S undock/landing (End of Increment 37)
————–Three-crew operations————-
11/xx/13 — Soyuz TMA-11M/37S launch – K.Wakata (CDR-39)/R.Mastracchio/TBD
11/xx/13 — Soyuz TMA-11M/37S docking
————–Six-crew operations————-
03/xx/14 — Soyuz TMA-10M/36S undock/landing (End of Increment 38)
————–Three-crew operations————-