NASA Internal Memo: Message From the Administrator – Aug. 26, 2009 Update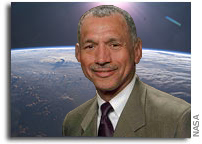 From: HQ-NASA INC
Date: Wed, 26 Aug 2009 09:40:18 -0500
To: HQ-DL-All Users
Subject: Message From the Administrator Aug. 26, 2009 Update
Point of Contact: Bob Jacobs, Office of Public Affairs, 202-358-1600 ————————————————————
Message From the Administrator – Aug. 26, 2009 Update
As has been our practice since assuming our duties as NASA administrator and deputy administrator, Lori and I are going to attempt to keep you informed and up to date on issues affecting all of us in the NASA family as best we can. Unfortunately, while sitting down to pen this communication to you, we have had to scrub the STS-128 launch due to a problem with a fill and drain valve on Discovery and will be delayed once again in getting C.J. Sturckow and his crew on orbit. While disappointing, this happens in our chosen profession, and we'll get this problem resolved and launch STS-128 when all is ready.
Lori and I have now completed visits to seven of our ten centers and will complete the cycle at the end of this week with visits to JPL and Dryden on Thursday and Ames on Friday. A number of messages have come to us loud and clear in our visits to date:
* We are privileged to be entrusted by President Obama with the leadership of an incredible NASA civil service and contractor team.
* All of our workforce is highly motivated, incredibly dedicated to exploration, and receptive to almost any changes coming our way as long as we can continue to pursue our quest for expanding our knowledge of our planet Earth, and the more expansive universe of which we are just a tiny part.
* Although change will be difficult and will present many unforeseen challenges, most of you who have communicated with us after our visits have made it clear that you want to do what is best for NASA and the nation and you want to be involved in charting our future.
The Review of U.S. Human Space Flight Plans Committee (also known as the Augustine committee) has completed its deliberations as we have all seen in their public meetings. Norm Augustine reported on their preliminary results to me and some of our NASA leadership, as well as the President's science advisor and representatives from the Office of Management and Budget two weeks ago. The committee is now drafting the text of its report to NASA and the Office of Science and Technology Policy. I ask that you be patient and not become involved in conjecture about the contents of the report. It would be premature for any of us to draw conclusions regarding the outcome of the committee's work before its final report has been formally submitted. We look forward to receiving the report, and we are working with OSTP and others in the Executive Office of the President to develop the next steps leading to a recommendation to the president.
Lori and I are meeting on a regular basis with our NASA senior leadership to develop our strategy for the future once the final report is released. Additional details on the process will be shared as they become available. In the meantime, staying focused on our current missions is critical. Let's safety fly out the shuttle manifest and complete the construction and build out of the International Space Station (ISS). Let's continue our robust exploration of Mars through our robotic rovers and other vehicles yet to be launched. Let's continue our superb execution of the missions of the Lunar Reconnaissance Orbiter (LRO) and the Lunar Crater Observation and Sensing Satellite (LCROSS) as we gather more data to support future human exploration of the moon. Let's vigorously pursue the critical missions designed to enable us to gain the essential knowledge of Earth's environment – our atmosphere, our oceans, our weather – that will enable our policy makers to make wise, informed decisions on climate change and other threats to our environment. Let's continue our technical leadership by conducting innovative research in the development of green aviation, revolutionary aircraft designs and a safer, more efficient air traffic system with strong collaborations with other government agencies, industry, and academia.
NASA is a jewel in the U.S. technological crown, and we should all be very proud to be a part of this critical agency. Lori and I could not be more proud of all of you and what you do every day to benefit our nation and the world.
Charlie B.
——————————————————————
This notice is being transmitted by NASA INC in the Office of Public Affairs. For more information on NASA INC products and services, mailto:NASA_INC@hq.nasa.gov