NASA Inspector General Testimony on NASA FY 2014 Budget Request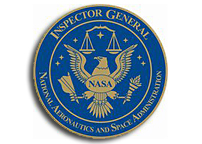 The Office of Inspector General (OIG) is committed to providing independent, aggressive, and objective oversight of the National Aeronautics and Space Administration (NASA), and we welcome this opportunity to discuss the major challenges facing the Agency.
Over past 12 months, NASA has achieved a number of milestones that advanced its space exploration and scientific discovery goals, including a third commercial resupply mission to the International Space Station (ISS or Station) by Space Exploration Technologies Corporation (SpaceX) and the first such mission by Orbital Sciences Corporation, delivery of the final three primary mirrors for the James Webb Space Telescope, and deployment of an Earth-observing weather satellite developed jointly with the Japan Aerospace Exploration Agency.
While acknowledging these and other achievements, we believe that NASA will continue to be challenged to effectively manage its varied programs in the current budget and political environment. We agree with the observation made by the National Research Council in its 2012 report examining NASA's strategic direction and management that, in effect, too many programs are chasing too few dollars at NASA. Accordingly, we continue to view declining budgets and fiscal uncertainties as the most significant external challenges to NASA's ability to successfully move forward on its many projects and programs.
For example, the Administration's proposal to extend operation of the ISS to 2024 comes with a price tag of at least $3 billion per year. Some space policy experts have expressed concern that NASA will not have enough money to operate the Station while concurrently developing the Space Launch System, the Orion capsule, and other components of its human exploration program. Similarly, following 18 years of development at a cost of more than $1 billion – a 300 percent increase over initial estimates – the Stratospheric Observatory for Infrared Astronomy (SOFIA) Project achieved full operational capability in Febuary of this year. However, the Administration – citing operational costs of approximately $80 million per year – has proposed placing the observatory in storage during fiscal year (FY) 2015 unless NASA identifies partners willing to assume those costs. We are currently conducting audits examining both NASA's plans to extend the life of the ISS and its management of the SOFIA Program.
In our most recent report on the Top Management and Performance Challenges facing NASA, we identified nine issues:
– Considering Whether to Further Extend the Life of the International Space Station (ISS)
– Developing the Space Launch System and its Component Programs
– Securing Commercial Crew Transportation Services
– Maintaining Cost and Schedule for the James Webb Space Telescope
– Ensuring Continued Efficacy of the Space Communications Networks
– Overhauling NASA's Information Technology Governance Structure
– Ensuring the Security of NASA's Information Technology Systems
– Managing NASA's Infrastructure and Facilities
– Ensuring the Integrity of the Contracting and Grants Processes
NASA's Top Management and Performance Challenges 2013
X