NASA Flight Controllers Test Robot Arm; Crew Prepares for Progress Undocking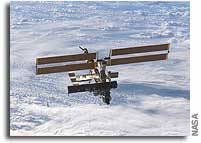 As the International Space Station orbited the Earth in good shape Thursday, U.S. flight controllers conducted a test with the orbital outpost's robot arm. The operation's objective was to test the ability of flight controllers to control the robot arm, Canadarm2, without assistance from the crew. The test was successful.
The Expedition 10 crew — Commander Leroy Chiao and Flight Engineer Salizhan Sharipov — continued preparations for the departure of the unpiloted ISS Progress 16 cargo ship. Chiao and Sharipov completed their task of loading trash onto the cargo ship. They also removed needed equipment from the Progress. The hatches between the Station and Progress are to be closed Friday.
Progress 16 is slated to undock from the aft end of the Zvezda Service Module at 10:07 a.m. CST (1607 GMT) Sunday. After leaving the Space Station, the Progress will orbit the Earth for 10 days before re-entering Earth's atmosphere to burn up harmlessly over the Pacific Ocean.
A new cargo ship, Progress 17, will launch from Baikonur Cosmodrome in Kazakhstan on Monday and arrive at the Station on Wednesday.