NASA Earth Science and Applications from Space Strategic Roadmap: Exploring our Planet for the Benefit of Society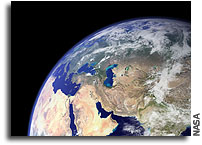 Full Report (PDF)
Report of the Earth Science and Applications from Space Strategic Roadmap Committee
(Strategic Roadmap Committee Number 9)
May 2005

Executive Summary
With the successful deployment of the Earth Observing System (EOS), a long-term plan for the future of Earth system science is needed. This Earth Science and Applications from Space roadmap provides a framework for such a plan spanning three decades.
The end goal (2035 and beyond) for this roadmap is a fully instrumented Earth system, networked to predictive models, serving science and decision-makers. This future program will realize the full benefits to society of our research, while opening up new science through discovery. To get there, we must build a foundation for comprehensive observing and modeling in the next decade (2005-2015), and work to expand our view of Earth and reach into society in the decade after (2015-2025). Throughout we must mature our measurement and modeling capabilities, and carefully manage our data – past, present and future.
Roadmap Objective
Advance scientific knowledge of the Earth system through space-based observation, assimilation of new observations, and development and deployment of enabling technologies, systems, and capabilities, including those with the potential to improve future operational systems.
The objective of this roadmap is directly traceable to the nation's objectives for NASA, and to NASA's mission and vision. The Earth Science and Applications from Space Strategic Roadmap is unique within NASA because it responds to multiple presidential directives and initiatives, including Climate Change Research Program, the U.S. Integrated Earth Observation System, the Ocean Action Plan, and the Vision for Space Exploration. Naturally, this roadmap will evolve over time with society's concerns, in response to discoveries about the Earth system, and in response to technology advances for both space and in situ observations.
Guiding Science Questions
The roadmap Committee developed a set of guiding science questions to frame the discussion on how to achieve the roadmap's objective:
How Does the Earth Support Abundant Life?
How does the atmosphere protect and sustain us?
How are our weather and climate evolving?
What controls the availability of water on the planet?
How does life influence and respond to changes in environmental processes on Earth?
What causes changes to the Earth's surface and interior?
What role do human systems play in driving changes in the Earth system?
Pursuing the answers to these questions will generate fundamental knowledge that enables us to address some of the most intellectually compelling problems humanity faces today. Applying this knowledge to society's practical needs will increase our prosperity and help us protect and enhance Earth's ability to support life.
Strategic Roadmap Scientific Objectives
The strategic roadmap scientific objectives map to these questions and are as follows: Understand the Earth as a system of interacting natural and human systems, including…
Atmospheric Composition: the sources, sinks, and transformations of aerosols and atmospheric chemical species
Climate and Weather: the present state and expected evolution
Water: the storage, distribution, and transport of water in all its forms
Life: biogeochemical cycles and the distribution and processes of life within the Earth's ecosystems
Solid Earth: the processes that modify Earth's land surface and interior and contribute to natural hazards
Strategic Roadmap Integration Objectives
No individual measurement can answer these guiding questions, but they can be fully addressed through the integration of investigation systems. Because the capacity to answer guiding questions emerges through the combined results of multiple scientific investigations, this document identifies three strategic roadmap integration objectives to guide this integration. These are: Exploration and Discovery; Continuous Awareness; and Developing Perspectives. Each integration objective can be roughly mapped to a phase of a measurement's lifecycle, and the philosophy behind each objective helps to determine the best use of research and operational assets.