Message to the ISS team From Bill Gerstenmaier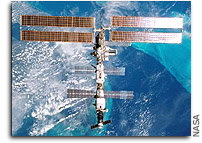 What We Do Next
First, let us pray, and let us grieve, for our family is hurting. Pray for the seven souls lost, for their families, and friends left behind. Pray for our friends and co-workers, especially those involved in the Space Shuttle Program.
We all want to help, and we can help by continuing to our job. We, in the International Space Station Program, have a unique job, and it is the welfare of Ken, Nicholai, and Don, on orbit. We must ensure their continued safety and success. Our immediate goal is to work all options for maintaining a fully functioning crew on board the Space Station, and continue to perform meaningful science.
Please see where it is you can help in the following short- and long-term activities:
* Keep all ISS work processing on schedule. We don't expect our flight sequence to change. If it makes sense to introduce some unique added work while staying on track, come talk to me and let's do the smart things. We need to stay out of the Space Shuttle Program's critical path, and keep working all our plans so when the Space Shuttle is ready to return-to-flight – so are we!
* I have formed a special team, lead by Susan Creasy and Donna Fender, to develop a key-decision tree or thought process that gives us a timetable for making critical decisions, particularly with respect to crew rotation and manifest issues.
* Our general philosophy is to stick to our current plan with crew rotation on ULF-1 until a decision is made otherwise. We will be building the information we need to look at near-term crew rotation opportunities, including the planned Soyuz flights in April and October.
* To ensure we continue performing meaningful science, I have asked Lesa Roe to work with Mary Kicza's office (Code U) to determine what science we should be doing on ISS given the current accommodations on orbit, and equipment that could go up in the short term.
* We also need to continue to keep our normal activities on track. These include continuing with the Quarterly Reviews and POP process. We are also keeping our contracting activities on track. We want to continue processing Node 2. We want to continue KSC processing. Further, we need to continue analyzing and refining assembly techniques for upcoming missions. Our goal is to be ready to begin assembly as soon as the Space Shuttle is ready to fly.
* Our partnership will be our greatest strength. We need our partners, and particularly our Russian friends, to keep continuity through this terrible hour. I was on the phone with all the Program Managers, Mr. Sinelshikov, Mr. Thirkettle, Mr. Marcotte, and Mr. Kozawa. All gave me their deepest respects and willingness to stand by and help out in any way. Together "we shall overcome!"
Until we iron out the road ahead, we will continue to rely on the incredible dedication and commitment of our people. Our resolve to move through this tragedy is being shouldered by all and at every level. It extends to those who leave flowers at our gates, and those around the world who feel our loss. We owe it to STS-107, who gave so much these last days, to try harder, to be better, and continue living the dream.