Message from ESA Director General Jan Woerner About Paris Attacks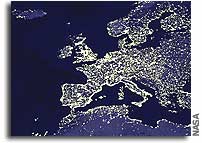 I had originally intended to spend this weekend writing a blog post describing events involving ESA over the last few weeks in which I would have communicated my personal judgements, points of satisfaction and concerns. But now the events of 13 November 2015 in Paris have taken my breath away and left me with a sense of sadness, utter dismay and shock:
More than 120 people have lost their lives in a wave of terror attacks across Paris. While the match was being played out between the French and German national football teams at the Stade de France, terrorists were carrying out attacks at various locations inside Paris. The wave of violence leaves one truly speechless, pushing everyday concerns and problems firmly into the background. Once again, it is the public and civil society that has the task of facing up to this situation and sending the terrorists and those who pull their strings a clear message of solidarity: all struggles for personal advantage are set aside as we stand united in defence of the notion of peaceful coexistence regardless of borders, nationality, religion and culture. ESA, on account of its international nature, serves as a positive role model in this. The senseless carnage of Friday night must serve as a constant reminder that we must be bearers of these values and represent them at all times in our dealings with the rest of the world. It is our privilege to work in the space domain, which does so much to promote a world without borders.
We must now channel the deep shock and sorrow we feel at Friday's appalling attacks into promoting, even more strongly than ever before, values of peaceful coexistence. We have a special responsibility in this regard, which transcends any form of self-interest, since it is our society and its values that have been attacked at their very core.
Let me conclude by extending our deepest, heartfelt sympathies to the friends and families of the victims.