MER Status Report Week Ending December 28, 2002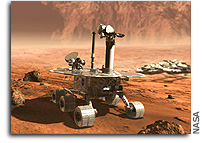 We're still crunching through all the data that we took during the
big MER-2 thermal vacuum test that ended last week. Here's a picture
of a focus target taken by the Microscopic Imager. The whole image is
only about 3 centimeters across, which is a little over an inch. And
the size of the individual pixels is tiny: about half the thickness
of a human hair.
The best thing about this image isn't how sharp it is. The best thing
is how we took it. The Microscopic Imager is on the end of the
rover's arm. First we used a pair of cameras on the front end of the
rover to spot this focus target and figure out where it was. Then we
used the arm to put the Microscopic Imager where we thought the
target was. We snapped a picture and bingo, there was the target.
This is just the way we're going to do it on Mars, and it worked in
the test chamber the first time we tried it.