MER 2003/Athena Update Week Ending November 16, 2002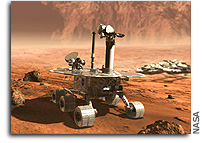 We're still working what seems like a million problems at once.
We think we've solved the problem with the scan mirror for the Mini-
TES, which was taking longer to move than it should. We haven't been
able to test the solution yet, though. The APXS has a bug that makes
errors pop up in the spectra at random. We've found the bug and we
know how to fix it, but we haven't gotten into either rover to do
that yet either. We still have a problem with the cable that connects
one part of the Mössbauer Spectrometer to the other, and it keeps
the instrument from working properly. There are three possible fixes
for that one, and we may use any or all of them. And imaging with all
of the cameras takes much longer right now than we want it to.
All of this sounds pretty dire, but it's not. This sort of thing is
business as usual on a project as complicated as ours. Every one of
these problems is complicated, but every one of them also has a
solution. We'll find them all, and we'll do everything necessary to
make the solutions work.
The idea, of course, is to make it all look easy by the time we get
to Mars. But if we do manage to succeed at that a little over a year
from now, it'll be because we've overcome all the struggles we're
having now.