Letter From Sen. Harry Reid to President Obama Regarding the U.S. Space Program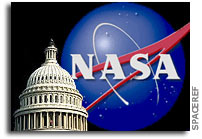 February 4, 2011
The Honorable Barack Obama
President
The White House
1600 Pennsylvania Avenue, NW
Washington, DC 20500
Dear Mr. President,
I am writing to express my strong support for the US. space program and encourage you to ensure its economic vitality in the coming years. Our space program is a cornerstone of our nation's leadership in innovation and technological superiority. The achievements and discoveries of the engineers and scientists in our space program have acted as a catalyst for new industries and generated millions of new jobs for Americans. Space exploration has become embedded in the culture and imaginations of Americans everywhere and it is our responsibility to ensure that it continues to inspire future generations.
With the planned retirement of the Space Shuttle and uncertainty about the agency's direction and budget, the last year has arguably been one of the most difficult for NASA. Your FY 2011 budget request challenged the status quo and put forth a new vision for our nation's investment in the space program. This vision spurred significant debate about the future of America's space program and the appropriate priorities for the limited funds available. As a result of strong bipartisan work in Congress, we passed the NASA Authorization Act of 2010 that charts NASA's path forward.
The Act sets out a fiscally sustainable path by directing NASA to: leverage its previous investments in the Space Shuttle and Constellation programs toward a heavy-lift Space Launch System and multi-purpose crew vehicle that will take American explorers further into space than ever before; utilize innovative commercial space partners for access to the scientifically critical International Space Station, which will remain in operation through at least 2020; and bolster its critical science, education, aeronautics, and space technology missions. It strikes a careful balance between our current capabilities, new initiatives proposed in your FY 2011 budget, and the overall themes represented in the National Space Policy that you announced last year.
Based on this bipartisan vision, I strongly urge you to support the space program in your budget request for FY 2012. Any digression from the hard fought compromise would likely result in another year of turmoil for an already battered community. Thousands of highly skilled individuals have already lost their jobs, and additional job losses are expected as the agency transitions to the next generation space vehicle. Florida has been particularly hard hit with projected job losses over the next year and a half at more than 7000 – a state with an unemployment rate that already hovers near 12%. While many of these jobs are being lost with the Shuttle's retirement, we can reduce these job reductions by properly implementing the NASA Authorization Act.
As we approach the rollout of your FY 2012 budget request, I look forward to a plan that is consistent with the NASA Authorization Act of 2010. I also hope that the Administration and Congress will work together to remove any obstacles to ensure the full and timely implementation of the law. By providing a single unified voice, I believe that we can allow NASA to get back to the business of space exploration and press forward in the pursuit of discovery.
Sincerely,
[signed]
Harry Reid
Majority Leader