Letter From House of Representatives to NASA Administrator Bolden regarding Constellation contract Cancellation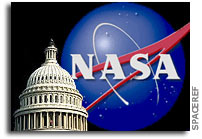 February 12,2010
The Honorable Charles Bolden
Administrator
National Aeronautics and Space Administration
300 E Street, SW
Washington, DC 20546-0001
Dear Administrator Bolden:
We are writing to express strong concern about NASA Headquarters actions and comments regarding the Constellation programs, the programs which together form the human spaceflight programs authorized by Congress in 2005 and in 2008, under Republican and Democrat control, respectively.
As you are aware, the Consolidated Appropriations Act for Fiscal Year (FY)10 contained bill language prohibiting NASA from terminating current programs which are part of Constellation and also from initiating new programs. The clear purpose of including such unusual language was to give Congressional authorizers and appropriators, indeed Congress as a whole, an opportunity to examine the Administration's budget proposal for FYI 1.
NASA officials provided several Congressional briefings during the week of February 1. NASA officials have also commented to luncheon groups and to the media about the new plan proposed by the President. We have become aware of the formation by NASA Headquarters of at least five "tiger teams," the job of which is to shut down Constellation and to transition to the new program. We understand that those teams are already strongly engaged at the Center level. Additionally, we are aware of NASA's approval, then disapproval on January 23, of at least one major contract related to Ares I, which impacts many subcontractors as well as the prime contractor of that particular contract. Finally, there are disturbing reports of verbal instructions to Program Managers to begin the shutdown of Constellation programs.
During one briefing to Congressional staff, the phrase "setting aside" was used, with regard to FYI0 Constellation funds. NASA officials have also been fairly open about their desire to use FYI0 funds to help meet shutdown costs which are a standard part of large, multi-year contracts.
We are compelled to remind you that setting aside funds may be a direct violation of the Impoundment control Act (as well as of the appropriations language for FYlO). That act resulted from the refusal of the Nixon Administration to allot funds to activities specified by Congress. According to GAO, the Act was also used to confirm Congressional authority at least twice during the Administration of President George W. Bush.
As you are aware, the series of contracts required to maintain a program such as Ares and Orion require long-lead agreements as far as 36 months into the future. The disruption, therefore, of those contracts can be viewed, with strong legitimacy, as a termination of a program.
The termination of the Constellation programs is a proposal by the President, but it is Congress who will accept or reject that proposal. In the meantime, FY10 funds for the
Constellation programs are to be spent as if the program will continue -that is the clear intent of the specific language in the Consolidated Appropriations Act. Finally, it is important to note that premature disruptions of the Constellation program contracts by NASA Headquarters may result in the dissolution of critical engineering teams in a matter of a few weeks, and that significant restart costs and program delays may also result from that if Congress decides to continue the Constellation programs. Such unnecessary costs created by NASA Headquarters will result in those costs having to be absorbed by other budget accounts and programs within NASA, including headquarters. Likewise, if Congress approves the President's new plan, the appropriate funds for contract shutdowns will be provided in the FYI 1 appropriations acts, not from FY 10 funds.
Given these facts, we ask that you immediately cease all activity of the tiger teams. We understand from the Chief Financial Officer at NASA that the safety criteria list for the new "commercial" programs proposed by NASA (in the new sense of being the primary means of human spaceflight) are still weeks away from being finished, and that those criteria have an enormous impact on the real budget cost of the President's new plan. We urge you to accelerate the reports to Congress regarding this plan.
Secondly, we urge you to reconfirm the approval of the major contract which you placed on hold on January 23. This plan, we understand, is a routine update of work plans last revised in 2008; it is needed for Constellation work to proceed in a normal way per PY10 funding plans.
Finally, we ask for your personal assurance that there will be no instructions to contractors or to Center Directors to slow down or to terminate contracts related to the Constellation programs. Most reassuring would be a letter from you to the Center Directors, and a copy of that provided to the House Science and Technology Committee and to the House Committee on Appropriations.
We ask for your response no later than March 1. We believe these matters are crucial to the viability of the U.S. Human Spaceflight program. We also wish to point out that the bipartisan support for the Constellation plan may be extremely difficult to repeat for a new plan, even among long-time Congressional supporters, not to mention Members who are under strong grassroots pressure to support other programs as a higher funding priority than NASA. We support NASA missions and look forward to working with you during the hearings process and the FYI 1 appropriations process, as well as a possible Space Act bill this year.
Sincerely,
Cc: Rep. Alan Mollohan, Chairman, Committee on Appropriations
Rep. Frank Wolf, Ranking Member, Committee on Appropriations
Signers:
Robert Aderholt (R-AL)
Ralph Hall(R-TX)
Spencer Bachus (R-AL)
Jo Bonner (R-AL)
Pete Sessions (R-TX)
Gene Green (D-TX)
Steven LaTourette (R-OH)
Anli Cao (R-LA)
Bill Posey (R-FL)
Michael McCaul (R-TX)
Ken Calvert (R-CA)
Kevin Brady (R-TX)
Mike Rogers (R-AL)
Ron Paul (R-TX)
Charles Gonzalez (D-TX)
Al Green (D-TX)
Mike Coffman (R-TX)
Steven Rothman (D-NJ)
John Culberson (R-TX)
Pete Olson (R-TX)
Parker Griffith (R-AL)
Lamar Smith (R-TX)
Bobby Bright (D-AL)
Jason Chaffetz (R-UT)
Rob Bishop (R-UT)
Artur Davis (D-AL)
Suzanne Kosmas (D-FL)