Letter from House Members to House Leadership Regarding $2 Billion Additional NASA Funding Request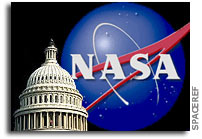 The Honorable Nancy Pelosi
Speaker of the House
U.S. House of Representatives
Room H-232, U.S. Capitol
Washington, DC 20515
The Honorable Steny Hoyer
Majority Leader
U.S. House of Representatives
Room H-107, U.S. Capitol
Washington, DC 20515
The Honorable David Obey
Chairman
House Committee on Appropriations
Room H-218, U.S. Capitol
Washington, D.C. 20515
The Honorable John Boehner
House Minority Leader
U.S. House of Representatives
Room H-204, U.S. Capitol
Washington, DC 20515
The Honorable Roy Blunt
Minority Whip
U.S. House of Representatives
Room H-307, U.S. Capitol
Washington, DC 20515
The Honorable Jerry Lewis
Ranking Member
House Committee on Appropriations
1016 Longworth House Office Building Washington, DC 20515

Dear Speaker Pelosi, Minority Leader Boehner, Majority Leader Hoyer, Minority Whip Blunt, Chairman Obey, and Ranking Member Lewis:
We write to urge you to include $2 billion in funding for NASA in either a second economic stimulus package or the supplemental appropriations bill. Investing these much-needed resources in NASA will reimburse the agency for funds spent on return – to – flight expenses following the Columbia disaster and for repairs needed following Hurricanes Rita and Katrina. In addition, these funds will help close the gap between the Shuttle and Constellation programs to minimize our dependence on Russia. We believe these funds will provide an immediate and long-term economic stimulus for our nation's economy as well through additional investments in science and aeronautics R&D.
NASA has had to operate in a very constrained budgetary environment over the last four years, with funding barely keeping up with inflation. Exacerbating the impacts of those constraints, NASA was forced to shift funds from within the agency's already cash-strapped accounts to make improvements and repairs on the shuttles and infrastructure following the Columbia disaster as well as Hurricanes Rita and Katrina. Flat budgets and unforeseen circumstances such as these have caused NASA to fall far behind in achieving the Congressionally-directed mandate to launch the Orion Crew Exploration Vehicle (CEV) and Ares Crew Launch Vehicle (CLV) as close to 2010 as possible.
Making much-needed investments in space and aeronautics research and development will also have a long-term and beneficial economic impact, contributing new jobs, industrial development and stimulus to struggling communities. The far-reaching impact of the aerospace economy on our nation is unquestionable, contributing over $98 Billion in economic activity and 550,000 jobs to the American economy in 2004 alone. The impending five-year space flight gap NASA now faces will adversely impact our economic well-being and global leadership in technology and innovation. We cannot cede our leadership in space and aeronautics, science, or technology if we want to remain a global leader in the 21st century.
Space exploration is a strategic capability for our nation. US. leadership in space will in part be governed by how long a hiatus we are willing to accept between the retirement of the Space Shuttle in 2010 and the introduction of the new generation of human spaceflight vehicles. Minimizing the gap in human spaceflight, currently projected to last between 2010 and 2015, requires a national commitment, a willingness to maintain our nation's technological leadership in this field, and a desire to provide the funds necessary. As you work to shape and complete the supplemental appropriations bill or a second economic stimulus package, we ask that you strongly consider including $2 billion to help put NASA back on track.
We appreciate your consideration and look forward to continuing to work together for a strong space and aeronautics program for the United States.
Sincerely
[signed]
Nick Lampson
John Culberson
Kevin Brady
Russ Carnahan
Gabrielle Giffords
Bart Gordon
Charles Gonzales
Gene Green
Al Green
Ruben Hinojosa
Darlene Hooley
Sheila Jackson-Lee
Dan Lipinski
Carolyn McCarthy
Michael McCaul
Jerry McInerney
Tim Mahoney
Jim Marshall
Jim Matheson
Brad Miller
Grace Napolitano
SOlomon Ortiz
Ron Paul
Ed Perlmutter
Ted Poe
Laura Richardson
Brad Sherman
Mark Udall
Charlie WIlson
David Wu