Kepler Mission Manager Update 2 December 2011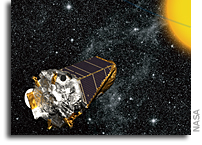 Flight segment operations with the Kepler spacecraft have remained routine. We have continued our normal semi-weekly contacts as Kepler is approximately 30 million miles from Earth. The flight segment continues its run of problem-free science collection, going on eight months now. Last fall season in 2010, we had a problem with one star in the field of view of star tracker 1. It was a variable star that would occasionally dip below the magnitude the star tracker was expecting and would cause problems in trying to match it with the star catalog. Our mitigations of this problem are working as expected and the issue has not repeated this fall season.
The mission operations team just successfully completed our latest science data downlink, marking the end of Quarter 11 Month 2 science data collection. Incidentally, it coincides with the 1,000th day since Kepler's launch in March 2009. Of course, the project team will not pass up the opportunity to commemorate 1,000 days since launch, and we will host a small event in the project offices to mark the date, and reflect on all of Kepler's accomplishments since the mission inception.
While we are marking that major milestone, we will also making final preparations for the Kepler Science Conference. More than 400 registrants have signed up to attend our worldwide Kepler Science Conference, scheduled for Dec. 5-9, 2011 at NASA Ames Research Center. Over 90 talks, as well as over 110 scientific poster presentations, are scheduled over the week long event. The Kepler Science Conference agenda and program guide, at 240 pages, is available online for the public review.
We are expecting many exciting presentations at the conference, and the announcements of new discoveries from the Kepler data. To participate, watch the live stream at http://connect.arc.nasa.gov/kepler