Keith Cowing's Devon Island Journal – 9 Jul 2002: Getting acquainted – and down to work
Click on Image for larger view. Images Copyright
NASA HMP-2002/SpaceRef
---


Greenhouse parts sit waiting for assembly


The amazing backdrop against which we lived and worked. That large boulder is a kilometer away.


Greenhouse parts at NASA Ames Research Center's Hangar 1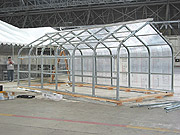 Marc Boucher shoots video of greenhouse structure


Keith Cowing screws greenhouse skeleton together


Home Depot truck packed to the gills with greenhouse support platform components
I awoke this morning at 4:30 AM, much to my surprise, to a hot tent. It was so hot that I needed to open the vents to remain remotely comfortable. This is not the sort of camping conditions I had expected!
I did not get much sleep during the night. The heat, constant light, and previous day's excitement all conspired to keep me half awake. Later, when I finally got up, I was greeted by blue skies and warm weather. It remained like this throughout the day. This was rather fortunate given the amount of construction we needed to do on our greenhouse.
Still somewhat rattled by my sudden arrival and lack of sleep, I walked around that morning with big eyes looking at everything for the first time. I would soon come to recognize this look on other first time visitors. This was cut short rather quickly by the pressing need to get lots of things done. After all, excitement aside, that was why I was here in the first place: to accomplish a given set of tasks – my "mission".
The first order of business was to unpack all of our supplies and see what we had. We had simply stacked things near the location of the greenhouse yesterday but had not done much of an inventory.
Despite a valiant attempt to cram all of the remaining greenhouse parts aboard my plane (some had been sent earlier) some items were still In Resolute and scheduled for delivery later that day. As I stood on the muddy runway in Resolute, I was forced to do a real time sort of what I needed first – and what I could do without for several days.
Luckily, the sorting task – and the capacity of the plane – worked out OK and we had what we needed to get started. The warm weather allowed us to do some major preassembly of the greenhouse superstructure and begin construction of the support platform atop the permafrost.
In keeping with the preparation and training done for a major space mission, this process was not unfamiliar to my business partner Marc Boucher and I. We had done a test assembly of the greenhouse and its support footing several months before at NASA Ames Research Center. This allowed us to make a large number of mistakes in the comparable comfort of California.
It also gave us a chance to give several hundred astrobiologists a sneak preview of what the greenhouse would look like: we assembled it inside the gargantuan Hangar 1 (as an exhibit) where the Second Astrobiology Science Conference was being held.
The greenhouse had been shipped to ARC several weeks earlier. Moving it across the base was a straightforward process. However, the support platform, tools, and associated parts all needed to be procured. For this a dozen trips up and down Route 101 to Home Depot were required.
The first shopping trip to Home Depot was, by far, the most dramatic. When Marc and I were done we had bought enough stuff to just about overload the largest truck the store had for rent. Our carts, loaded with lumber and other things, snaked halfway up an aisle. We drove slowly down the freeway crossing our fingers that everything was secured properly.
Upon arrival at ARC the guards searched the truck. I had not thought to search the truck myself before attempting to enter the base. As the guard searched the truck she moved the seat forward and picked up a beer bottle. "We're doomed" I thought. After looking at it carefully she placed it back and then said "thank you" and we drove onto the base.
I have been to ARC many dozens of times in the past 20 years and know my way around with my eyes closed. But I must say that driving a truck around the base – one stuffed to the gills with building supplies (and empty beer bottles under the seat) – was a first.
It was a good thing that we did a test assembly and made our mistakes here, instead of in the arctic. The instructions that came with the greenhouse were woefully incomplete – and were clearly written by someone for whom English was a language they were still learning. Nonetheless, the structure itself, once assembled, was rock sold and perfect for what we were going to use it for.
Once we had assembled the greenhouse, we took a few days off to attend the conference – including a session I hosted. If you have never seen Building 1 – you should – It is a gargantuan dirigible hangar built in the 1930's. During my presentation I noted:
I have often noted that this immense hangar where this conference is being held [Building 1] looks a lot like the aft end of James Kirk's Enterprise – you know – the docking bay. Having just spent a week inside this hangar with my business partner building the Arthur Clarke Mars Greenhouse, I have, on at least a dozen occasions, taken the vast internal vista of this hangar and morphed it in my mind's eye to become the interior of the Babylon 5 Space Station, one of Gerard O'Neill's space colonies, and in keeping with the namesake of our greenhouse, Arthur Clarke's gigantic Rama.
As soon as the conference was over, the time came to tear the greenhouse down and pack it for shipping to the arctic. In the process, we took a large number of photos and video footage so as to document known issues. Once packed, everything was then shipped back across the base and put in storage.
A few weeks later, everything was once again moved – this time into a U.S. Marine Corps C-130 Hercules cargo plane (along with lots of supplies) for the trip up to Resolute. The Marines have been good friends to the HMP in the past by providing valuable logistics assistance. Once everything arrived in Resolute it was stored either inside Polar Continental Shelf Project storage facilities or immediately outside, adjacent to the runway.
Several days before I flew in to Devon Island, I had gone out to the Polar Continental Shelf facilities at Resolute Airport to double check what had – and had not – been sent over several days earlier. As far as I could tell everything had managed to fare rather well and was all accounted for.
Today we managed to make an inventory of what we had – and what was yet to come. We then got to the task of getting started. In California we had assembled the basic skeleton of the greenhouse – and added some of the Lexan plastic panels so as to do a fit check and make sure we identified any issues that might present a problem in the arctic. As such, we were doing this for the second time – albeit in conditions far less comfortable than the first.
In California we had built a footing for the greenhouse but had not built the actual support platform upon which the greenhouse and the footing would be placed. While Marc and I set to the task of assembling the 7 metal ribs that formed the major structural elements of the greenhouse, master arctic carpenter A.C. Hitch began the construction of the 32 by 12 foot (10 by 3 meter) support platform.
A.C. is a veteran of many arctic and Antarctic construction tasks – having worked most recently on the new base at the South Pole. We were exceptionally lucky to have her on our team. It is no exaggeration to say that we would not have been able to pull this project off any where close to the level of professionalism we maintained without her. Building on permafrost is not something either Marc or had had any experience with.
As the day drew to an end we had a number of familiar shapes lying around: the arches that formed the skeleton of the greenhouse, portions of the support platform, and neatly organized piles of parts and tools. This was in sharp contrast to the chaos of the day before. I was rather pleased at how much progress we managed to make in just a day.
The Twin Otter flight did not make it in today due to bad weather. We'll have to wait until tomorrow at the earliest. Given that we have most of the materials we need, we can expect to get a large portion of the greenhouse completed with only weather as the major hindrance.
---
Related Links
2003
2002