Keith Cowing's Devon Island Journal 8 July 2003: Infrastructure
Click on Image for larger view. Images Copyright
NASA HMP-2003/SpaceRef
---


SpaceRef's webcams awaiting installation and activation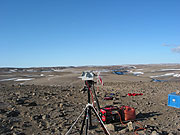 MarsCam 1 atop Maynard Hill overlooking "The Fortress" and the HMP airstrip


MarsCam 2 located in the middle of HMP Base Camp and currently pointed at the greenhouse
This weather is unbelievable! If we were having weather like this back home, the local news would open each evening's newscast with the weather as its top story. Alas, although the forecast speaks of 5 or so days like this to come, this is not going to last. Sooner or later we'll get a rude reminder of where we are. Already a number of us who have spent a fair amount of time outside have an 'expedition' tan i.e. face, necks, and forearms with two white lines where our sun glasses press up against the side of our faces.
Indeed, this weather would be what you'd expect on one of those flawless fall days in the eastern U.S. – With the exception that there are no flies or bugs whatsoever to mar the full enjoyment of each day.
We are all taking advantage of this weather everyday and getting as many outdoor tasks out of the way. I spent the morning cutting lumber and beginning the assembly of a platform that will hold a number of photovoltaic panels, which will be used to power greenhouse systems after we leave – and take our big generator with us. The solar panels are due to arrive this Saturday. Along with a wind generator and power management system, these power generation systems will allow the greenhouse to continue operating – and maintaining its internal environment. It will also allow the greenhouse to wake up next spring when sun and/or wind are available to generate power.
Among the items to be installed in the greenhouse is a webcam. This is a rather hardy unit designed to operate in harsh conditions. In addition to taking images on a regular basis over winter, it will also record temperature and humidity. This will augment a number of sensors that are also being installed in the greenhouse, and some sensors placed into operation last summer.
All told there are four webcams to install this year. I began the task of unpacking everything today and making sure I know which part goes where. First I set up the MarsCam 2, the camera that will monitor the center of Base Camp. After setting up the camera, I laid the power and data cables to the Science Tent, and then buried them in a trench to protect them from human and motor vehicle traffic.
The next webcam to be installed took a little more work. After a brisk hike up Maynard Hill I installed MarsCam 2. This webcam looks at a windsock and then out at our runway. Pilots making flights into our Base Camp check this image before they leave to see what the prevailing wind direction is.
In the next day or two I will install MarsCam 3 inside the mess tent so as to allow web visitors a chance to see everyone as they come and go during the course of the day. MarsCam 4 will be installed in the greenhouse in a week or so.
Our satellite communications system is now functioning up at the dish on Maynard Hill and we expect to start getting regular access to it down here at Base Camp very soon.
---
Related Links
2003
2002