Keith Cowing's Devon Island Journal – 27 July 2002: Anchors and Anemometers
Click on Image for larger view. Images Copyright
NASA HMP-2002/SpaceRef
---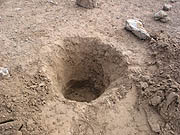 Hole exposing permafrost


Rob Stewart on traverse


(L-R) Rob Birch, Rob Stewart, Ron Sidgreaves confer


Rob Stewart examines lichen covered rock


Rob Stewart examines the ejecta block


Rob Stewart examines fossil bearing regions of the ejecta block


NASA Ames ATV with the ejecta block in the distance
Last night Rob Stewart, a University of Calgary geophysicist, and his grad student, Rob Birch were out digging pilot holes in the ground to assess where the permafrost is. They will eventually be using geophones and ground penetrating radar to examine the subsurface structure outside of Base Camp.
After digging their first hole they reported the distinct smell of hydrocarbon – something limnologist Darlene Lim had also noted. According to Rob Stewart, this is actually something to be expected. Structures similar to Haughton Crater elsewhere in the world have pockets of oil and gas associated with them. At some point in decades past some exploratory drill holes were made on Devon Island.
I asked them if they'd like to dig a hole in back of the greenhouse since I was about to start driving 3 foot sections of rebar (concrete reinforcing rods) into the ground. These rebar sections would be sunk in at an angle like a giant tent stake and serve as cable anchors for the greenhouse. Knowing where the permafrost began would be helpful.
Rob and Rob managed to dig a hole 25 inches deep. At the bottom was a layer of frozen ice mixed with dirt. When you hit it with a shovel you get a familiar noise – an almost metallic twang.
Within a short time of arriving here weeks ago I noticed that kicking rocks around on the surface elicited an odd, somewhat hollow metallic sound. It would seem (to me at least) that the melted ground between the surface and the permafrost was acting as a resonance chamber of sorts with sound traveling from the surface down to the ice and then back up again.
Earlier that day I tried driving a piece of rebar into the ground with a sledgehammer. I managed to get it in – at an angle you'd use for a tent stake to a dept of just over 2 feet when I hit something VERY solid. So solid it sent reverberations up the sledgehammer into my arm. Picture a cartoon character with vibrating arms after they hit something solid with a sledgehammer.
This morning, after consulting with Base Camp Manager John Schutt, we decided to go ahead with our original plan and rent a drill in Resolute. The drill would be used to make holes down – and then into the permafrost. I called over to Resolute on the satellite phone to place the order. The drill would be delivered on the next flight from Resolute.
With these anchors installed and attached to the greenhouse the major construction should be complete. All that remains are the installation of some internal cross bracing cables inside and some additional caulking. Once the anchors are attached we'll complete building a stone foundation around the base of the greenhouses' support platform. This will act as a snow screen while keeping wind from getting underneath and perhaps moving the structure. It will also prevent people from walking into these aircraft cable anchors.
After several days of weather data collection Alain Berinstain (Canadian Space Agency and the University of Guelph) and his team of Tom Graham (University of Guelph) and Keegan Boyd (CSA intern from McGill University) have decided to move the anemometer from its current location at the aft end of the greenhouse and add some additional height to the metal pole it has been attached to. This is being done based on suspicions that the rain gauge and the greenhouse have actually been shielding the anemometer from seeing (and measuring) the actual wind load.
I have been in the greenhouse when wind gusts were measured at 70 km/hr. Sturdy structure that this is, there is no shaking or vibration whatsoever. I found that to be somewhat surprising given what was going on outside. It was also immensely reassuring. This thing is rock solid. I am most curious to see how it withstands much stronger winds over the course of a long arctic winter.
After lunch I joined a traverse team as they headed out to the crater again. The rim of Haughton Crater is on the horizon – several kilometers away. It takes no more than a few minutes by ATV to reach it.
This time we were heading for a region past Trinity Lake (where I had visited a week or so earlier). Our party consisted of Brian Glass and Victor Rundquist from NASA ARC, Joe Amarualik (Deputy Base Camp Manager) from Resolute, Rob Stewart and Rob Birch from the University of Calgary, Ron Sidgreaves and Harold Hansen from Hamilton Sunstrand (and their Mars concept suit) – and me. Today the suit was enhanced with a wearable computer system provided by Steven Brahams at Simon Fraser University.
Quicktime panorama: Traverse inside Haughton Crater 27 July 2002. 180 degree pan. A geologist was put in the Hamilton Sunstrand Mars Concept suit to do a survey of surrounding terrain. [Download]
On the way out, I managed to get my ATV stuck up to the rims in mud while trying to steer around someone who also seemed to be getting stuck. He didn't – I did. After a number of us got rather muddy, Victor Rundquist saved the day by standing beside the ATV (which had sunk much deeper into the mud) and running the throttle, thus allowing the ATV to climb out on its own – not unlike a mechanical bucking bronco.
After that excitement was over we hoped on our ATVs and drove the remaining kilometer to our staging site. While we were setting up Victor and Joe were on a hilltop overlooking the site checking the operation of the repeater array, which connected back to Base Camp, and then out (via our main satellite dish) via satellite to NASA Ames Research Center in California.
The plan today was to put a real geologist (Rob Stewart) in the suit and set him loose on an unfamiliar patch of ground to do the sort of survey they'd naturally do. No hints or suggestions were allowed from the observers. As he performed this task, the intent was to use the electronic information systems inside the suit to coordinate his activities with Base Camp.
Rob made a methodical examination of a number of locations as he led a more or less straight path up a hill to a small pinnacle covered with ornate lichen. After that we headed downhill and up a larger one to an ejecta block.
This ejecta block is thought to have been thrown out of the depths of the crater during the actual impact itself. The type of rock that composes this monolith does not match that of its surroundings. Moreover, it shows signs not only of being stressed by the ejection – but also of being colonized within stress features by various life forms since its landing.
Ron circled the rock, stopping to examine its various fossiliferous (fossil bearing) regions. After ten minutes of this, the exercise was finished – about an hour after it started.
The ride back through the crater was along the same path I had taken last week. Low hills rising all around us. The floor of the crater was spotted with small purple flowers and clumps of greenery. Every now and then evidence of some higher forms of life would rush past – a glimpse of bone, a small gnarly shrub. One is smart not to spend too much time looking around since riding an ATV across the jumbled scree (rocks) usually requires 110% of your attention.
Riding these ATVs takes a little practice. On level ground they are simple to run. But when you come across fields of small boulder a kilometer across you soon learn that speed is your friend. If you slow down too much you start to provide yourself with opportunities to get stuck. These vehicles also have an amazing ability to ride over thing your brain suggests, at first glance, that they should not be able to. After a short time you get the hang of it and can allow yourself the luxury of looking around at this alien t place.
Much though has been given here to the use of ATVs on Mars. From my personal experience, I'd add my 'yes' vote. I'd like to think there is a way to add roll cages and a few other items to enhance safety (a rear view mirror). Other than that, given a reasonable set of rules for their use – and some common sense – vehicles such as these would allow Mars explorers the chance to see a much larger portion of the planet than they could on foot. They'd also allow an alternative to the large pressurized rovers that some Mars exploration architects seem to favor.
---
Related Links
2003
2002