Keith Cowing's Devon Island Journal – 25 July 2002 Russian TV, webcam privacy, and being on Mars for a few minutes
Click on Image for larger view. Images Copyright
NASA HMP-2002/SpaceRef
---


Russian journalists film an interview with Harold Hansen and Ron Sidgreaves (in suit)


Stephen Braham watches imagery coming in from a traverse team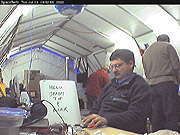 Keith sends a note to his wife and cats


Apollo 7 Astronauts Wally Schirra and Don Eisele in their first live television transmission


Webcam: spacesuit glove waves to viewers


Webcam: Keith sits, sound asleep, at his computer
We got a call from the Mars Society Hab folks last night up on the crater rim. They had several Russian journalists from the NTV television network who were eager to come see what we were doing. After some logistical arrangements were made they showed up at HMP Base Camp.
Irina, the reporter, spoke passable English. Dimitri, the cameraman spoke none whatsoever. Nonetheless, we were able to accommodate their interests. After a few hours they were on their way back up the hill to the Hab.
News reached us yesterday that a member of NASA's family, Earle Huckins had died several days earlier. Earle had one of those careers that spanned decades and nearly all of what NASA does – from Space Station to Space Science. Earle had managed to keep connected by telephone up until his last days. I knew him slightly.
One of our team (Brian Glass – NASA ARC) had worked for him for several years. As has become the tradition up here, land features are often named for people whose careers have advanced the course of space exploration: there is a "Von Braun Planitia", a "Maynard Hill", and "Pete Conrad Valley" (among others).
After consulting with HMP Principal Investigator Pascal Lee the decision was made to rename Repeater Hill #2 (which currently contains a lot of sophisticated wireless networking hardware overlooks Science Site #9) as "Huckins Rise". The next day the science team returned to the site referring to it henceforth as "Huckins Rise" in all communications.


Panoramic view of Huckins Rise (R) and surrounding terrain (enlarge)
This site was established as part of the Mobile Exploration System (MEX) – Human Operated Robotic Science Evaluation (HORSE) test begin carried out at HMP this field season.
HORSE activity brings together advanced wireless networking and satellite technology provided by Simon Fraser University and the Communication Research Centre of Canada, specially outfitted ATVs, mobile computing systems, and a support team back in a virtual reality facility (Future Flight Central) at NASA Ames Research Center. This year's work built upon work done in previous years on Devon Island as is devoted to developing the means whereby a rover (circa 2020) could be teleoperated by humans and explore areas of interest on the surface of Mars.
These systems were also used to connect scientists wearing the Hamilton Sunstrand Concept Mars spacesuit in the field with HMP Base Camp and with NASA ARC. The aim was to allow the scientist in the field to draw upon information, as needed, to make their experience in the field more productive.
These activities were all monitored in the Comm Tent where I work. One night several days ago in particular sticks with me. I was working on various website updates and photograph logging when I noticed a particularly Martian looking scene on the Sun workstation monitor to my right.
There are many places on Devon Island that look 100% Martian. In this case, the combination of late evening, low angle lighting and the nature of the rocks in the landscape conspired to produce an utterly Martian vista on the screen. I sat there and watched for a while and listened to the communications traffic as people coordinated their tests with Stephen Braham sitting in front of his computers in the Comm Tent.

Quicktime panorama: Huckins Rise 25 July 2002. 180 degree pan. Originally known as Repeater Hill#2 renamed in memory of Earle Huckins. Photos HMP-2002/Rick Alena-NASA ARC [Download]
I have to say that for the better part of an hour, I experienced what it will certainly be like to be sitting in front of a console at a base camp on Mars while team members survey a remote location. This experience was repeated several times this week. It is times like this when the feeling of truly being on another world really got a hold of me.
I also became aware of what it was like to be observed by people around the world. I have been on TV dozens of times, so I have more or less lost any special feeling that some people seem to feel when they are seen by millions of people. The fact that I spent a number of years as an educational sign language interpreter and was videotaped for hours every day probably contributes to this ho-hum attitude on my part.
One of our webcams spent a lot of time inside the Comm Tent about one meter to my left. We tried to get it to point so as to get as much of the tent's interior as possible. Alas, when I was working, that meant the camera pointed directly at me. This changed whenever the wind blew very hard. The flapping of the tent's sides would hit the webcam's cable and it would "walk" around the desktop and start to point elsewhere.
As has been the case in previous field seasons, people are tempted to try and send messages to folks back home. We resisted this temptation for several weeks but eventually succumbed. It started when I was playing around with one of the Hamilton Sunstrand space suit gloves. I had put it down next to my computer. It just happened to be directly in the webcam's line of sight. Someone sent me an email making note of the glove. I promptly put a bottle of Tabasco sauce (my emergency backup bottle) in its hand.
At one point or another various sports team hats would be found in the glove's grasp as well as a toothbrush and a copy of Ben Bova's "Return to Mars". Notes to folks back home appeared, and kid's drawings appeared on the tent wall behind me. Of course, even the most camera conscious person forgets that the thing is there after a while. With a 5-minute update frequency it is not as threatening as being on live TV. Soon enough I got notes from people telling me to 'wake up' (since I had clearly dozed off), to stop slouching, and that I looked cold.
There is a long tradition in the space world of sending personal messages over otherwise official channels. Gemini 6 and 7 crews taunted each other with signs fueling the Army-Navy football rivalry. And course, Wally Schirra, commander of Apollo 7, irked NASA Public Affairs when he held up a small placard during alive TV broadcast that said, "Keep those cards and letters coming folks!"
Despite their hijinks, the Apollo 7 crew – and all subsequent missions, had control over when their TV camera was on and when it was not.
In 2000, my business partner Marc Boucher spent the entire HMP field season on Devon Island while I remained at home. That year we only had one webcam in operation at Base Camp. As is the case when we're both working from our home offices, we communicated via Instant messenger. The fact that Marc was now in the arctic really did not affect the way we interacted.
There were times, of course, when he was off doing something, or was otherwise preoccupied and could not answer my messages. One day I needed to ask him an important question, yet he had not activated his instant messenger account. All the while I could see that he was sitting at his computer since I could see him on the webcam.
Just as I was about to get annoyed with him I realized that I was being a cyber-voyeur of sorts. Marc, for what ever reason, he had decided that he was not going to activate his Instant Messenger. Maybe he was busy. Maybe he did not want to worry about things down south. Maybe he did not want me to pester him. Whatever the reason, it was his decision. I only had insight into what he was doing by virtue of the live webcam that pointed at him. At the time, I thought that I'd be annoyed if someone had a live webcam on me 24×7 and used it to pry.
But here I was now, with a quasi-live webcam on me as I worked on Devon Island. Again, having been on TV a lot, I tend to be oblivious to the presence of a camera. But how would someone on a Mars mission react? I am not sure what it is I would do while sitting at my desk on Devon Island that would be embarrassing, other than falling asleep – wait, I already did that. Never mind.
We already live in a very wired world – even here in the arctic. One would assume that this would be much more so a decade or more from now when we go to Mars. Would the crew be given a "kill switch" for the mission's webcams ? Would there be specific on/off times? Would there be regions where cameras are not allowed? Would there be certain events that would be off limits?
---
Related Links
2003
2002