Keith Cowing's Devon Island Journal – 17 Jun 2003: Preface: Moving from Green to Grey
Click on Image for larger view. Images Copyright
NASA HMP-2003/SpaceRef
---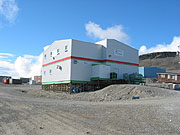 The Co-op in Resolute Bay where I will spend a few nights


At least I won't be sweating in northern Virginia


The Arthur Clarke Mars Greenhouse – erected Summer 2002


My home for three weeks


Inside the Mess Tent


Rob Birch (in suit) examining geophone hardware


Basecamp in April 2003 (photo Joe Amaraulik)
17 June 2003:
I live in a world of green. This year it is especially so with all the rain we have been getting in Virginia. Landscaping our yard is still a work in progress – but this years' weather has been a blessing allowing everything my wife Jenny and I have planted to flourish. Although our home is technically located within a temperate deciduous zone, right now, it exhibits all the attributes of being within a temperate rain forest.
From a personal perspective, this will soon change as I venture north once again to the Canadian high arctic where green is a rarity and rock and snow are the norm. I haven't seen much of the sun these past several months. All the more reason to go above the arctic circle where the sun shines 24 hours a day during the summer!
The place I will live in for nearly a month was chosen for its similarities to Mars. Those who visit the place call it "Mars on Earth" – Devon Island, Haughton Crater.
Two weeks to go. As was the case last year, I am swamped with preparations and the things I need to do on a daily basis to make a living. There is a lot of planning involved. Technical and engineering decisions to be made. Personal training on the use of a wide variety electronic and computer gear. Packing of gear, plans to be made with my wife about contingencies – routine and otherwise – much the same, I am sure, as an astronaut prepares for a mission into space.
Unlike last year, this is my second 'mission'. I have endured the long flights and the hardships, and learned what to do – and not to do – what to bring (instant miso soup – if I could bring sushi, I would) and what to leave behind (all that extra clothing – you sweat very little in the arctic). As such, this year will be less of an unknown adventure – but, an adventure, none the less, it will still be.
I have had a year to ruminate over my experiences in the Summer of 2002. I don't know how many more times I will have the chance to visit this wondrous place. As such, I have to assume, for practical purposes, that each visit is the last. I am not getting any younger, and it is not cheap for me to do this from a financial perspective. Also, it is not without its inconveniences from a domestic perspective (even though my wife would love to make the trip too!).
Nonetheless, going to Devon Island once again allows adventure to be revisited. The other day I asked Astronaut Bill Readdy (who has flown in space 3 times) what it was like to go back into space a second – and a third time. He told me "the saddest part of any mission for me is those moments that follow the euphoria of having accomplished what you set out to, having experienced (again) the sights, sounds, feeling and weightlessness which all combine into the magic of spaceflight. The thought that you might never return to experience it again hurts extremely."
Pre-mission preparations over the past months have included a number of telecons to make certain that we have all of the gear and procedures in place for an active season of research in the Arthur Clarke Mars Greenhouse. My SpaceRef Interactive business partner (Marc Boucher) and I donated this greenhouse to the NASA Haughton Mars Project last summer. Over the course of a month in July 2002 Marc and I were part of a larger team that assembled the greenhouse and put it through a preliminary series of evaluations.
This year, in collaboration with Crestech, the University of Guelph, Simon Fraser University, and the Canadian Space Agency, we will augment the greenhouse with a number of sensors, environmental control systems, webcams, and communications gear such that we will be able to remotely monitor – and actively control – greenhouse functions after all humans have left Devon Island. If all works according to plan, next spring, web visitors will be able to watch lettuce seedlings sprout via daily webcam images direct from Devon Island.
HMP is a truly international endeavor. As such, we all strive to get together wherever and whenever we can,. Over the past year the HMP Team has found itself meeting up all over the world. In November 2002 a number of us met up in Ottawa, Canada at the Canadian Space Exploration Workshop. The prior week, several of us met at the American Society for Gravitational and Space Biology (ASGSB) meeting in Florida where I gave a short talk on the greenhouse – and waited in vain for the STS-113 launch (which was scrubbed due to bad weather at one of the TAL sites).
In January 2003 a half dozen or so of us got together in London, England at the Mars Exploration Workshop at the British Interplanetary Society where I gave a presentation on Martian Mountaineering. While I was in London, I had a chance to visit the East London neighborhood where my father stayed during World War II – and was thrown out of his bed and through some glass doors by one of the last V-2's fired at London in the Spring of 1945. I also visited the memorial to arctic explorer Sir John Franklin in Westminster Abbey. Franklin explored the region around Devon Island in the 1840's in search of the Northwest Passage. He never returned from his last expedition.
In March 2003 another group of HMP veterans met up once again in Houston, Texas at the 34th Lunar and Planetary Science Conference. On that same trip I spent a day at NASA Johnson Space Center crawling around a variety of Space Shuttle simulators (see "Embedded at NASA"). In May, we got together yet again at the "Workshop on Analog Sites and Facilities for the Human Exploration of the Moon and Mars" held at the Colorado School of Mines in Golden, Colorado.
There has already been some HMP activity in the arctic this year – it involved Mars-1, a specially modified Humvee equipped with treads. In May 2003, under the auspices of the newly-formed Mars Institute, HMP PI Pascal Lee, HMP Base Camp Manager and Antarctic meteorite hunter John Schutt, with the assistance of Joe Amaraulik and Paul Amagoalik from Resolute Bay, drove Mars-1 across 40 km of sea ice between Cornwallis Island and Devon Island. Mars-1 will be driven to HMP Base camp on the rim of Haughton Crater this summer and will begin a series of field traverses as part of this year's research field season.
In addition, HMP will host Mars concept space suit activities, geology, astrobiology, communication, life support, and human factors research.
Another full season of research, science, and adventure on Devon Island.
Our field season begins on 1 July 2003. I expect to arrive on Devon Island several days after that and stay until 23 July. After my arrival, I will be out of touch (Internet-wise) for a while as we haul a lot of gear up a nearby hill and establish our satellite communications system.
Stay tuned.
---
Related Links
2003
2002