Keith Cowing's Devon Island Journal – 16-17 July 2007: Webcasts, Robots, Astronauts, and Dogs
Click on Image for larger view. Images Copyright 2007
SpaceRef.com
---


Using an ATV as a workbench to test webcasting system


Webcast hardware in place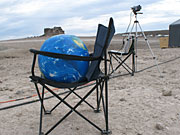 Inflatable Earth rests before the webcast


Leroy Chiao and Matt Reyes sitting on our webcast set composed of K10 rover shipping crates on 16 July 2007


Keith Cowing and Leroy Chiao holding the Explorers Club flag


K10 Black Rover ready for its webcast debut


K10 Black rover and the HMP MarsOne Humvee rover


SpaceRef's Helmet Video camera mounted on the K10 Black rover


Video shot by SpaceRef's Helmet Video camera mounted on the K10 Black rover


Pascal Lee's wonderful dog "Ping Pong"


Quimmiq
Webcasts
Today we set out to do what we came here for: to conduct a series of webcasts that describe Devon Island, The Haughton-Mars Project, and the sorts of research and exploration that goes on here every summer. Our audience was to be composed of several hundred students who were watching live at a dozen Challenger Learning Centers across the U.S.
After working out some last minute technical issues we were online and webcasting. My intent has been to capture the Haughton-Mars Project Research Station as it actually works. As such, Leroy Chiao and Matt Reyes are using the crates that the K10 rovers were shipped in as our "set". We made sure to put all of our sponsors' banners up on the boxes. Other than that we're outside in the middle of all the action.
I have seen Leroy in action on TV and in the classroom before. Last year he and I went to a school in New Orleans that had suffered – like all others – as a result of Katrina. I had met three of the teachers during a flight aboard Zero Gravity's Corps parabolic flights sponsored by Northrop Grumman.
As Leroy spoke I can recall seeing some kids with expressions on their faces that I can only imagine were what you look like when you are choosing a career in real time. I have also seen him on TV. Doing a lot of TV myself these days I knew he'd be a natural.
Matt was equally comfortable and adept at the art of being a talking head as well. While we talked about what we'd focus on, we kept things as spontaneous as we could. Some people can't do TV or any other broadcasting without a script. I prefer dong so. Luckily. Leroy and Matt work the same way.
The running joke was that we needed robots, dinosaurs, and astronauts to make this all work well. Animals too. Well, we only had fossils as props, but at one point Qimmiq our local husky polar bear guard dog walked onto the "set" was introduced. He stayed for a while, yawned, and left.
We also had a walk on (actually a roll on) appearance by a K10 rover and Matt Deans, the robot team lead from NASA Ames Research Center.
A few ATVs also zoomed by – which gave me a chance to pan the camera and show the students what we use them for.
Toward the end of the first day we had a comms drop out, but other than that things worked OK. Later in the day the questions started to pour in from participating centers. Lots of them. Great! We now knew that our concept was working.
The next day (Tuesday, 17 July) we moved behind the Comms tent so we could get a fresh backdrop – in this case, the Arthur Clarke Mars Greenhouse. Today's topic expanded on things discussed the day before. Since some folks had trouble connecting on Monday we went back over some things again just in case. Of course, Qimmiq showed up again – on cue. A media hound to be certain.
We also answered a lot questions sent in by students. Matt, Leroy, and I just answered them ad hoc – without a net, so to speak. Again, since we all know the topics rather well, spontaneous unrehearsed answers always sound better.
I learned later that each time I read out the student's name there was a cheer from the other students in the room.
Wednesday was not as successful. We had a chance to air our webcasts on NASA TV so we reconfigured our server and let things rip. Christine Pires and I got everything up and running and then, just as we were ready to go on air, the link died. It never came back.
Days of troubleshooting would follow. Eventually it became clear to me that this issue was not going to get resolved and that I should cancel the subsequent webcasts. I felt a bit like a launch director face with technical issues an the decision whether to try to launch when I knew some things would not come together at launch time.
This was very disappointing for Leroy, Matt and I – having spent all of this time to get the resources, funds etc. together to come up here. But that's life at a remote research station. When things work, they work. When they don't you need to have the resources at hand to fix things. If you don't then you have to move to plan B. Due to related communications issues our Plan B wasn't going to work for a few days.
So, given the abundance of other things to do, we decided to experience as much as we could while we were here and put it down in words and photos in our blogs.
Next item on our agenda: building a memorial to the crew of Space Shuttle Challenger.
Robots
Matt, Leroy, and I were assigned desk space inside the Hub when we arrived. The Hub or "Core" as some people call it, is the octagonal shaped building at the center of the moon base-like arrangement of tents at the Haughton Mars Project Research Station. Eventually there would be a dozen or so folks working in there. There were half a dozen geologists from the University of Montreal with their rock samples and chemicals. They were usually gone during the day – out collecting rocks.
Then there was the Robot Team from the Intelligent Robotics Group at NASA Ames Research Center. Lead by Matt Deans, most of this group flew up with us from Ottawa. I had met Matt earlier during several trips out to Ames and found him to be immediately likeable. The same turned out to be true for his entire team. When I first saw them at the airport they looked like I felt – sleep deprived and just at the beginning of a long trip north.
Once we all arrived on Devon Island, the robotic team immediately began to uncrate their two rovers. K10 Red (it has a partially red body) had a LIDAR unit perched atop a short mast. K10 Black was more or less identical except for a black paint job and a ground penetrating radar system.
Within a day or so the robots had been assembled and made their first forays in and close to Base Camp. Eventually, as all of the systems were checked out the robots began to go from hand held control to remote control via radio. Eventually, they were being controlled via satellite links from remote locations such as Ames Research Center and Johnson Space Center.
To look at the displays that the team used to control the robots was to step onto a dusty version of what you'd expect on a decent Sci-Fi movie. This stuff was just so very cool.
At one point we decided an little experiment and took one of the helmet-mounted video cameras that Matt and I had been wearing around like dorks and put one on K10 black. Sure enough we got some great jittery video!
The real field trials for the rovers began after Matt, Leroy, and I left Devon Island. They were conducted at a location some distance from base camp. As I learned later all went very well.
It was really nice to share workspace with these folks. We all learned when to be quiet or not interfere and we all learned how to have fun at a moment's notice. As a parting gift Matt, Leroy, and I left our uneaten smoked oysters, miso soup, hot chocolate, and other goodies for their eventual farewell party.
Dogs
This year we had two dogs at Base Camp. The first dog I met was HMP Principal Investigator Pascal Lee's little dog "Ping Pong". How she got the name is a long story. Ping Pong is fiercely loyal to her master, as are most dogs, but she's also a sweetheart. She is also exceptionally adept at riding on ATVs. On one traverse when a few of us novices were concentrating on not being tossed off of our ATVs, she just sat ahead of Pascal as he drove as if she were glued to the ATV.
The other dog is Quimmiq. I am not exactly sure how often he has been here, but he was here on my first visits in 2002 and 2003. Quimmiq is getting on now and is showing his age. Yet I would not want to be on the receiving end of his fury if I was a polar bear trying to enter base camp. This is an amazing working dog.
I was told that recently Quimmiq was part of a team brought over to Devon Island during the colder part of the year. Somehow he got separated from the rest of the team and everyone had to depart without him. Lo and behold he walked into Resolute Bay a number of weeks later, having survived on his own, not much worse for wear. An amazing dog.
---
About Devon Island, The Haughton-Mars Project, and the Mars Institute
The Haughton-Mars Project (HMP) is an international interdisciplinary field research project centered on the scientific study of the Haughton impact structure and surrounding terrain, Devon Island, high arctic, viewed as a terrestrial analog for Mars. The rocky polar desert setting, geologic features and biological attributes of the site offer unique insights into the possible evolution of Mars – in particular the history of water and of past climates on Mars, the effects of impacts on Earth and on other planets, and the possibilities and limits of life in extreme environments. In parallel with its science program, the HMP supports an exploration program aimed at developing new technologies, strategies, humans factors experience, and field-based operational know-how key to planning the future exploration of the Moon, Mars and other planets by robots and humans. The HMP managed jointly by the Mars Instituteand by the SETI Institute.
Keith Cowing's 2007 Devon Island Journals
10 July 2007: Back to the Arctic
11 July 2007: Heading North
12 July 2007: Dropping Onto Devon Island
13 July 2007: Teaching About Roses on Mars
14 July 2007: Using an iPhone on Mars
15 July 2007: Surreal Landscapes and Late Evening Thoughts
16-17 July 2007: Webcasts, Robots, Astronauts, and Dogs
18 July 2007: Ancient Memorials for Modern Space Explorers
19 July 2007: Sheer Audacity
20-22 July 2007: The Persistence of Memory
27 July 2007: Polar Deserts and Global TV
Keith Cowing's 2003 Devon Island Journals
17 Jun 2003: Preface: Moving from Green to Grey
3 Jul 2003: Waiting in Resolute
3-5 July 2003: Arrival and Getting to Work
6 July 2003: Getting in the Groove
7 July 2003: Part 1: Being here – and being there.
7 July 2003: Part 2: Getting Out of Base Camp
8 July 2003: Infrastructure
9 July 2003: Re-connected; Planting Seeds
17 July 2003: Rover Arrival
18 July 2003: Wind
19 July 2003: Illness, Good Food, and Morale
20 July 2003: Arctic Memorials and Starship Yearnings
20 July 2003: Going Home
21 July 2003: Departure – and One Last Dedication
24 July 2003: 24 July 2003: Homeward Bound – In Slow Motion
26 August 2003: Home +30

Keith Cowing's 2002 Devon Island Journals
8 Jul 2002: Arrival
9 Jul 2002: Getting acquainted – and down to work
10 Jul 2002: Mars carpentry
11 Jul 2002: Lexan Kites, shotguns, and Driver's Ed
12 Jul 2002: Building and exploring
13-15 Jul 2002: Building a Mars greenhouse on Earth
16 Jul 2002: Sealing Greenhouses on Earth – and Mars; 6 Wheeled Rovers
17 Jul 2002: Greenhouse Dedication, Fishing, and Mystery Food
18 Jul 2002: Giving Blood, Eternal Light, and an Evening Commute
19 Jul 2002: The Hottest Place on Devon Island, T-shirts, a Star Trek hello
20 Jul 2002: Mars Airplanes and Communicating With Earth
21 Jul 2002: Visiting ministers, missing 'green', and crater tours
22 Jul 2002: The hottest place on Devon Island
23 Jul 2002: Farewells, Birthdays, and Bartering
24 Jul 2002: EVAs, movies – and 'being here'
25 Jul 2002: Russian TV, webcam privacy, and being on Mars for a few minutes
26 Jul 2002: Cold Feet, Chocolate, and Home Cooking
27 Jul 2002: Anchors and anemometers
28 Jul 2002: Drilling into permafrost; leaving footprints for eternity
29 Jul 2002: Showering near the North Pole; one last look around
30 Jul 2002: Departure and arrival
31 Jul 2002: Culture shock and flight delays
1 Aug 2002: Departure into darkness
2 Aug 2002: Green overdose; home at last
2 Sep 2002: Home +30