Joint USAF/NOAA Report of Solar and Geophysical Activity Jan 2003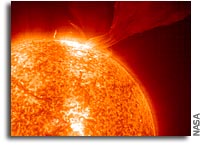 SDF Number 020 Issued at 2200Z on 20 Jan 2003
IA. Analysis of Solar Active Regions and Activity from 19/2100Z
to 20/2100Z: Solar activity increased to low levels. Region 260
(N14E13) produced the largest flare during the interval, a C4.3/Sf
event occurring at 20/0710 UTC. This region has shown a slight
increase in magnetic complexity and spot coverage since yesterday.
Region 259 (N10W15) has shown decay in the intermediate spot cluster
and remains simply structured. The solar disk was mostly quiescent
throughout the period. Regions 264 (S20W02, 265 (N04E31), 266
(S23E56), and 267 (S20E77) were newly assigned today.
IB. Solar Activity Forecast: Solar activity is expected to be at
low levels.
IIA. Geophysical Activity Summary 19/2100Z to 20/2100Z:
The geomagnetic field was at quiet to active levels with a brief
period of minor storm conditions (between 20/0000 to 0300 UTC) at
high latitudes. Coronal hole high speed stream effects from a
southern polar extension are believed to be responsible for the
elevated activity. The greater than 2 MeV electron flux at
geosynchronous orbit reached moderate levels today.
IIB. Geophysical Activity Forecast: The geomagnetic field is
expected to be at quiet to active conditions for day one of the
period as the favorably positioned coronal hole wanes. Day two
should see a return to predominantly unsettled conditions. By day
three a transequatorial recurrent coronal hole should become
geoeffective producing active to minor storm levels at both middle
and high latitudes.
III. Event Probabilities 21 Jan-23 Jan
Class M 10/10/10
Class X 01/01/01
Proton 01/01/01
PCAF green
IV. Penticton 10.7 cm Flux
Observed 20 Jan 138
Predicted 21 Jan-23 Jan 135/130/120
90 Day Mean 20 Jan 161
V. Geomagnetic A Indices
Observed Afr/Ap 19 Jan 009/016
Estimated Afr/Ap 20 Jan 010/012
Predicted Afr/Ap 21 Jan-23 Jan 010/010-010/015-020/020
VI. Geomagnetic Activity Probabilities 21 Jan-23 Jan
A. Middle Latitudes
Active 25/20/40
Minor storm 05/05/25
Major-severe storm 01/01/10
B. High Latitudes
Active 25/35/45
Minor storm 10/10/30
Major-severe storm 01/05/15