Joint USAF/NOAA Report of Solar and Geophysical Activity 31 Oct 2005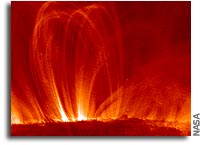 Prepared jointly by the U.S. Dept. of Commerce, NOAA,
Space Environment Center and the U.S. Air Force. Updated 2005 Oct 31 2204 UTC
Joint USAF/NOAA Report of Solar and Geophysical Activity
SDF Number 304 Issued at 2200Z on 31 Oct 2005
IA. Analysis of Solar Active Regions and Activity from 30/2100Z to 31/2100Z: Solar activity continued at very low levels. A B8 flare was observed at 31/1643Z from near S03 on the east limb. This area of bright emission on the southeast limb is likely the return of old Region 814 (S08, L=228). A new bipolar sunspot group was numbered today as Region 819 (S09E26). This spot group emerged in close proximity to Region 818 (S08E32), which is also a small beta group in a slow growth phase.
IB. Solar Activity Forecast: Solar activity is expected to be very low to low. Isolated C-class flares are possible from the tightly grouped Regions 818 and 819. A C-class flare is also possible from old active Region 814, which is rotating into view on the southeast limb.
IIA. Geophysical Activity Summary 30/2100Z to 31/2100Z: The geomagnetic field was quiet to active. The most disturbed conditions were associated with a period of sustained southward IMF Bz that began at around 31/0900Z and persisted through the remainder of the period.
IIB. Geophysical Activity Forecast: The geomagnetic field is expected to be quiet to unsettled with isolated active periods. A recurrent coronal hole high speed stream is expected to rotate into a geoeffective position on 03 November.
III. Event Probabilities 01 Nov-03 Nov
Class M 01/01/01
Class X 01/01/01
Proton 01/01/01
PCAF green
IV. Penticton 10.7 cm Flux
Observed 31 Oct 078
Predicted 01 Nov-03 Nov 080/080/080
90 Day Mean 31 Oct 085
V. Geomagnetic A Indices
Observed Afr/Ap 30 Oct 003/005
Estimated Afr/Ap 31 Oct 008/010
Predicted Afr/Ap 01 Nov-03 Nov 008/010-005/005-010/010
VI. Geomagnetic Activity Probabilities 01 Nov-03 Nov
A. Middle Latitudes
Active 20/15/20
Minor storm 05/01/05
Major-severe storm 01/01/01
B. High Latitudes
Active 25/20/25
Minor storm 10/05/10
Major-severe storm 05/01/05