Joint USAF/NOAA Report of Solar and Geophysical Activity 25 Jan 2003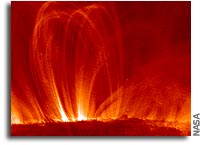 SDF Number 025 Issued at 2200Z on 25 Jan 2003
IA. Analysis of Solar Active Regions and Activity from 24/2100Z
to 25/2100Z: Solar activity was at low levels. Region 268 (N14W29)
produced a C4/Sf flare at 25/1855 UTC. Associated with this event
was a tenflare and discrete radio bursts. The leading and trailing
umbra in Region 268 have separated and no longer share a common
penumbra, simplifying the magnetic configuration to a beta class.
Region 266 (S21W10) has increased in extent to 16 degrees making it
a Fai spot group. Magnetically, this region has been relatively
stable and maintains its beta-gamma magnetic configuration.
IB. Solar Activity Forecast: Solar activity is expected to be low
to moderate. Region 266 and 268 have M-class potential.
IIA. Geophysical Activity Summary 24/2100Z to 25/2100Z:
The geomagnetic field has been at unsettled to minor storm levels.
Minor storm levels were reached due to an elevated solar wind speed
near 800 km/s combined with a seven hour period of negative Bz.
Solar wind speed was in gradual decay at the end of the period.
IIB. Geophysical Activity Forecast: The geomagnetic field is
expected to be at quiet to active levels. Active conditions are
possible on day one of the period due to a weak shock from the M2.5
event on 23 January and the M1.9 event on 24 January. Day two and
day three are expected to be quiet to unsettled.
III. Event Probabilities 26 Jan-28 Jan
Class M 30/30/30
Class X 01/01/01
Proton 01/01/01
PCAF green
IV. Penticton 10.7 cm Flux
Observed 25 Jan 129
Predicted 26 Jan-28 Jan 120/120/125
90 Day Mean 25 Jan 159