Joint USAF/NOAA Report of Solar and Geophysical Activity 22 Jan 2003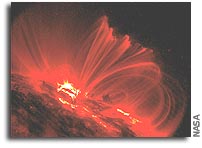 SDF Number 022 Issued at 2200Z on 22 Jan 2003
IA. Analysis of Solar Active Regions and Activity from 21/2100Z
to 22/2100Z: Solar activity was at moderate levels. Region 260
produced an M1.2/1f flare at 22/0444 UTC. This region has seen
steady decay in magnetic complexity and penumbral coverage during
the period. Region 269 (S09E63) has been quiescent today and
appears to be a simple magnetic beta group. Region 267 (S20E51) has
shown slow but steady growth since rotating onto disk. No new
regions were numbered today.
IB. Solar Activity Forecast: Solar activity is expected to be at
low levels. Regions 267 and 269 have a slight chance of producing
low level M-class flares.
IIA. Geophysical Activity Summary 21/2100Z to 22/2100Z:
The geomagnetic field was at predominantly unsettled levels. The
greater than 2 MeV electron flux at geosynchronous orbit reached
high levels again today.
IIB. Geophysical Activity Forecast: The geomagnetic field is
expected to be at unsettled to minor storm levels. A recurrent
coronal hole is expected to become geoeffective on day one of the
forecast period. Days two and three should experience similar
conditions.
III. Event Probabilities 23 Jan-25 Jan
Class M 35/35/35
Class X 01/01/01
Proton 01/01/01
PCAF green
IV. Penticton 10.7 cm Flux
Observed 22 Jan 130
Predicted 23 Jan-25 Jan 125/125/120
90 Day Mean 22 Jan 160
V. Geomagnetic A Indices
Observed Afr/Ap 21 Jan 009/017
Estimated Afr/Ap 22 Jan 010/013
Predicted Afr/Ap 23 Jan-25 Jan 020/020-020/025-015/020
VI. Geomagnetic Activity Probabilities 23 Jan-25 Jan
A. Middle Latitudes
Active 40/40/25
Minor storm 25/20/10
Major-severe storm 10/10/05
B. High Latitudes
Active 45/45/45
Minor storm 25/30/25
Major-severe storm 15/15/15