Joint USAF/NOAA Report of Solar and Geophysical Activity 18 Jan 2003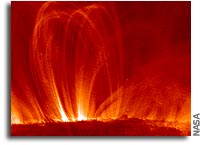 IA. Analysis of Solar Active Regions and Activity from 17/2100Z
to 18/2100Z: Solar activity was low. Region 259 (N10E12) produced
today's only C-class flare, a C1 at 17/2334 UTC. The remainder of
the interval was marked by a very little activity. All of the
sunspot groups currently on the disk are quiet and stable.
IB. Solar Activity Forecast: Solar activity is expected to be very
low to low for the next three days
IIA. Geophysical Activity Summary 17/2100Z to 18/2100Z:
The geomagnetic field ranged from quiet to active levels. There was
one active period from 1200-1500 UTC. There does appear to be some
low level wave activity in the solar wind data (Bz is showing
fluctuations from -10 nT to +10 nT with a period slightly longer
than one hour). This may be related to coronal hole effects from the
southern polar extension whose leading edge is at about W40.
IIB. Geophysical Activity Forecast: The geomagnetic field is
expected to be predominantly unsettled for the next three days.
III. Event Probabilities 19 Jan-21 Jan
Class M 15/15/15
Class X 01/01/01
Proton 01/01/01
PCAF green
IV. Penticton 10.7 cm Flux
Observed 18 Jan 137
Predicted 19 Jan-21 Jan 135/125/125
90 Day Mean 18 Jan 162
V. Geomagnetic A Indices
Observed Afr/Ap 17 Jan 004/008
Estimated Afr/Ap 18 Jan 012/013
Predicted Afr/Ap 19 Jan-21 Jan 010/012-010/010-010/010
VI. Geomagnetic Activity Probabilities 19 Jan-21 Jan
A. Middle Latitudes
Active 25/25/25
Minor storm 10/10/10
Major-severe storm 01/01/01
B. High Latitudes
Active 25/25/25
Minor storm 10/10/10
Major-severe storm 05/05/05